Vancouver Is Awesome is a proud media partner of this year's Gallery Hop Vancouver! Watch this space over the coming days for previews and insight on the free tours and talks taking place during this year's event!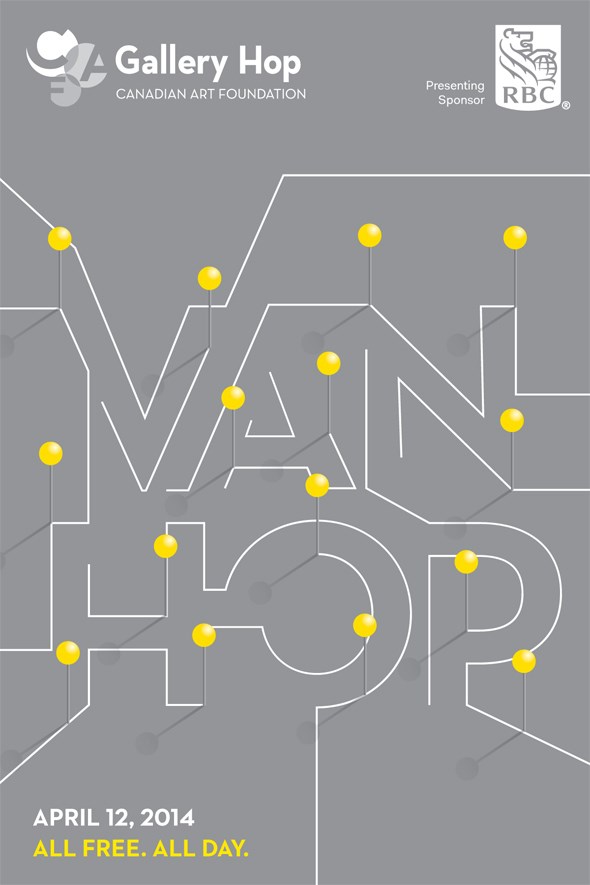 On Saturday, April 12, the Canadian Art Foundation and the Contemporary Art Society of Vancouver invite you to join us for a day of art, tours and talks at the Canadian Art Foundation Gallery Hop, presented by RBC. The day begins with a public conversation at the Vancouver Art Gallery and continues with four gallery tours and several off-tour talks and events. This year's Gallery Hop features talks and events at each gallery stop, making the 2014 Hop the most interactive experience yet.
Public Conversation
11:30 AM–1:00 PM
Vancouver Art Gallery
750 Hornby Street
Courtroom 302
The day will begin at the Vancouver Art Gallery where artists Colleen Heslin, Emily Hill, Jeremy Hof, Angela Teng and Elizabeth McIntosh will engage in a free public conversation on ideas about contemporary painting and materiality. This informal discussion draws together artists whose work challenges traditional boundaries of the medium and whose hybrid approach asks us to consider painting as a means, not an end.
Tours and Talks
1:30 PM–5:00 PM
Various locations throughout Vancouver
Following the conversation at the VAG, artists Laura Piasta, Eli Bornowsky and art writers Tatiana Mellema and Aaron Peck will be guiding tours through Vancouver's vibrant art scene, giving Hoppers the opportunity to engage with artists, curators and the exhibitions on view at many of the city's art galleries and cultural institutions.
Off-Tour Talks and Events
2:00 PM– 6:00 PM
Various locations throughout Vancouver
In addition to tours through Gastown, Chinatown, Main Street and Great Northern Way, there are a series of off-tour talks and events, including a public participatory event at Satellite Gallery and a talk by artist Kevin Schmidt at the Contemporary Art Gallery.
To learn more, visit canadianart.ca/vancouverhop. There, you will find a full listing of tours and talks, more information on the panelists, a downloadable map, and other details.
Thanks to our presenting sponsor, RBC, our partner, CASV, and our media partners, Vancouver Is Awesome and Metro.