As you read this, the city's restaurant elite are gathered together at the Sheraton Wall Centre for the 25th annual Vancouver Magazine Restaurant Awards. They're joined by media and other local personalities, and things kick off at 1PM with a reception which includes sampling of some of the best food and wine available in the city. Right now they're all mingling, waiting in mostly-nervous anticipation for 4PM when CBC's Stephen Quinn and Gloria Macarenko will take to the stage and announce this year's winners. These folks will walk away with not only the glory but nearly-guaranteed full restaurants for the next few months; these awards have always held much weight within the industry and with the public alike.
Were I a food writer I would still be there myself, eyeing up a seat near folks like our friends, sommelier Kurtis Kolt, the Fish Counter's Robert Clark, Dane and Clinton from Bestie, Thor from Breakfast Television and food writer Erin Ireland. Instead I'm sitting back in the comforts of our office, digesting the wonderful dessert that the Sheraton Wall Centre folks prepared and which I hastily consumed before making a quick getaway back to my actual job. One of the most awesome things about going to the reception and connecting with some of Vancouver's finest is the fact that the Sheraton's kitchen is always included in and amongst the award-winners who prepare food for the event, and they always rise to the challenge. These three treats below are all winners in my eyes.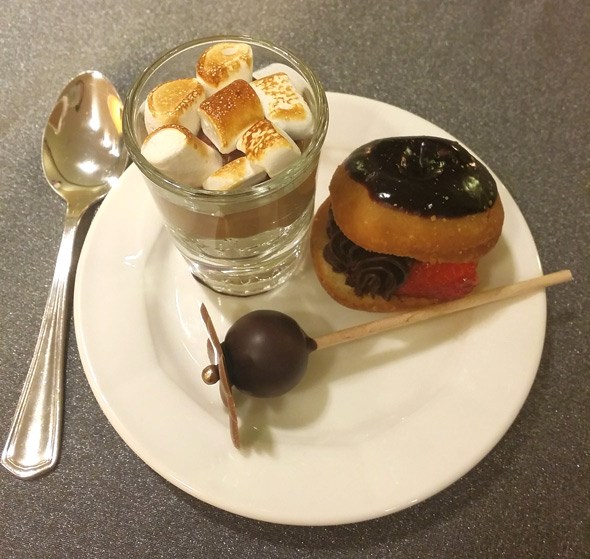 For real food journalism visit VanMag.com later today and of course pick up a copy of their annual Restaurant Awards issue! Oh, and follow along with the #VanMagAwards hashtag to find out who the winning restaurants are in real time as they're announced today. Our Christine McAvoy is in it for the long haul and will be tweeting out winners along with some of the other folks.