Vancouver-based Pacific Salmon Foundation is dedicated to the conservation and restoration of wild Pacific salmon and their ecosystems. We work to bring salmon back, stream by stream through the strategic use of resources and local communities. We're an independent non-governmental organization that guides the sustainable future of Pacific salmon and their habitat. Our organization is a catalyst that connects and motivates people, communities, organizations and businesses to restore and regenerate Pacific salmon populations in British Columbia and the Yukon. Each month V.I.A. provides a platform for us to bring you something awesome concerning salmon in British Columbia!
Want to protect Pacific salmon, British Columbia's keystone species that supports more than 130 different types of plants and animals? Then be part of this year's Great Canadian Shoreline Cleanup! Join the Pacific Salmon Foundation team and our supporter and site cleanup sponsor Goldcorp at English Bay on Saturday, September 22. We will be cleaning the shoreline so everyone, including our wild salmon, will have a better time along our coast. Join us on that day and you'll receive a free Pacific Salmon Foundation hat! Register by giving us a ring at 604-664-7664 or email us at salmon@psf.ca so we'll know to see you there!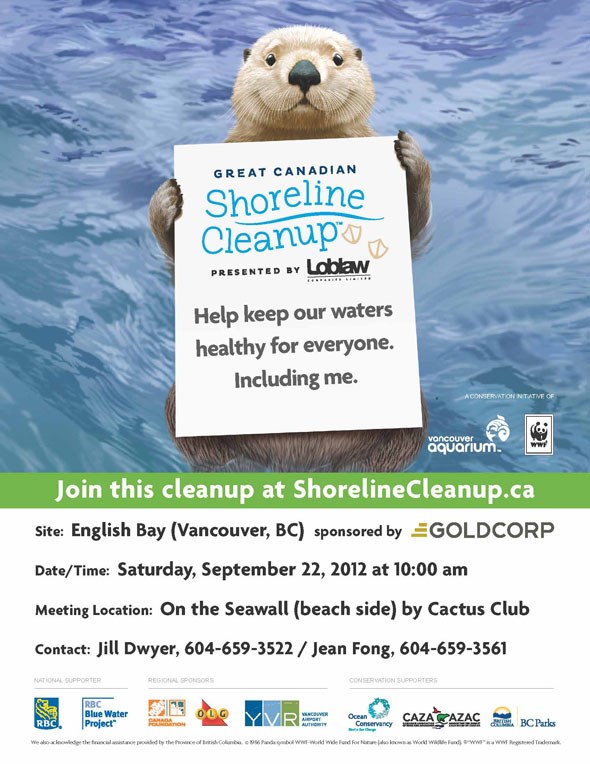 Why should we do our part to clear our coastline of debris? Most Vancouverites like to hit the beach in the summer; many of us have crowded into English Bay to watch the Celebration of Light turn our beautiful shoreline into a kaleidoscopic light display. But what happens to all the items that we leave behind on the beach?
Despite Vancouver's reputation for clean beaches and pro-active green measures, the remnants of human activity still mar our precious coastline. During last year's Great Canadian Shoreline Cleanup, 26,298 plastic bags, 47,148 food wrappers and containers, and 185,906 cigarettes and cigarette filters as well as cigar tips were found on B.C.'s coastline. What's even more disturbing is that the cigarette butt, the most common litter found, is also one of the most toxic to fish like the Pacific salmon.
Nicotine, one of many poisonous substances trapped in cigarette butts, is extremely toxic to fish. The chemical dissolves easily into water, and can be absorbed rapidly through fish skin. The toxin can paralyze fins and gills, causing fish to drop to the ocean floor and suffocate. In some fish, nicotine can quickly cause permanent damage to liver and kidneys, killing the fish. Young Pacific salmon may be particularly vulnerable to harmful chemicals along the shoreline since the salmon remain in shallow waters as they transition from freshwater to life in the ocean.
According to San Diego State University Public Health Professor Tom Novotny, nicotine can be toxic to fish even at low concentrations. "Even one butt in a litre of water can kill the fish in a period of 96 hours," he says. An estimated 1.69 billion pounds of butts are littered each year worldwide, so you can image the negative effects these butts have on aquatic life when they're exposed to oceans and streams.
Cigarette butts are not the only issue affecting Pacific salmon on our coastlines. The dirty dozen found in last year's Shoreline Cleanup included food wrappers and containers, caps and lids, fishing lines, dishes and cutlery, beverage cans, and plastic bottles. More strange items found included men's underwear, false teeth, a fully decorated Christmas tree, lawnmowers, fire extinguishers, and even a PlayStation! These items can greatly affect the tidal spawning grounds of many shoreline animals including smelt, eulachon, sand lance, and surf smelts – fish which provide essential nutrients for Pacific salmon.
For more information about the Great Canadian Shoreline Cleanup, please visit ShorelineCleanup.ca.
Event Information:
Date: Saturday, September 22, 2012
Time: 10:00am
Meeting Location: On the Seawall (beach side) by Cactus Club - English Bay location