The first night of the Honda Celebration of Light takes place tomorrow night in English Bay! The longest-running offshore fireworks competition in the world, I'm proud to announce that I'm representing Vancouver Is Awesome on the judging panel for the 6th consecutive year. Made up of a small group of volunteers, we attend each night of the fireworks and collectively choose a winning show. Here's this year's crew:
Councillor Raymond Louie* from the City of Vancouver
Chairman John Coupar from the Vancouver Park Board
Kaitlyn Herbst* from Global BC
David Buddle from the West End BIA
Bob Kronbauer* from Vancouver Is Awesome
Matt Meehan* from Concord Pacific
* = returning judge
Last year's judges: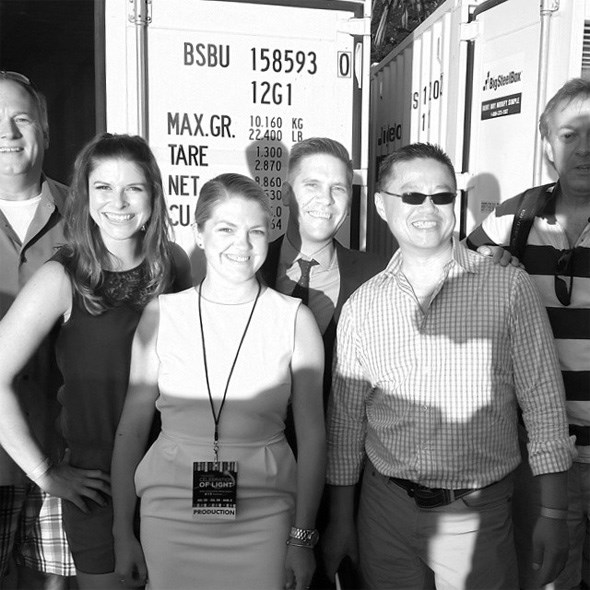 John Nicholson, Kaitlyn Herbst, Kallie from Sirius Pyrotechnics (not a judge), Bob Kronbauer, Raymond Louie and Matt Meehan
One of the most common questions we get every year is "How do you even judge fireworks?". For the hundreds of thousands of people attending these fun and free nights of entertainment it doesn't really matter which country puts on the best show - it's always an incredible time regardless - but the truth is that for the teams of international pyrotechnic professionals there's a lot riding on it. Taking home the trophy and the glory looks good on them, their country, and it helps them gain momentum to be invited to even more shows like this around the world.
Each night our panel arrives early at the Keg Lounge that's located adjacent to the Shorefest stage front and centre in English Bay. We're briefed by one of the producers (Kallie, pictured in the above photo) on what to expect from that night's presentation, and after the BANDS have wrapped up their performances their instruments are taken off the stage and replaced with chairs, then as the lights dim we take our seats and take in the show. We've each got our own score sheet which we're encouraged to jot notes on throughout - below is my sheet for tomorrow night's show that China is putting on.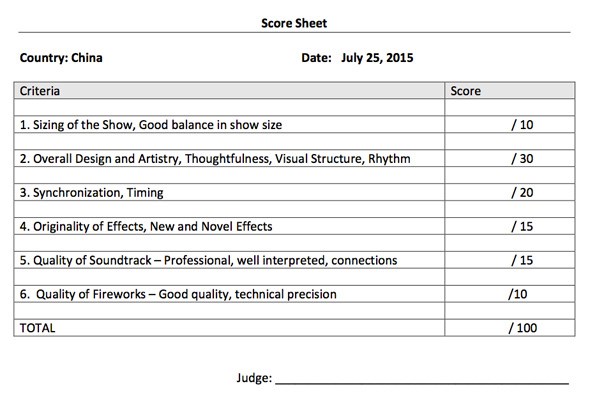 As you can see there are 6 different criteria that we look at:
1 – Sizing of show (10 points)
2 – Overall design and artistry (30 points)
3 – Synchronization (20 points)
4 – Originality of effects (15 points)
5 – Quality of soundtrack (15 points)
6 - Quality of fireworks (10 points)
We've each got a manual that breaks down how to judge these elements, what to look for, etc. Councillor Raymond Louie from the City of Vancouver is the head judge this year as he's been on the panel for the longest of any of us, and veterans like him (and I) fill in the blanks for the new judges, of which there are 2 this year. After each show we stick around for an hour or so afterwards discussing the performance, asking questions of the producer/pyro expert Kallie (mentioned above), then our scores are tallied. Ultimately whoever gets the highest score of the 3 nights is the winner.
It's one of the best volunteer gigs around and it's an honour and a pleasure to be able to represent V.I.A. to decide who put on the most awesome fireworks show. We'll see you down there!