Vancouver Public Library and V.I.A. have teamed up to help you discover new reads, hidden book gems and surprising literary finds. Check back every couple of weeks for the latest reading recommendations from the experts at Vancouver's library.
Masters of four-season living, Vancouverites know that time changes everything: old buildings come down, new ones go up; sunshine comes, rain goes; Guelph Park grows into Dude Chilling Park. What is eternal is learning – and as summer drifts into fall, there are opportunities all throughout the city to explore new spaces and expand your mind. To help you along the way, the library's reading experts are sharing this list of reads and views: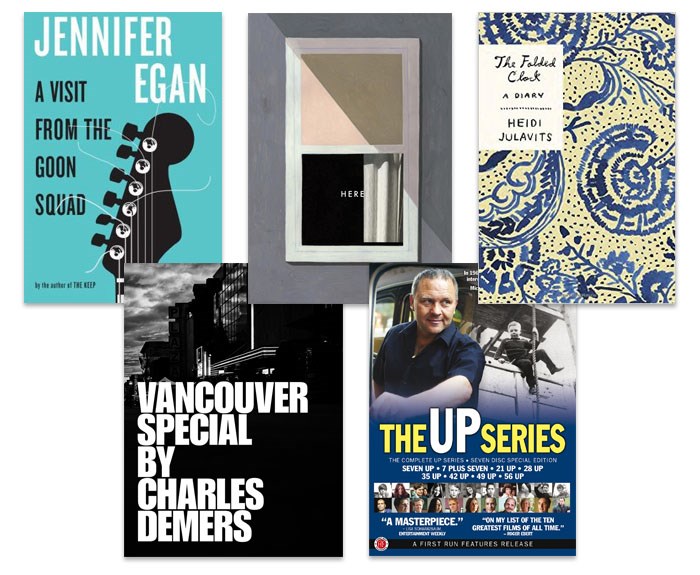 Vancouver Special by Charlie Demers
More than just a coffee-table history of our city's changing face, Charlie Demers' Vancouver Special pulls the bark back on our fair city to present today's metropolis as it was then, is now, and perhaps will be. Moody black-and-white pictorials of those maligned but iconic Vancouver residences that dot so many of our neighbourhoods are paired with witty and incisive essays that highlight the highs and lows of our history. Be sure to also check out our guide to Vancouver neighbourhoods.
The Up Series by Michael Apted
We're switching things up with a viewing recommendation: the complete collection (so far) of the ground-breaking Up Series. Starting in 1964, documentarian Michael Apted interviewed a diverse group of seven-year-olds from all across England. The series proceeded with follow-up interviews every seven years over a span of 56 years. The resulting interviews are a breathtaking mix of emotions. It's a remarkable picture of changes through time.
The Folded Clock by Heidi Julavits
Do you have an old diary from your teen years collecting dust, deep in the recesses of your junk closet? Maybe you're tempted or terrified to open it, not knowing if you'll discover the shallow pretensions of a callow young person inside. Okay, maybe not – but author Heidi Julavits has bared her past in a moving and meaningful way that transcends the diary genre. All the expected anxieties of youth are juxtaposed out of order with reflections on her adult life as a mother, wife and writer.
A Visit From the Goon Squad by Jennifer Eegan
Is it true that there is nothing sadder than an aging rocker? It's a question Jennifer Egan dives into with this engaging and sometimes sad character study. If you've ever hung around the Vancouver punk scene, you probably know someone like Bennie Salazar, an aging rocker and sometimes record executive. His rebellious streak on the wane, he finds his passion rekindled through an unlikely friendship with a troubled young woman he employs. For more on our city's punk scene, see our guide to Vancouver punk.
Here by Richard McGuire
This is a truly unique graphic novel by Richard McGuire that moves forward and backward through time in a single, tiny corner of the world. One moment, a child's dino toy lies on the ground; the next, a massive dinosaur lumbers by. It's a remarkable and thought-provoking experiment that will stick with you far beyond its pages. To get a sense of the breadth and variety of our own space in time, take a peek at this guide to furs, fossils and fins.
Visit vpl.ca for more great reads from your library!