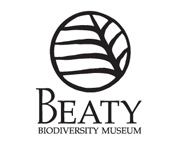 The Beaty Biodiversity Museum is Vancouver's natural history museum. We work to promote a greater understanding of, and collective responsibility for, the biodiversity of BC, Canada, and the World. Come visit us on UBC campus - we're located at 2212 Main Mall, Vancouver, BC. You can find more info at beatymuseum.ubc.ca. Follow us @beatymuseum on Twitter & Instagram and like us on Facebook.
You probably have a favourite book from childhood that brings back fond memories and if you are a parent you can likely recite your child's most cherished book by heart.
Here at the Beaty Biodiversity Museum we've had a lot of fun reminiscing about our favourite childhood books as we gear up for the launch of our temporary exhibition Backyard Biodiversity opening this Saturday September 27th (public opening event from 12pm-3pm). The exhibition features books and art by the Children's Writers and Illustrators of BC.
Here are some of our favourite books and photos of us as kids. You can tell that many of us were already nature lovers at a very young age!
Here's one of me reading a Richard Scarry book, on Christmas 1972. My parents say that my favourite character was Worm, whom I called "Mim." (I am pointing to Mim in the photo).
My favorite was Jason and the Sea Otter, by Joe Barber-Starkey. This book ties to BC biodiversity, and has a really nice story about a sea otter saving a young boy who falls into the ocean. Very nice artwork too that blends a standard illustration with First Nations art.
I don't know which book is pictured here (although it appears I required a dictionary to read it) but apparently I loved "Tweety and Sylvester" so much that my dad had to hide the book because he got tired of reading it every night. I liked the fact that this tiny, spunky little bird outsmarted the big, bad cat every time.
I loved The Hungry, Hungry Caterpillar, and I still do. Gotta love the holes, nibble, nibble, brilliant book.
One of my favourite books when I was really little (that I can remember off hand) is Richard Scarry's Best Mother Goose Ever.
When I was older (9?) I really loved Harriet the Spy (deeply affected me as I remember learning the word "nonconformist" because of that book) and I loved the Wrinkle in Time trilogy, by Madeleine L'Engle. I also liked Animal Farm by George Orwell (10-11 yrs), but didn't understand the symbolism at the time.  Same with Watership Down by Richard Adams.
"Can't you sleep, little bear?" by Martin Weddell was one of my favourites!
My favourite childhood book (one of them) would be 'Moominvalley in November' by Tove Jansson.
A few books that I loved as a child:
The Very Hungry Caterpillar by Eric Carle
The Simon series by Gilles Tibbo
Goodnight Moon – Margaret Wise
The Little Prince  - Antoine de Saint-Exupery
Robert Munsch books
A few books and artists I've recently discovered:
It by Sarah Perry
David Weisner  - amazing illustrator. Many of his books don't even include writing, just images.
John Scieszka books
Have you seen birds By Barbara Reid.
Favourite book I read to my son:  The Snail and the Whale- awesome book to read aloud!
The Poky Little Puppy
Dr. Seuss
Eric Carle books
Later: we read together age: 6,7,8   he adored the Spiderwick Chronicles, I thought it might be to old for him but he really enjoyed them.
So many favourites from my childhood:
The poky little puppy
Anything Dr. Seuss
Later :gr 3-5 Anything by L.M Montgomery
Gr 5: - The Witch of Blackbird Pond
In Gr 3, 4, or 5  My teacher read to us :  The hobbit and a Wrinkle in Time- Magical stories!
My favourite book was ABC's of Nature.
My favourite book as a child was Hug Me by Patti Stren about a porcupine who is desperate for a friend to hug him despite his prickly quills.
We've got lots of classics and new favourites on display and in our reading stations of Backyard Biodiversity. We are currently accepting donations of gently used children's books for the reading stations in the exhibition.
What's your favourite childhood book?