Every day we share a single photo from our Flickr Pool shot by one of our faithful and talented readers (that's you!).
I'm pretty excited today, I'm going to my first Canucks game of this season. I've been to General Motors Place many times, and visited Canada Hockey Place twice, but I've never been to Rogers Arena - I hear its really nice inside. Seems a good way to celebrate Wayne Gretzky's 50th birthday with 18629 of my closest friends.
To help me get into the mood, here is a photograph from Clayton Perry of the Vancouver Canucks vs. Philadelphia Flyers from New Year's Eve.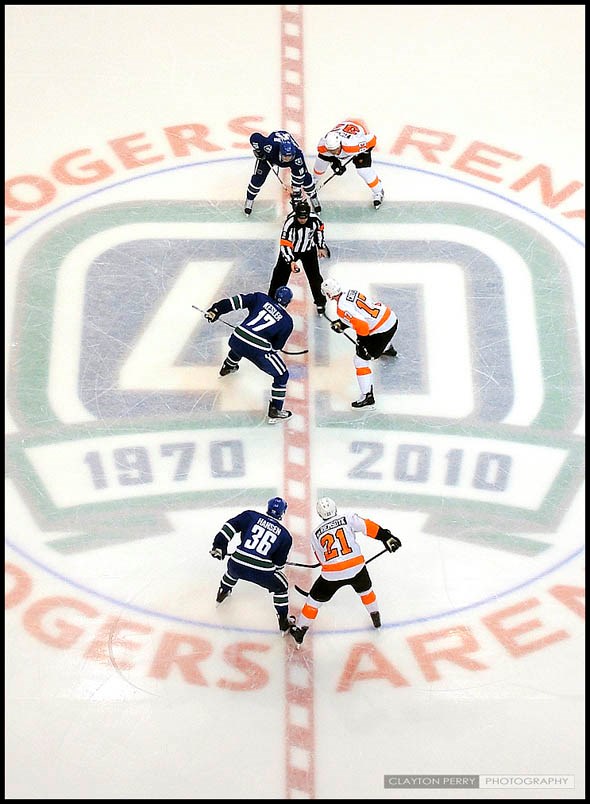 Clayton has submitted more photos to the Vancouver Is Awesome flickr pool than any other member. Representing almost 4% of all the photos in the pool, I knew that when I started doing the Daily Flickr Pickr that it was simply a matter of time until I selected one of his photos. With 150 more photos in the pool than the second-most prolific poster, you could almost call Clayton the Wayne Gretzky of the VIA flickr pool. Okay, perhaps that's going a little too far.
Oh, and if you crave a little slice of Vancouver History and didn't get your dose here in this column today, head over to Rhiannon Coppin's excellent installment of Vancouver Was Awesome from earlier today over here.