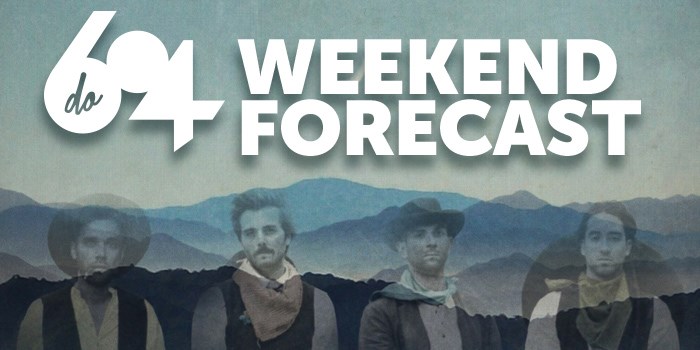 It looks like the weather's turning for the better just in time for the Vancouver Folk Festival! Head to Jericho Park for three full days and nights of truly incredible talent, such as American indie folk rockers Lord Huron.
There's so much more to do this weekend, such as The Deighton Cup @ Hastings Racetrack, a pancakes and booze art show, FUSE @ the VAG, a free outdoor screening of a Monty Python classic... check it all out, right here, in our Weekend Forecast, curated by our city's #KnowFun selectors, Do604.
Thursday July 14
5:30 p.m. Laura Piasta and The Vancouver Mural Festival @ BAF

7 p.m. Pancakes & Booze Art Show @ Fortune

8 p.m. Elizabeth album release @ Fox
7 p.m. An Honest Mimic @ FIELD Contemporary
7 p.m. Meghan Trainor @ PNE
7 p.m. Gord Grdina Trio @ Emerald
Friday July 15
7:30 p.m. The Killers @ Commodore

8 p.m. FUSE @ VAG

9 p.m. Youngblood EP release @ Rickshaw

6 p.m. From Distance @ CSA Space
7 p.m. Fond of Tigers @ Cobalt
8 p.m. The Town Pants @ Fox
Saturday July 16
11 a.m. The Deighton Cup @ Hastings Racetrack

7 p.m. Insane Clown Posse @ Venue

9:15 p.m. Monty Python & The Holy Grail free outdoor movie

7 p.m. Whitecaps vs Orlando City @ BC Place
7 p.m. Tinder Tales @ Emerald
10 p.m. Owl Skowl final show @ The Fox
Sunday July 17
1 p.m. Dancing In The Street @ Roundhouse

4:40 p.m. Tickled @ Vancity Theatre

9 p.m. Soju Sunday @ Venue

4 p.m. The Boxcar 1 Year Anniversary Party
7:15 p.m. On The Farm @ Vancity Theatre
7:30 p.m. The Lost World of Industrial Musicals @ Rio
Have an awesome weekend checking out these shows and festivals. For even more choices of what to do, head to our Vancouver Events calendar, powered by Do604.