It's a new dog once a week! Click here to find out how to get your dog posted if you haven't sent in your photos yet!
Today's dog featured in Dogtown Vancouver is Bodhi, Marianne N's pup. Here's what she had to say about him...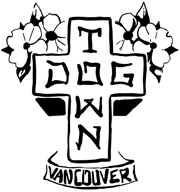 NAME: Bodhi.
BREED: Valley Bulldog.
HOOD: Fairview/South Granville.
FAVOURITE SNACK: Pretty much anything, big fan of pistachios these days.
OTHER INFO: Bodhi is just pretty awesome in general, loves his walks and going to the beach and is also the best cuddler around.
If you're interested in adopting a pet, check out our Happy Tails feature. If you adopted your pet from the SPCA and would like to share your awesome story on Happy Tails, send an email to Rory.Blanchard@novusnow.ca.