It's a new dog once a week! Click here to find out how to get your dog posted if you haven't sent in your photos yet!
Today's dog featured in Dogtown Vancouver is Del, Liane W's pup. Here's what she had to say about him...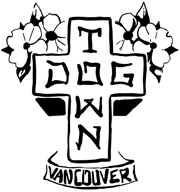 NAME: Del.
BREED: Labrador pitbull cross.
HOOD: Cedar Cottage, East Vancouver though she hails from Mount Currie in the Pemberton Valley.
FAVOURITE SNACK: Wild salmon from Haida Gwaii when we cook too much. Oh, and any kind of paper.
OTHER INFO: We call her "The Delai Lama" because she's our teacher.