It's a new dog once a week! Click here to find out how to get your dog posted if you haven't sent in your photos yet!
Today's dog featured in Dogtown Vancouver is Liddell, Rebecca S's pup. Here's what she had to say about him...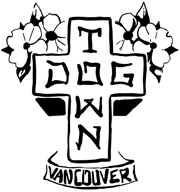 NAME: Liddell.
BREED: Cocker Spaniel x Havanese.
HOOD: West Vancouver.
FAVOURITE SNACK: Cheese burgers ;)
OTHER INFO: Liddell (aka Princey. Yes, after Chuck Liddell... Don't ask!) is a professional hamburgerlar. He is actually a professional food thief. Once caught, he freezes in time, hoping he can still get away with it. He held that cheese burger in his mouth calmly sitting for over 3 minutes. His frozen with food time record is 5 minutes with a triscuit.