It's a new dog once a week! Click here to find out how to get your dog posted if you haven't sent in your photos yet!
Today's dog featured in Dogtown Vancouver is Mango, Alexandra's pup. Here's what she had to say about her...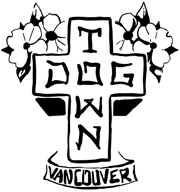 NAME: Mango.
BREED: 3/4 French bulldog 1/4 American bulldog.
HOOD: South Granville.
FAVOURITE SNACK: Cheese.
OTHER INFO: Exploring, sun tanning, farting, puddles & destroying her toys. Dislikes: sweaters, tomatoes, vacuums & not being cuddled.