It's a new dog once a week! Click here to find out how to get your dog posted if you haven't sent in your photos yet!
Today's dogs featured in Dogtown Vancouver: My Pet Diaries is Mr. Tusik and Mr. Touloose. Here's their story...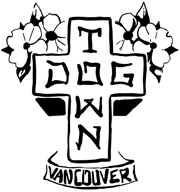 NAME: Mr. Tusik and Mr. Touloose.
BACKGROUND: Injured rescue dog.
DIARY: Dear Diary,
I was so fortunate to meet this wonderful dog Mr Tusik, and it was such a blessing that I was even able to keep him! I couldn't imagine my life without him. So as you can guess, it was really hard to let him go when he passed away from illness. I didn't think I would ever be able to love another pet the way that I loved him.
I believe that, just as in with humans, we can find pets who are our soul mates. And I believe that Mr. Tusik really was my soul mate. It is so hard to let go, and to even imagine bringing another pet into my life is unthinkable.
But I think Mr. Tusik had plans to help me...