It's a new dog once a week! Click here to find out how to get your dog posted if you haven't sent in your photos yet!
Today's dog featured in Dogtown Vancouver is Tuesday, Ted H's pup. Here's what he had to say about her...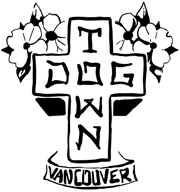 NAME: Tuesday.
BREED: Catahoula Leopard dog / Pit Bull.
HOOD: Kits.
FAVOURITE SNACK: Bacon because I'm a sucker for her blue eye.
OTHER INFO: Tuesday is our rescue dog that we brought with us when we moved to Vancouver from Vermont. She loves snuggling and is very insistent that she gets under the covers. She also loves chasing tennis balls and destroying them like they're neon squirrels. She hasn't quite figured out that she lives by the sea and not a lake anymore and loves to run at the Kits dog beach and scoop salt water in her mouth. Vancouver has been a great city for her with lots of other friendly dogs to meet, still the occasional snow fall she can eat, and lots of great hikes to do.