It's a new dog once a week! Click here to find out how to get your dog posted if you haven't sent in your photos yet!
Today's dog featured in Dogtown Vancouver is Zeus, Chico, and Paco. Here's what their owner had to say about them...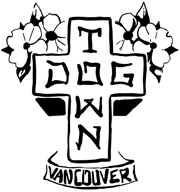 NAME: Zeus (the brindle guy).  Chico (brown and white) and Paco (black and white)
BREED: Boxer/Shepherd. Chihuahua.
HOOD: East Van.
FAVOURITE SNACK: Zeus - peanut butter. Chico and Paco - Ovaltine before bed.
OTHER INFO: Zeus loves to talk and to visit his friends at The Charlatan, on the drive. Give him a beach and a stick and he'll entertain himself for hours. He was once in a pound in Montreal, but found his way into our loving home in 2011.Chico and Paco are some cute, yet grumpy, old dudes. They are (actual) brothers, so they've always got each other's back. They also take care of the big brindle guy at home, making sure he knows he's a welcome part of the pack... Sort of.