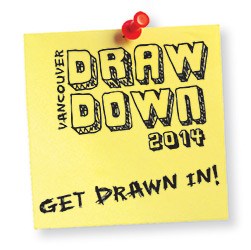 Now in its 5th year, Vancouver Draw Down is a city-wide day of drawing that celebrates creativity and challenges commonplace ideas about what drawing is and what it can do. Reconnect with the power and pleasure of making your mark at over 40 FREE drawing workshops on Saturday, June 14th.
The Daily Drawing Challenge is precisely that - a challenge from Vancouver Draw Down for you to draw every day. The seven-day Daily Drawing Challenge is designed to get your imagination and ink flowing in preparation of the 2014 Vancouver Draw Down workshops on June 14th.
Be a champ and take part in today's challenge. Choose one or both of the options below, have fun, and share it on the Vancouver Draw Down Facebook page and Instagram. Tag it #DailyDrawing.
JUST FOR FUN (5 mins): Draw something you ate today.
CHALLENGING (15 mins): Draw on something you're going to eat today, then eat it!
To get you inspired (and convince you, really, anyone can draw) Vancouver Draw Down invited seven prominent Vancouverites to participate in the challenge.
For this second challenge we have Laurie Logan.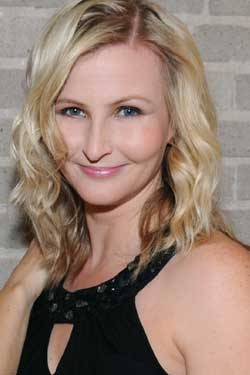 Which of the two challenges did you pick? 
I chose to draw on one of my favourite snack foods.
What was the last thing you drew before this?
It's been years! But doodles, really, really, bad doodles.
How was your experience with this drawing challenge?
I chose to draw on the banana because I wanted to submit something that was colourful and I wanted to give life to something that I normally don't think twice about eating. After I created Banana-Duck I've been reluctant to toss him in the blender. He's still on my counter...hehe.
BANANA-DUCK:
THANKS LAURIE!
Laurie Logan is a weekend radio host on Z95.3.  Laurie grew up in the prairies of Northern Alberta. She studied Radio and Television Arts at NAIT in Edmonton. Laurie has worked at Shaw TV Edmonton, Corus Radio Edmonton, Astral Radio Kelowna, Corus Radio Vancouver, Jim Pattison Broadcasting and Newcap Radio.