It was a rainy and gloomy day this Wednesday, but I still managed to find some people to discuss the glorious spots they enjoy in and around Vancouver.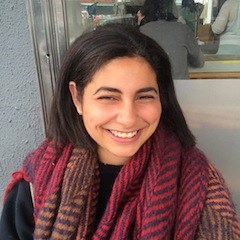 Reem was reading a book outside of Gene (a café located at the spot where Main and Kingsway split off in Mount Pleasant). While speaking with her, she revealed that she is a former employee. Even though Reem no longer works there, she says, "I'm here every single day because I used to work here and I never really got away". Talk about loyalty!
I live super close to Gene, but I've never entered the café. When I finally stop in, I'm going to get a cortado (since it's one of the beverages Reem recommended)! According to Reem they also have a huge tea selection (which surprised me for some reason).
The Foundation is a restaurant Reem is a fan of: "Everybody likes the nachos and everything, but the soup of the day is really good pretty much everyday".
Yup! I've had the nachos many times also, and they're cheap, delicious, and the portion size is so big you can bring the rest home for later.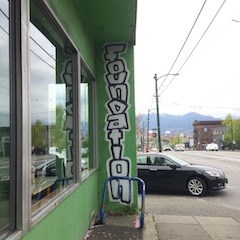 A place that Reem likes to relax outdoors is on Beer Island (I was somehow clueless enough that a few summer's ago when I started hearing about Beer Island I thought that it was some kind of temporary inflatable dock or island installed in False Creek where people could buy beer…I was so wrong).
One way to enjoy some free time for Reem is by going "down to Beer Island with, like, some cigarettes and a book". Beer Island (if you walk the seawall in Olympic Village/False Creek you'll see it) is full of little tiny treed areas to hang out in, so check it out if you've never been there before.
Katrina works at Front and Company, the consignment store on Main Street, and of course, this is her favourite place to shop.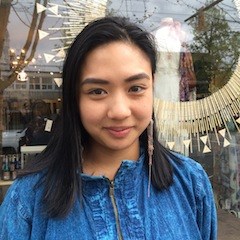 The Birds and The Beets is a restaurant Katrina fancies (I'm not British, but how many times can you say like or enjoy?). I want to try their turkey sandwich next time I'm looking for a bite to eat in Gastown. They serve cider in addition to beer, so I know my boyfriend will be on board for going there as well. Gotta keep everybody happy, right?
Katrina surprised me with a unique option for spending time outdoors: "I recently started going to Tsawwassen reqularly because their beaches are really quiet I find, more quiet than they are here". While I'm glad our city has lots of tourists who come and spend money here, the beaches do get a little too packed for my liking during the summer, so I might just have to take Katrina's recommendation and go on a little road trip to Tsawwassen soon.