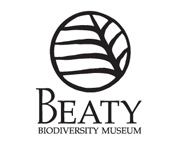 The Beaty Biodiversity Museum is Vancouver's natural history museum, dedicated to creating a shared sense of community and wonder. The museum puts UBC's natural history collections, with more than two million specimens, on public view for the first time. Among our treasures are a 26-metre-long blue whale skeleton suspended in the Djavad Mowafaghian Atrium, the third-largest fish collection in the nation, and myriad fossils, shells, insects, fungi, mammals, birds, reptiles, amphibians, and plants from around British Columbia and the world.Come visit us - we're located at 2212 Main Mall, Vancouver, BC. You can find more info at beatymuseum.ubc.ca
FestEVOLVE marks the occasion of Charles Darwin's birthday with activities that explore Darwin's adventures, how evolution happens, and how it helps us understand the biodiversity on Earth. Charles Darwin, who laid the foundations of the theory of evolution and transformed the way we think about the giant tree of life, would have turned 203-years-old this February.
Enter Darwin's world through daily evolution-themed tours, interactive stations and games, as well as special weekend programs. Put yourself in Darwin's shoes and get hands-on with specimens in the lab, learn about Darwin's journey in our special weekend lectures, and participate in daily programming that highlights relationships among species.
FestEVOLVE events include:
Daily Programming
Museum Tours: Tour the museum through the lens of evolution, and hear stories that reveal what we know about past biodiversity, change, heritage, and adaptation
Evolution Activities: Explore the collections as visitors search for evolutionary stories, and complete a scavenger hunt for a chance to win a museum prize
Interactive activities and scavenger hunt
Weekend Programming
Puppet Shows: What specimens had taught Darwin about how organisms change over time to survive better in their environment
DNA extraction demonstrations: Learn about our genetic blueprint and how it is passed down from generation to generation
Bake a Cake for Darwin contest
(Friday, February 10 at 3:30 p.m.)
Bake the best evolution-themed cake and bring it to the Museum to celebrate Darwin's 203rd for a chance to win a prize.
The Life and Times of Charles Darwin
Saturday, February 11 at 1:00 p.m.
A presentation by Greg Bole as a young Charles Darwin talking about his life and family, his adventures on the Beagle and the development of his most important ideas.
Darwin's Shadows
Sunday, February 12 at 1:00 p.m.
A lecture by Greg Bole about Charles Darwin, as well as the family and friends who influenced Darwin's life. What is the origin of The Origin of Species?
Stranger than Fiction: Virus Outbreaks in the Movies and the World
(Sunday, February 19, at 2:30 p.m.)
Learn about the evolving world of viruses in contagious diseases as we reveal the fact and fiction behind disaster film diseases (e.g. Outbreak, Contagion) and discuss some recent real-world outbreaks.
For more information, please visit http://www.beatymuseum.ubc.ca/events#festevolve.