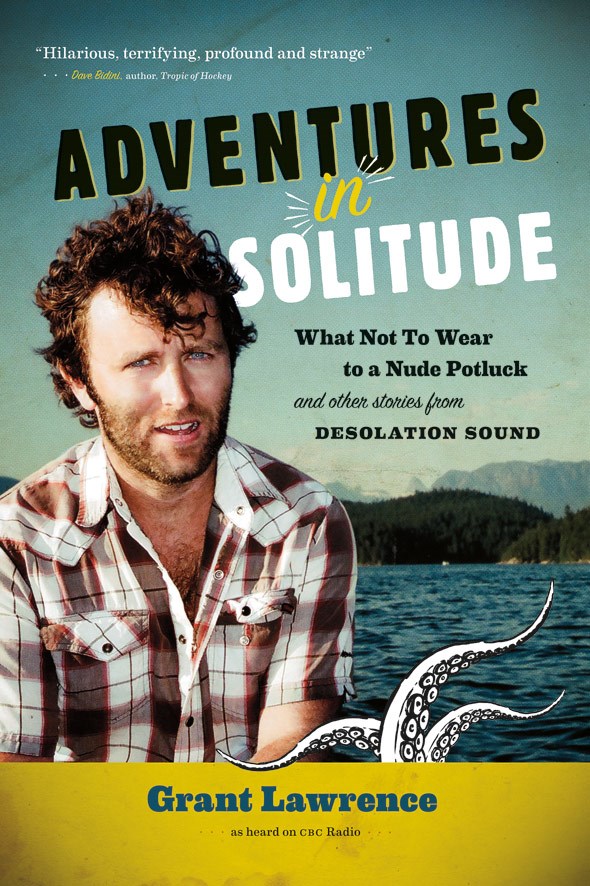 If you attended the first volume of our live talk show, A Night at MOV with Conor Holler, or have been following the blog for a little bit you've received a portion of the inside scoop from CBC radio personality, Grant Lawrence, on his upcoming book entitled Adventures In Solitude which is coming out on Harbour Publishing in the Fall.
Today we're offering another scoop: the first look at the cover!! Grant has been nice enough to offer V.I.A. first look exclusives to showcase the above as well as more info on the cover and the book itself:
The cover photo was taken in the middle of Desolation Sound two years ago. The graphic design was by Vancouver designer, Naomi MacDougall, with accompanying octopus tentacle illustration by Vancouver illustrator, Christy Nyiri. The book is made up of two parts, the first being all about Grant's "childhood loathing of Desolation Sound" followed by his "adult love-in with Desolation Sound". There are lots of photos and sketches throughout, and if you simply cannot wait until the official release date of September 27th he'll be telling stories from it and doing advanced sales at Word On The Street on Sunday, September 26th, 2010 at the Vancouver Library Plaza. The first week of October will see the Vancouver launch followed by a book tour of BC at cool book stores in Victoria, Kelowna, Kamloops, Vancouver Island and the Sunshine Coast!
Again, I cannot tell you how excited I am for the release of Adventures In Solitude. SO awesome.