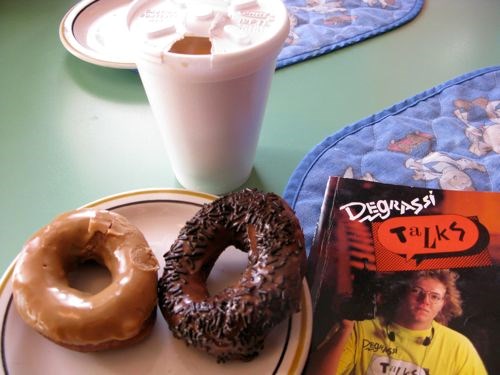 You guys were right...but you guys were wrong.....
OK, what's the best donut at Tim Hortons?  Any donut connoisseur knows it's the honey crueller.  I mean it's not even fair, the honey crueller borders on fine pastry.  
If you're looking for a classic donut, Harmony's kills it.  The icing is bullet proof, the sprinkles are varied, these donuts the perfect balance of cakiness and crispiness.  They have just a hint of grease that reminds you why they are so bad...but so good.  The shop is a piece of work too, it's the rumpus room you wish you still had, completely littered with kitschy memorabilia.  Like check out that book....just what I needed...more Degrassi references....'You're a very bad boy Derek!'  I know what you guys are saying...and in alot of ways you've proved your point....I can't front.
Which is why...I'm now putting Honey's in a different category, I'm not sure which one....it's  the platypus of pastries.....
Harmony is at 2945 Lonsdale in North Van.