If my posting last week of all 24 of the Cannery's recipes from their Last Supper was Menuleaks then the revelation of the inner workings of 100.5 The Peak that I'm about to lay on you are Peakileaks.
Yesterday afternoon I managed to infiltrate the top secret weekly Music Meeting that they do over at my favourite local radio station. I sat in with on-air personalities Chris Coburn and Cory Ashworth, Assistant Program Director Tamara Stanners, Music Director James Sutton and a shadowy, behind-the-scenes figure we'll just refer to with the codename "Program Director, Gord Lansdell".
Talks began about an unbreakable coded rating system known as the "CRAP to Rad" scale, and I was soon given a sheet with which to write down complicated ratings for (see below) and thoughts on (not pictured) a myriad of different new tunes that we listened to which might potentially wind up on-air in the coming days. Everyone in the meeting was supplied with the same sheet and as I could only sneak a small portion of mine out of the place undetected I'm sharing what I can with you below.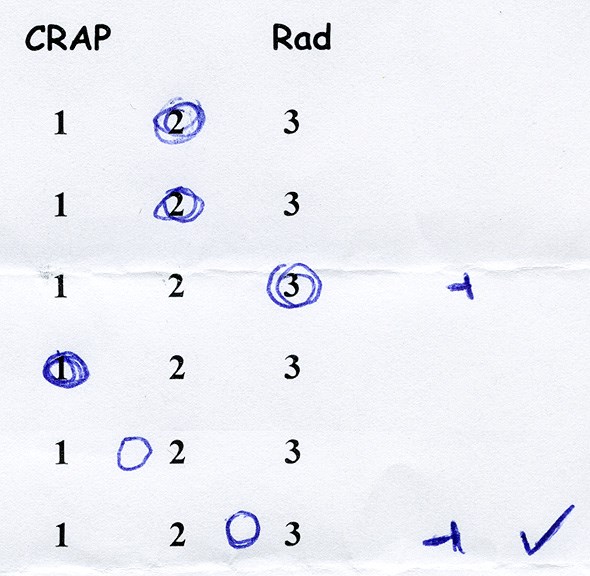 We discussed the merits and the faults of these new tunes and debated on whether or not they should go to air, we bumped some existing tunes up and down playlists and after it let out I recorded some thoughts with Cory and Tamara. We shared 5 of the new songs that'll be playing on 100.5 The Peak soon on Soundcloud. Click below to listen in.
100.5 The PEAK - Music Meeting (18/01/11) by ThePEAK
With Tamara Stanners, Cory Ashworth and guest Bob Kronbauer
New music from:
Bright Eyes - Shell Games
Cold War Kids - Louder Than Ever
Middle Class Rut - New Low
Hey! Rosetta - Welcome
Carmen Townsend - Start All Over
All joking aside, I was honoured to sit amongst these fine folks yesterday to listen to some new music and share my thoughts. Enjoy the five songs in the Soundcloud above and enjoy the lighthearted banter between them.