The weather us supposed to be nice, so come out and experience the city's vibrant art scene at Gallery Hop Vancouver!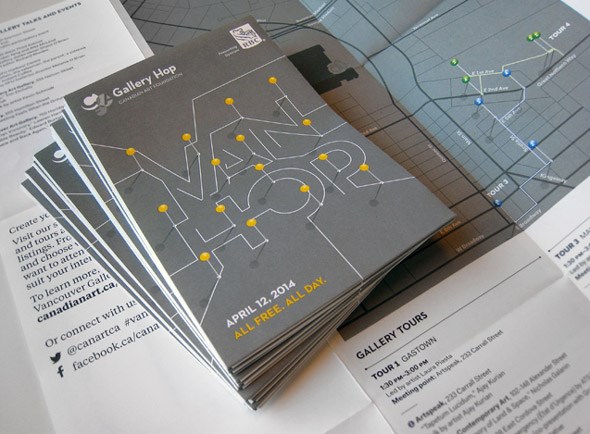 Join the Canadian Art Foundation and the Contemporary Art Society of Vancouver tomorrow–Saturday, April 12–for a day of free talks and tours at the annual Gallery Hop.
The day begins with a public conversation at the Vancouver Art Gallery at 11:30 a.m. Vancouver artists Elizabeth McIntosh, Colleen Heslin, Emily Hill, Jeremy Hof and Angela Teng will come together for a panel discussion on ideas within contemporary painting and materiality. This informal discussion draws together artists whose work challenges traditional boundaries of the medium and whose hybrid approach leads us to consider painting as a means, and not an end.
After the panel discussion, choose between tours of Main Street or Gastown galleries.  Both tours begin at 1:30 p.m. and are led by artists Eli Bornowsky and Laura Piasta, respectively.
For the Main Street tour, meet us at Burrard Arts Foundation Studio at 108 East Broadway.  The tour will begin with a talk by all exhibiting artists in Post Rem. Following this talk, carry on to three more galleries for talks by curators and artists.
The Gastown tour meets at Artspeak where artist Ajay Kurian will discuss his current exhibition Tapetum Lucidum. Following this talk, there are stops at Trench Contemporary, Gallery Gachet and The Apartment.
The next pair of tours of Chinatown and Great Northern Way begin at 3:30 p.m. The Chinatown tour starts at Unit/Pitt, led by curator and writer Tatiana Mellema, and the Great Northern Way tour starts at Monte Clark Gallery, led by critic Aaron Peck. Mellema's tour begins with a talk by gallery manager, Brynn McNab, on Spaces of Contestation. Meanwhile, Peck's tour will begin with a talk by writer and collector Claudia Beck on Tower, a group show.  These tours will then continue to other galleries in the area.
Should you prefer to create your own itinerary, there are also several off-tour talks and events.  Notably, there is a public participatory event happening at Satellite Gallery entitled League.  Starting at 2:00 p.m., League, initiated by Vancouver-based artist Germaine Koh, invites gallery attendees to participate in invented sports and games as a form of creative problem solving.  Then at 5:15 p.m., Kevin Schmidt will be giving a talk on his current exhibition, entitled Who Knows, at the Contemporary Art Gallery.
These are only a few of the day's highlights. Visit canadianart.ca/vancouverhop for details on all of the talks and tours.  Plus, you can download a map to take with you on your Hop!