First of all, I wanted to take a brief moment of your time to let you know that Carina and I have started a new Vancouver Is Awesome Kids Instagram account, and we'd love for you to join the community. Come June 21st, we will be hosting contests, meet-up's and give-aways -- so check it out!
Now back to your regularly scheduled post: Every summer my parents joke that when it's sunny, they don't even have to ask, they know that me and the boys are at the pool. What pool? Well, I'm glad you asked because I pride myself on having a versatile selection of outdoor pools, knowing when and why to hit 'em up, what snacks to bring (and what's available near-by), and where to find cheap or free parking.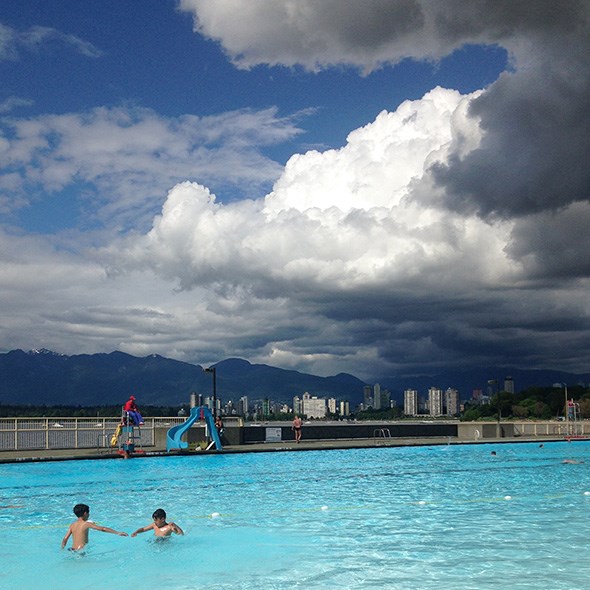 First up, we have Kits Pool. It's the one we visit most because my boys are able to bike there and back from our home, and they also take swimming lessons there in the summer. Vancouver's only saltwater swimming pool, Kits Pool is a giant oasis that has you asking if you are actually looking at a screen saver, or is this ocean/mountain vista is real. As I said, we try and ride our bikes because parking can be tricky. There is ample space in the lot near the beach, but it fills up fast in the sunny afternoons -- so parking in the morning is a must. Biking is our best option now that they can carry their wet towels in their own backpacks. As I'm writing this, I am wondering where to find an attachment for my bike that can carry a cooler and some gear... hmmm... I think living on the West Coast, I am in the right place, and I sense another post idea!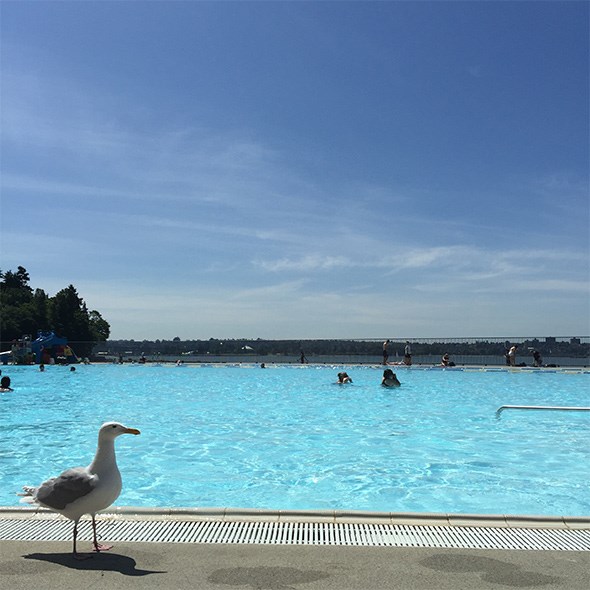 Moving on, we have Second Beach Pool. Located in Stanley Park, Second Beach Pool has a great zero-entry for the littlest ones in your crew, and boasts THREE slides. That's right. There's a turtle slide for the youngest, an intermediate slide for someone looking to test-the-water so to speak, and a twisty slide for the thrill seeker (ok, it's not that intense, but the kids love it). Like Kits Pool, Second Beach also has a concession stand, and this weekend when we were there, there was also a BC Berry tent set-up (best strawberries EVER), and a Candy Meister food truck was getting ready for the day.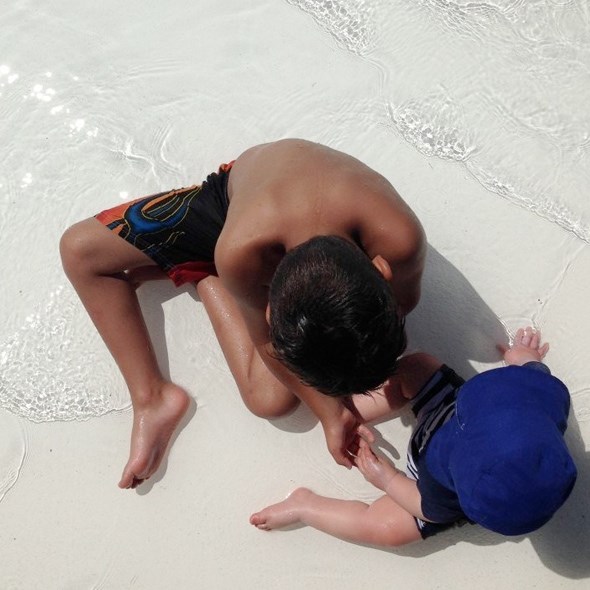 Next we have Maple Grove Pool, a must for when you or a friend have a baby that is just getting used to the idea of water. I say this because of the zero-entry, but also because it's not located directly beside the ocean as the other pools are, so there isn't much of a breeze. There are always a ton of pool toys to share, and a little slide too. In the "deep" end, there is a basketball hoop and a concrete platform for jumping off of. It's not a deep pool, and it's definitely the most family oriented. It has free parking and a great playground to play in when the kids are done at the pool but don't want to leave the park. The concession isn't as large as the previous two pools mentioned, but it has some sweet and salty treats.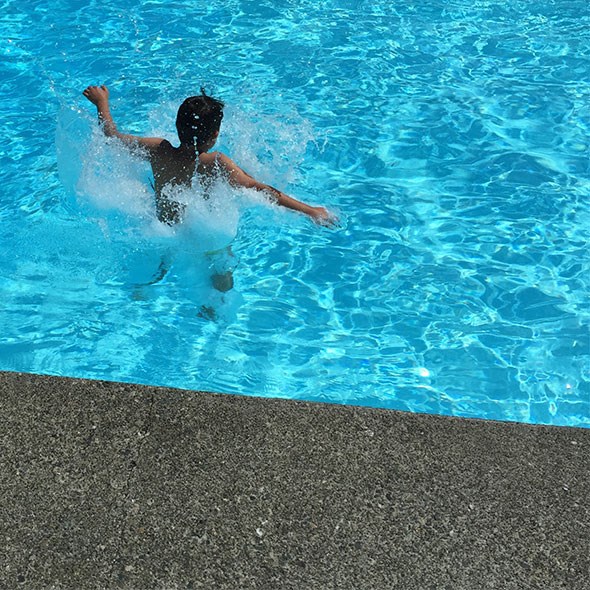 I have to admit that I don't get out to New Brighton Pool as often as I should. New Brighton Pool is a heated, outdoor pool in Vancouver's Sunrise neighbourhood. The backdrop is stunning, with an industrial edge. An advantage for New Brighton is that it has great grassy areas for the kids to run around on and picnic on. This is definitely a picnic pool -- and because we come from the False Creek area, we drive to New Brighton and can bring enough rations to last several hours. There is also a cafe on site, so when you need a popsicle pick-me-up, you are in the right place.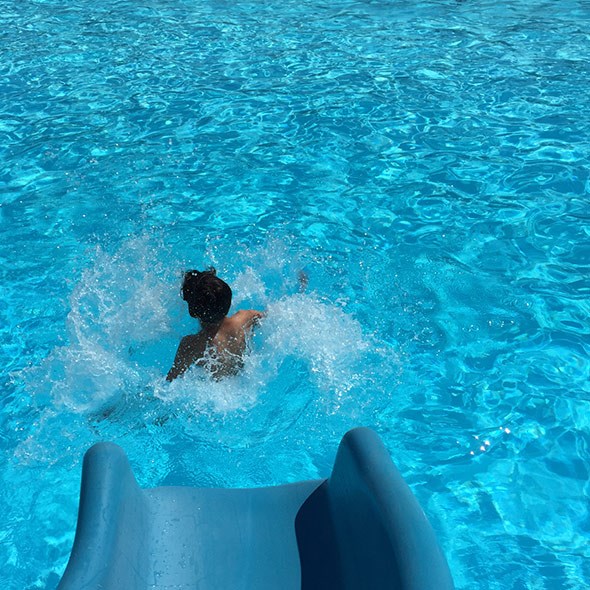 Last but not least (and I bet you thought the list was done), we have Hillcrest Pool! Yes, don't forget that Hillcrest Aquatic Centre also has an outdoor pool with sprays and bubble jets and mats and lounge chairs... I always have to remember to bring my sunglasses with me to this pool because I am so used to the indoor pool (where wearing sunglasses would really embarrass my boys). Hillcrest has a cafe and free parking, a hot tub and family showers, so it's a great way to spend the day for the whole family.

Bree Galbraith is the co-founder of Peaks and Harbours, a Vancouver "not just for moms" blog that showcases everything our city has to offer the younger crowd. @breegalbraith