This is kind of a stretch for High Fiving Celebs... but I had to do it, cause it was really funny...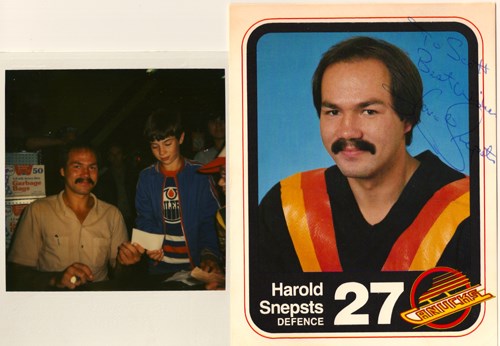 When I was 7 or 8, Harold Snepsts came to Abbotsford to open the new Canadian Tire. I was so amped! I loved Harold, and when the day came to meet him, I rode my bike across town, almost 5kms... not even thinking about what I was wearing... who cared right? I sure as hell didn't... I was a 7 yr old boy... It was amazing that I wasn't wearing my pyjamas...
I lined up forever to meet Harold Snepsts, and when my turn came, you can see on my face that I was stoked... But then, the worst thing happened. Right after this pic was taken, Harold turned to me to say "thanks", but instead spotted my jersey... Yes, that is an Edmonton Oiler jersey, not a Canuck jersey... I wasn't even thinking! I actually hated the Oilers...
I heard him yell "Edmonton Oilers! You like the Oilers?"
I turned beet red... I couldn't talk...
"You can't have my picture if you're wearing an Oiler jersey! What kind of kid..."
I made a break for it... ducking through plumbing and doubling back through electrical... all along hearing laughing as Harold searched around the store, looking for me and his autographed card...
I was terrified... he was laughing as he called for the 'oiler... although I didn't find out till later when my friends came out, that Harold was just joking... kind of...
This one goes out to Harold Snepsts, for making me check in the mirror from then on for what I looked like...