It's been a couple months since I wrote a Workshop series feature giving you an inside look at our local media operation (and others), but I'm happy to be back at it today for 2 reasons:
First and foremost, I want to not-so-humbly brag that we crested 100,000 Likes on our Facebook Page. It's been a ton of work, I'm very proud of where our team is, and I want to mark the occasion and thank everybody who Likes our Page.
Secondly, I want to share some of the lessons I've learned with the hope that they'll help you boost your engagement and following on the platform. Maybe you run a small business or you work for a big brand or maybe you're even an up-and-coming competitor of ours. Cool. I want to help.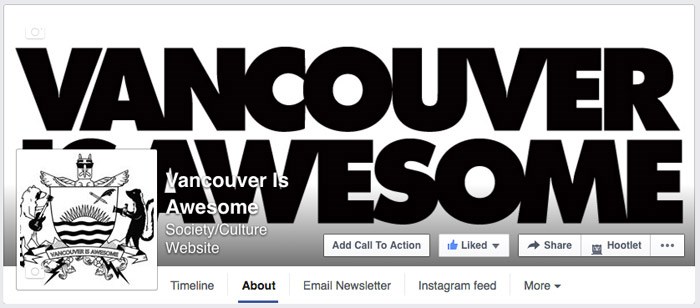 Note that if you don't run a Page on Facebook and you're a general user, most of these 5 tips I'm outlining below won't apply to you and will likely be crazy boring. If you do run a Page this will hopefully offer at least a grain of insight for you. Here goes...
1. Time
Time is the not-so-secret sauce that helped us build a substantial following. We launched our Page on February 6th of 2010, 2 years after our website went live, and 10 months after we started tweeting from @VIAwesome. We've been posting links, photos and videos to our Page multiple times a day for the past 2,271 days. It picked up over the last couple of years with 35,000 new people discovering it each year, but it's been a slow burn over 6+ years.

2. Quality over Quantity
I'm not going to say that every one of the tens of thousands of posts we've made over the years have been winners, but we're not trying to be everything to everyone. You won't see breaking news stories on our Page (in fact you won't see much actual "news" at all), which explains the disparity in numbers between our Page and the other top media properties on Facebook in Vancouver: look at the numbers below and you'll notice that over the past 7 days they each posted an average of a couple hundred stories. We posted 32. I'm not at all saying that our 32 are greater in quality than their hundreds, just that we are more focused on a few categories. We do our best to see what our readers are paying the most attention to, and deliver more of it, and less of what they don't want to see. Also, we're a very small team running this thing. The players that you see us up against here are mostly Goliaths and I'm constantly surprised that we're still stacking up close to them at all.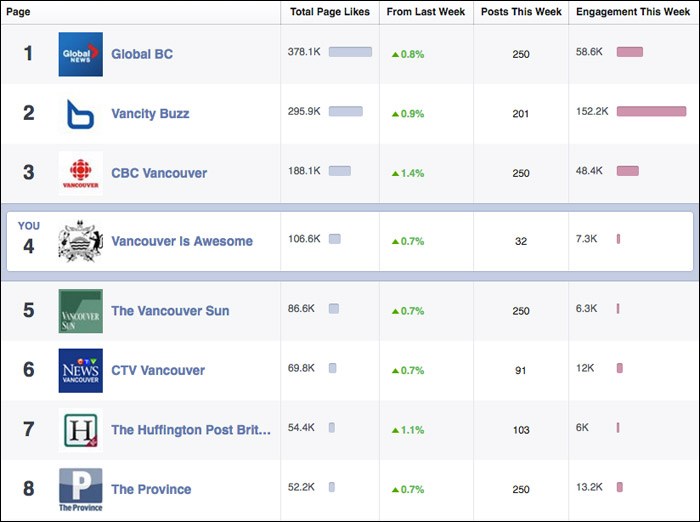 3. Budget for boosting posts
When Facebook introduced their new algorithm a couple of years back that started burying posts, a publisher that I know who had a couple hundred thousands Likes on their Page staged a protest, calling it obscene that they had to pay to reach people who already Liked their Page. Their engagement went way down, and I don't think they ever fully recovered. I saw this happen and knew that if we didn't invest to start paying to boost our posts we'd be doomed. I'm not going to give you all of the details on how we spend our monthly budget but I can tell you that playing their game is one of the best investments I continue to make for our company. See an example of this video below which admittedly reached a lot of people without a boost, but ended up getting in front of 300,000 people when we added fuel to its fire. Experiment with small boosts here and there and find out what works for you.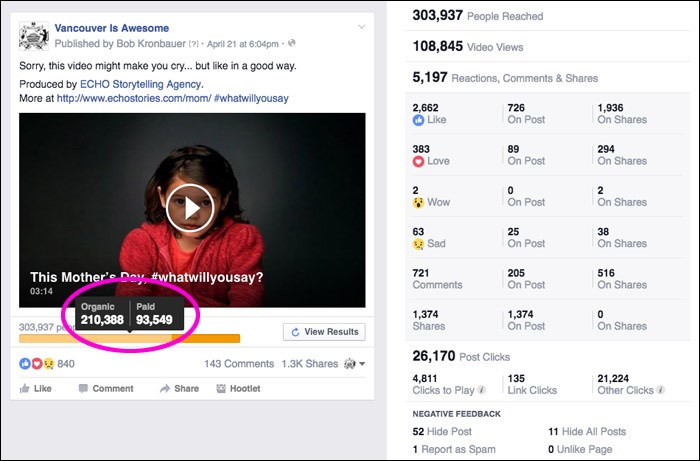 4. Don't buy followers
We saw the fallout a few years back when people thought it was a good idea to buy followers on Twitter, and I feel like we might see the same thing with Facebook soon. Bottom line is YES spend money on getting your content in front of people but NO you should never pay money to a third party who will get a crapload of people to Like your Page all of a sudden: these "Likes" are bots and fake accounts, not actual people. The only scenario I see this working in anyone's favour would be if you were running some sort of shady pump-and-dump operation where you didn't aim to actually get in front of real people and you just wanted to pretend to be something you're not. As in, there is NO REASON that you should ever buy followers.
5. Make it shareable
This seems like a no-brainer but the easier you make it to share your stories, and for people to find your Facebook Page through your site and your other social channels, the better. Our site wasn't optimized properly for mobile until about a year ago (SERIOUSLY!), and since we updated our shares have vastly increased and we've had to rely less on people finding our stories from our own Facebook Page, and have got more organic shares (so... well... this isn't technically about growing your FB Page, er sorry). Take a look at the percentages of devices that people used to access our site over the past month below. If you would have told me a couple years ago that only 34% of our readers would be accessing our site from actual computers in 2016 I would have laughed, but it's true. And they're finding their way here from places like the Facebook App on their phones and tablets.

BONUS:
6: Post video directly to Facebook
Again, this should be filed under "playing their game", which I encourage you to do even if you're feeling a little uncomfortable with it at first. See in 2014 Facebook really started pushing people to upload their videos directly to the platform as opposed to uploading to Youtube then sharing that link from their Page. I'm not sure if the algorithm will necessarily bury a Youtube link that you post but I do know that when we upload a file to our Page we get thousands of times more people watching it. Not thousands of views (well, yes thousands, many thousands) but multiples of thousands more views than we would get on a Youtube video. If it's not an algorithm thing then certainly the autoplay feature and people not having to first read about your video then click out of Facebook to view it helps, plus it's just so much more intuitive for a reader to share a video that shows up right away in their own feed. And the more people who see your videos the more will share it on their personal timelines, and the more people will see that you're posting interesting stuff... resulting in them following your Page. Boom. Use it as a tool of discovery, and also know that the existing people who already Like your Page will see more of your videos if you post them direct.
When it comes down to it, the most important secret (that's not a secret) to getting people to Like your Page is to produce quality content that they want to keep seeing more of. That is the foundation that I feel everyone should build from. Without it, nothing else matters.
And that's it for my Facebook tips! Tweet me at @BobKronbauer if you want to discuss further, or if you've got questions I might be able to help with.
***************
This is part of an ongoing series where I'm taking you behind the scenes of our organization as well as looking at other publications in Vancouver. As the founder of V.I.A. with 20 years experience in online publishing, I'm lifting the veil to give you a better understanding of the business of it. Read more:
- Here's what the Sponsored Content on our site supports
- Vancity Buzz Has No Competition
- The Tyee does not want to be categorized with Vancity Buzz
- Here's why we shut down Toronto Is Awesome
- Meet the guy in charge of merging the Vancouver Sun and The Province's newsrooms
- V.I.A.'s editor has been bullied online for years, by adults
- V.I.A. got tangled up in a frivolous lawsuit with the mayor, and it was hilarious