Vancouver Is Awesome is a proud media partner of this year's Gallery Hop Vancouver! Watch this space over the coming days for previews and insight on the free tours and talks taking place during this year's event!
Today's Q&A focuses on the Contemporary Art Society of Vancouver and the Canadian Art Foundation, two established organisations that have joined forces to bring Vancouverites the Vancouver Gallery Hop (AKA VANHOP): a jam-packed day of art events, tours and talks. All events on the 27th of April are free and open to the public. Artist and CASV board member, Sunshine Frère, interviews Contemporary Art Society's Director Rachel Rosenfield Lafo to find out more about the CASV, the CAF and the Vancouver Gallery Hop.
What is the CASV?
The Contemporary Art Society of Vancouver is a not-for-profit organization founded in 1977 to promote an appreciation and understanding of Contemporary Art. The CASV operates entirely on memberships and donations. We receive no other funding and maintain an exciting program of events through the efforts of a very active volunteer board of directors. The CASV is dedicated to fostering awareness of contemporary art to a wide audience.
What type of activities does the CASV plan for their members?
What defines "contemporary" is a constantly shifting paradigm and we navigate the sometimes controversial, often enigmatic and forever fascinating topic by scheduling a program of studio visits with emerging and established artists, visits to private collections, lectures by prominent artists, critics, collectors, designers, architects and fine art professionals from North America and abroad to speak annually between September and June. We also organize art trips to visit collections, studios, and galleries and museums in Canadian and international cities. In 2011 we inaugurated the CASV Emerging Artist's Prize open to all artists in the Lower Mainland within the first five years of their career. We received submissions from 147 artists; from that group 5 finalists were selected to have an exhibition at Access Gallery, and Nicole Ondre was chosen as the winner. The prize is a biennial competition with the next launch in the Fall of 2013.
What artists have contributed talks, studio visits, or lectures to the CASV?
Hundreds of artists have contributed: Donald Judd, Andy Warhol, Carl Andre, Lucy Lippard, Jack Shadbolt, Betty Goodwin, Dale Chihuly, Roni Horn, Guido Molinari, Gathie Falk, Douglas Coupland, Rebecca Belmore, Gordon Smith, Stan Douglas, Pierre Dorion, Lawrence Paul Yuxweluptun, Lead Pencil Studio, Aurel Schmidt, Roy Arden, Marina Roy, Shary Boyle, Liz Magor, Alan Sekula to name a few.
Name three of your most memorable talks/tours or events during your time as a CASV member?
I joined CASV in September 2009 shortly after moving to Vancouver and was immediately impressed with the quality of the programs. It's hard to choose only three events of the many I have attended, but I particularly enjoyed the studio visits with Babak Golkar, the talk by Brendan Tang, and the recent trip to Seattle where we visited private collections, two artists' studios, and a special exhibition at the Seattle Art Museum.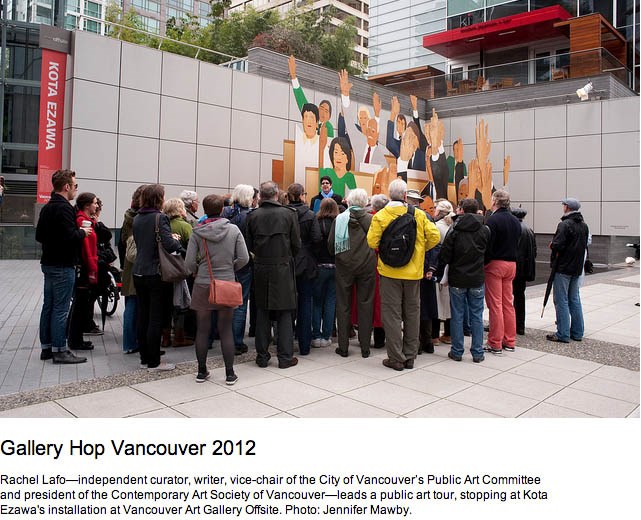 What is the Canadian Art Foundation and how did the CASV become involved with the Vancouver Gallery Hop?
The Canadian Art Foundation was established in 1991 and has since grown to deliver numerous educational programs in addition to the publication of Canadian Art. This diversity now makes the Canadian Art Foundation the ultimate portal for the exposure of visual arts in Canada, dedicated to providing a destination for artists and art enthusiasts to connect and be inspired by art, in turn creating greater local, national and global visibility for the extraordinary artistic talent in Canada. The national partnership between the CASV and the Canadian Art Foundation started several years ago and comprises a variety of programs and initiatives in the arts, including the Canadian Art Foundation Vancouver Gallery Hop.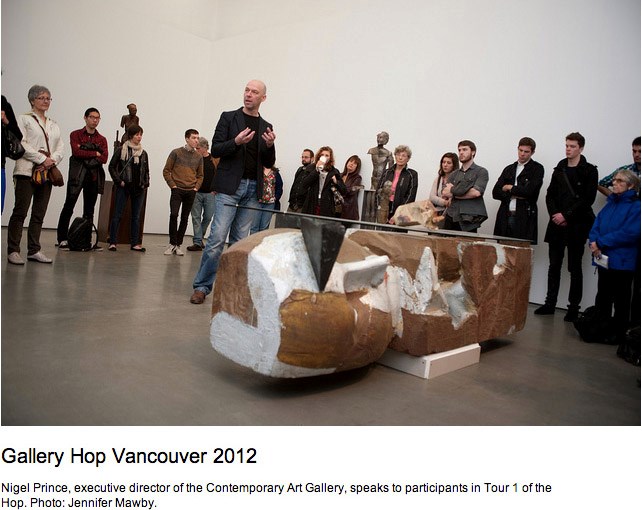 Why is the Hop good for Vancouver?
The Vancouver Gallery Hop provides an amazing opportunity for art enthusiasts to connect with artists, curators, and gallerists, and learn about public art in the city. In one day participants can hear artists talk about their different approaches to landscape, take 5 art tours in different neighbourhoods, hear artist and curator talks, and attend a festive reception and Canadian Art magazine launch at the Vancouver Art Gallery. The Hop adds to the national conversation on art by engaging Vancouver's art scene. And, it's all free!
What tour are you leading at the Hop?
For the third year I am leading a public art tour, this time focusing on the Yaletown/ Marinaside Crescent area of the city. We will see works by Alan Storey, Gisele Amantea, Henry Tsang, Rhonda Weppler and Trevor Mahovsky, and Jerry Pethick, among others.
What was your biggest highlight from giving last year's public art tour during the hop?
I was delighted when about 60 people showed up for my tour, and many stayed for the full hour and three quarters. I enjoy pointing out works of public art that people often pass in their daily routes but may not have noticed. An example of that is the installation of Ken Lum's Four Boats Stranded: Red and Yellow, Black and White from 2001 on the roof of the Vancouver Art Gallery. Even some of the tour participants who regularly visit the VAG had not been aware of the boats.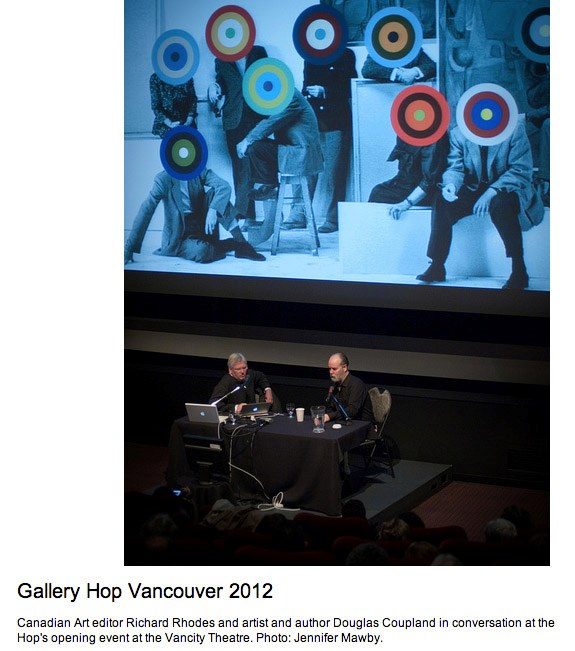 The Vancouver Gallery Hop takes place this weekend (April 27th). All events are free and open to the public. So be sure to join a tour and get your hop on!