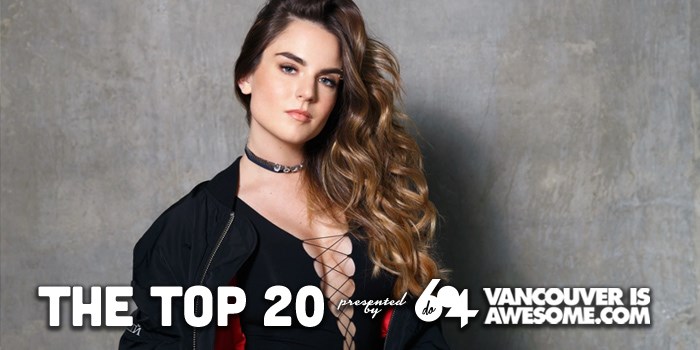 Fall madly in love with JoJo's new voice that's bursting with passion and vulnerability. She'll help you find your place in this world through her empowering lyrics and spine-chilling vocals when she plays Vancouver this week.
But she's just one of the Top 20 must-see artists playing in Vancouver this week, picked by our city's #knowfun Selectors at Do604.
The Top 20 playlist - hear this week's best artists here
https://open.spotify.com/user/do604/playlist/3JZh1e5yI2WQI5zTZPLZ9s
Subscribe to the playlist, or return back every Monday to hear who's the best of the best playing Vancouver.
Thurston Moore
at The Imperial - Monday May 8
Shredding soft acoustic vibes with his signature rockin' sprawl that's layered with dreamy lyrics.

Sacri Monti
at The Cobalt - Tuesday May 9
They'll be setting The Cobalt ablaze with their smouldering psychedelic heavy rock.

LP
at Venue - Thursday May 11
You better buckle up or else LP's booming atmospheric voice will suck you in to the dark abyss.

UZ
at MIA - Thursday May 11
Hold on to everything you know and love because UZ's floor-shattering trap is out of this world!

Lee Hutzulak
at Lanalou's - Thursday May 11
The perfect balance of electro-acoustic improvisation while focusing on texture, tone and space.

Tanya Tagaq
at Vancouver Opera Festival at The Vogue - Friday May 12
View the world through Tanya Tagaq's lens and let her avant-garde Inuit throat singing enlighten you.

O.T. Genasis
at Happy Ending Fridays 8 Year Anniversary at Fortune - Friday May 12
Feel O.T. Genasis' magnetic energy pull you in and blow your mind with his charismatic delivery and epic wordplay.

Blond:ish
at The Projection Room at The Fox - Friday May 12
Embrace your inner hippie spirit at The Projection Room with Blond:ish's swirling magical vibrations.

Oddisee
at The Biltmore - Friday May 12
Explore the fine lines between international politics and local struggles with dreamy instrumentations and deep harmonies.

U2
at BC Place - Friday May 12
Relive your younger years. Hear Joshua Tree performed, in full, one last time.

Daggermouth
at The Cobalt on Friday & at 333 on Saturday
Get your daily dose of hardcore with a dash of sweet pop punk.

Illyrian
at The Media Club - Saturday May 13
Boundaries won't exist when Illyrian takes over The Media Club with their thrashing heavy metal.

Tee Krispil
at Groundwerk's 2 Year at VAL - Saturday May 13
Celebrate 2 years of Groundwerk with Tee Krispil's deep metaphoric rhymes that dips into a world of temptations and distractions.

Destructo
at Celebrities - Saturday May 13
Destructo's electro beats are so on point it might just cut you.

Conan
at The Astoria - Saturday May 13
Coming all the way from England to give you a taste of heavily distorted British doom.
Pink Martini with the VSO
at The Orpheum - Saturday May 13
Their music is just about as fuzzy and heart warming as their name! Pink Martini will be filling The Orpheum with their toe-tapping international vibes.

JoJo
at The Vogue - Saturday May 13
Spine-chilling vocals that's drenched with blue-collar roots and upbeat jams to get you moving? YES PLEASE!

Oh Malô
at Merge - Saturday May 13
Having no limits on dynamic range, Oh Malô intertwines lush vocals with atmospheric guitars and aggressive drums.

Emel Mathlouthi
at The Rio - Sunday May 14
Groundbreaking vocals that swirl between organic harmonies and electro beats.

Reid Jamieson
at Cottage Bistro - Sunday May 14
Vancouver's very own songbird will be making an appearance at Cottage Bistro. It's going to be a night of compelling vocals and therapeutic melodies.

At anytime check out our Vancouver Events calendar to see the best of what's coming to our city. Never miss another great show!