"Orthopedic fawn."
That one term, read aloud from Zero History by the lips of he who penned it -- cyberpunk pioneer William Gibson -- is meant to evoke the interior of London's new cabs.
It turns out to be a magic combination that is able to send Douglas Coupland, coiner of "Gen-X" and a long-time friend of Gibson's, into micro-shivers of ecstasy.
"It's like my Homer Simpson moment, drooling," Coupland says, illustrating drool with twinkling fingers descending from his face.
There's a pause. It's a little awkward.
The other interview host, Sheryl MacKay, jumps in and steers the interview, part of the CBC Radio One's Book Club, back to the novel, the third in an informal trilogy that began with Pattern Recognition and Spook Country.
It's a difficult ride to stay on-topic with Coupland as your co-host. But an interview with him participating is comic and enlightening, too.
MacKay asks Gibson about fashion, which features prominently in his new book. Coupland asks particularly about denim.
Gibson launches into a marvellous description about the Japanese obsession with denim: about weaving methods and Victorian terminology; about fading and the lengths some wearers go to achieve the desirable "crotch whiskers."
"The reason I ask," Coupland continues, "is because I have this pair of jeans I was told never to wash."
He wore them for about six days before deciding they were all "full of protein" and now he doesn't know what to do with them. He was told they'd fall apart. He was told he couldn't dry-clean them either. They've been sitting in a lump on the change room floor since last summer.
"That's nasty," Gibson says.
Gibson tells his friend that, no matter what, they must be washed: cold water in a bathtub, mild detergent, hang to dry.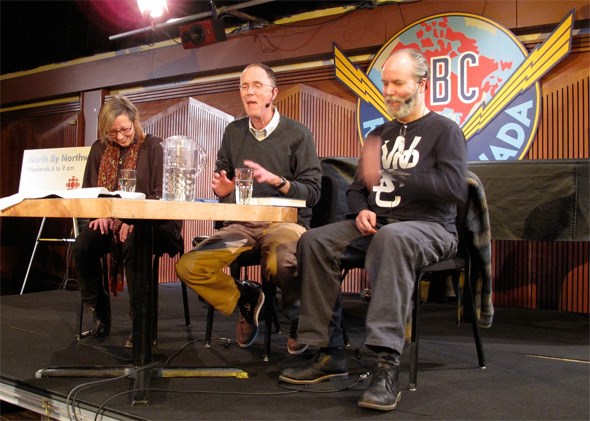 "I don't feel safe in a monoculture. I think that's why I always loved how Vancouver is a glorious, bubbly, mélange of human potential." -- William Gibson, who grew up in a small town in Virginia.
MacKay brings the conversation back to "the book," and on cue, Coupland derails.
Coupland asks him about Twitter (they follow one another) and how it enters into a writer's world. (Twitter is great for some things, Gibson replies, for example when you're not in London and need to know the colour of a Nero chain coffee cup for a novel detail. Twitter fails, Gibson says, if you ask anything more complex than that.)
Coupland tries to ask Gibson about the weirdest place he's Google StreetViewed, and Gibson ends up describing the strange reality of using the online tool to help write Zero History, which is set in London, while physically at home in Vancouver.
"I started inhabiting the Google StreetView London," he says.
"Geostalking!" Coupland adds.
When Gibson finally set foot in London after finishing the book, he felt strange recollections and déja-vu for places he'd never been except through "the phantom visit."
Gibson uses phantom knowledge, too. Coupland smiles wide and claps quietly when Gibson describes his reliance on hard drives and the online cloud as "prosthetic memory."
Externalizing memory through hard drives, books, or even cave drawings puts information in a form that survives the death of the creator, Gibson says:  "It gave us weird powers over the other species on the planet."
The writers discuss their old laptops and Gibson recalls a sunny day at a flea market in Richmond some years ago, where he came upon some odd spools of rusting metal wire. It turns out they were wire recordings, a magnetic reel format that came before tape. Gibson didn't buy them (he has a fear of becoming a hoarder), but still thinks about them: "It stuck with me that things could be marooned on old platforms."
Coupland decides he has to ask Gibson about another type of marooning: Vegas cubes. The hosts and the subject throw the term around for a few seconds before letting the audience in.
The "Vegas cube," Gibson explains, is something Coupland brought up in a mysterious manner once years ago, when they were driving somewhere together: It's a sterile, blank room that, like a casino, has no clock. The idea is to get rid of distractions, including time, and disappear into your writing. Coupland has tried using that environment to get work done. Gibson says he doesn't need it. He has gone to work in a Starbucks in Vancouver, using the hubbub as white noise that forces him to focus in on the one thing in front of him.
"I am my own Vegas cube," Gibson says. Coupland delights.
"That's why I love you."
The rest of the interview may or may not describe the best bacon in Vancouver.
To hear it, you'll have to tune in to North by Northwest on CBC Radio One: Part 1 on February 12 and Part 2 on February 19, between 8 & 9 a.m. PST.
The show will also be streaming through cbc.ca/listen and will turn into a podcast available for one month on the North by Northwest web site.
Douglas Coupland assists CBC producer Sheila Peacock with the post-recording prize draw in CBC Studio One, Jan. 12, 2011.
"This is the CBC equivalent of winning a car," Coupland announces, holding a backpack.
(Author William Gibson is seated at the table, signing a copy of his new book, Zero History.)
Rhiannon Coppin is a Vancouverite.