For those of you who don't know, I have started a social experiment and called it #TweettoEat. Not sure what that means? Read all about it, HERE.
The experiment officially begins on Monday, April 15th, but I had a few lovely people get the ball rolling a little bit earlier.
COOKIES!
About a week before I started this whole #TweettoEat  thing, I was already getting tweets from generous people who wanted to participate. The first real food item I received from twitter, was from the lovely and talented, @AbramsonSingers! Also known as Leah, this lovely lady had made a few too many chocolate chip cookies and had quite a few to spare. She wasn't going to be home, but she left me a gorgeous tin of cookies outside of her place with a lovely little note: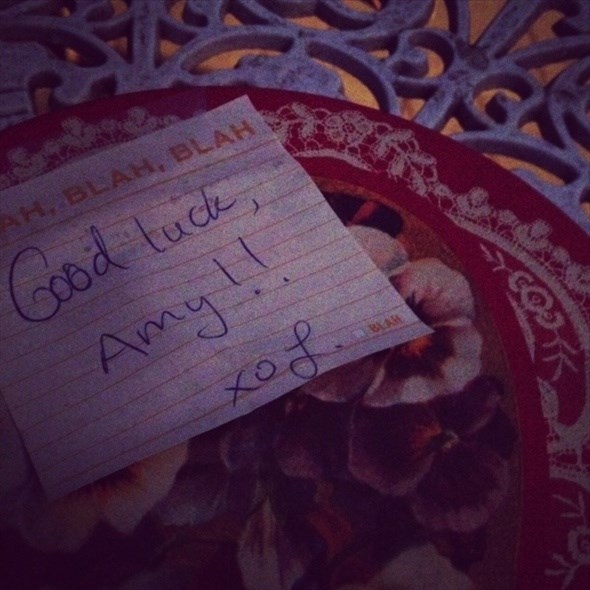 Not only is Leah an amazing musician she is also my ex-boyfriends, ex! Which (let's be honest) shows even MORE generosity than the average Vancouverite. If she can bring up the amazing selflessness to feed me, imagine how many other amazing people are out there in our city.
This past weekend, I had a couple of people kindly offer up some early donations:
Metrotown (@MetropolisatMet)
These guys are amazing and graciously donated a $25 gift certificate to the cause. I took it straight to the aisles of the Great Canadian Superstore where I purchased cans of $0.77 tomato soup, some yogurt, apples, natural peanut butter, some strawberries, rice crackers and a box of green tea! Great deal! Thank you so much for helping me out!
Mid-day grocery shop!
Then I wandered over to the corner of Cambie St. and Broadway to meet someone I had never met before, named Andro (@androdesign). This guy was WONDERFUL! He is an amazing designer who moved here from Manila in the Philippians about five years ago. He picked up his entire life and moved here. Right now he is working in town and unfortunately just broke his hand! His wonderful mother was here visiting from Manila, but he still came to help me out! I asked him what his favorite food was, and he said that he eats sundried tomatos, so he made sure to get some for me. We also picked up some kale, bananas, almond milk and a few other odds and ends! After the grocery shopping was complete, we took our goods over to Starbucks for a little chat. What an amazing guy!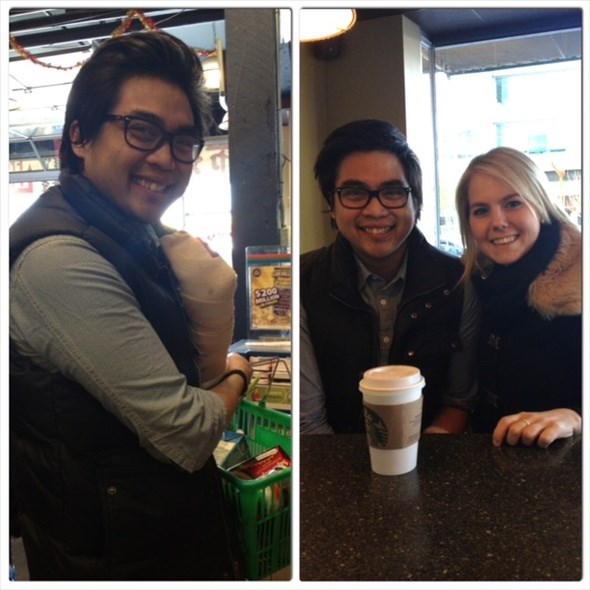 Dinner time!
Next up was an amazing meal with @HairbyKatieRose & @the_bradford. These two are wonderful human beings! Katie Rose is my hair stylist and I was quite excited at the opportunity to sit down with her and her very talented husband, Bradford for a meal at their home. They spoiled me rotten! Delicious steamed artichoke with garlic mayo, red wine, followed by portobello burgers, yam fries and the most wonderful salad with homemade salad dressing! They also attempted to set me up on a blind date. NICE WORK GUYS! These two are a full service mini restaurant/dating service, and I like! We had some great chats, gave their cats treats and laughed all night long. Thank you so much!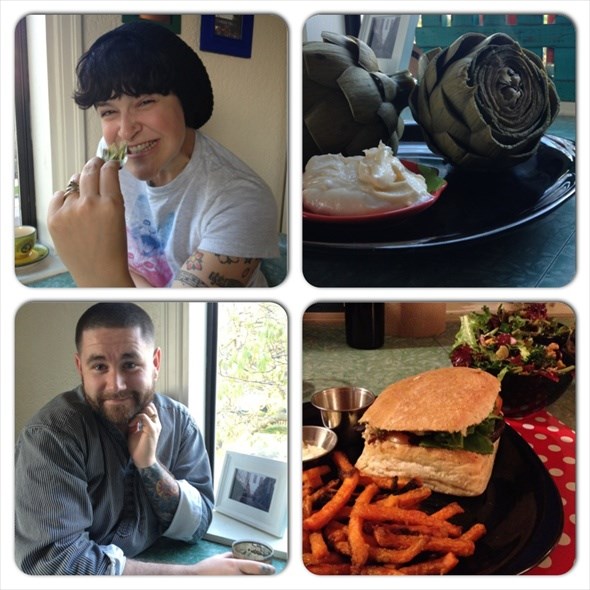 Over the next week, I'm looking forward to meeting and eating with the following people (in no particular order):
@JeepGurl1970, @MegKuziw, @lloydgo, @GurjeetS87, @ladnaladna, @erin_braincandy, @TheFelixKay, @Ronsarlo, @forage, @Beanonmain20th, @irvlau, @KinseySS, @fairlite, @PastaBoyPeter, @backstagerider, @rcooper102, @gabbykalaw, @hurrdurr, @SCOREonDaVIE,@eastvanbrand, @b_coburn,  @MarcSmith, @AdamHeatlie, @plipska, @scottwthurston, @theShankinator & more.
Check back here tomorrow for Monday's adventures and keep following all the friend making action, right here, or by following me @VancityAmy and the Hashtag #TweettoEat!