In this series we stop people along the bike lanes in Vancouver and have chats with them about their thoughts on cycling, their bikes, and more. Have a look at the archive HERE.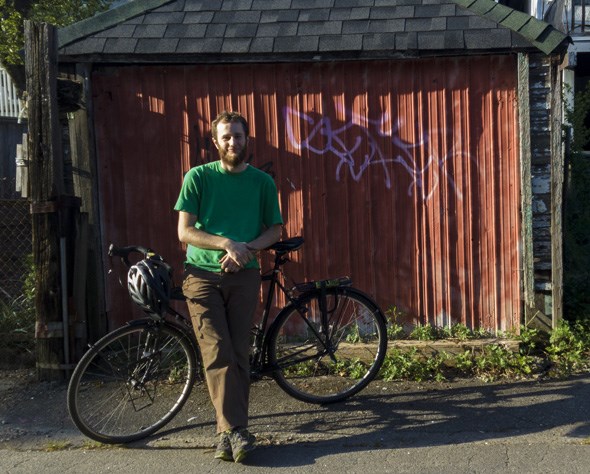 Name?
Evan
Does your bike have a name?
I haven't named it but I do recall that somebody else did at one point. Clearly it wasn't the right name because it didn't stick.
What do you do for work?
I am a designer. I was trained as an industrial designer at Emily Carr, and I basically do custom one off design and builds. I design site specific installations and lately for a lot of environmentally based contracts. What I am finishing off in the next couple of weeks is an interactive interpretive sign for the Great Blue Heron Nature Reserve in Chilliwack, a wildlife apiary in Richmond, and also creating another apiary for Sexsmith Elementary. As part of that I am teaching workshops with the students where we build bumble bee boxes for cavity dwelling bubble bees which will go inside the apiary.
Your work is mostly contract based then?
Well outside of that I also manage the workshop at Makerlabs, so anything from teaching new members and novices on how to use tools safely, and also act as a shop tech if people have questions about the projects they are working on. It's the education and the shop tech kinda work that I enjoy the most.
Do you have any plans for the summer ahead?
I've been so busy with contracts at the moment that I actually haven't had a chance to think about that. At this point I am taking about half a day off a week and it's usually about 12 -14 hour days other than that day. After the contracts are over I will have 3 day weekends so I will probably go on little bike trips or something. There is a small chance I might get down to Burning Man, as I have some friends who might need help building some art installations there, which would be interesting.
Have you been to festivals like that before?
Nothing of that nature but I've volunteered and also worked at music festivals like the Harrison Festival of the Arts, or the Kaslo Jazz Festival. I worked as a carpenter at the Squamish festival last year, but didn't actually attend.
Do you have any plans for future bike trips?
Nothing solid, just that one is going to happen. Might do something on the Sunshine Coast. I'd love to go up the Sunshine Coast past Powell River to a place called Lund, which is apparently full of draft dodgers and just a really interesting place. Then take the ferry to the Island and make our way down. It would probably take about a week to do. Last summer my good friend Scott and I rode from Whistler down through the forestry road along Harrison Lake, and then came out in Harrison Mills. I rode this bike with slightly different tires. We were going along 4x4 roads and sometimes we would just be crawling along.
Have you done mountain biking as well?
Yes, I did that more when I was high school age, which was years ago now. It was fun but I was never really exceptionally good at it. I just enjoyed throwing myself down a hill.
Do you do any other extreme sports?
Kinda depends on what insurance company you talk to, as cycle touring is considered an extreme sport by some. You have to be careful when you are going abroad and you are looking for travel insurance. If you say you are cycle touring you have to specifically ask them if they cover it.
Have you done much cycle touring?
Two trips, the one I mentioned from Whistler to Harrison which was only 4 days and before that Scott and I made a trip where we cycled primarily around Scandinavia. We met in Hamburg Germany, then cycled East through Germany and took the ferry to Sweden. There we met a friend for 4 or 5 days and then took a train to Gothenburg where we could take a boat to Denmark. The last leg of our tour was in Norway, where we cycled in and out of the mountains and went up and down the fjords. In one day we cycled 4 fjords which was intense.
How long was the trip in total?
I was out of the country for 41 days, but 3 weeks of that was actual full on cycling. That was in the summer of 2014.
Did you bring a bike over there?
Yes, I actually bought this one for the trip because before that I had an ill fitting Apollo which wasn't going to cut it. So I got a really good deal on this one off of a bike mechanic who built it and then he sold it for well under what one might expect to buy from a shop. Before the trip I upgraded some of the components because it didn't have quite what I needed and at this point I've changed most of the parts from the original bike.
Did you meet other cycle tourists along the way?
In Denmark we just randomly started riding with this guy who was a retired Danish colonel. He was an old school cyclist who had canvas panniers and a physical map and a compass without any other technology. Then between Denmark and Norway we met another guy and ended up staying with him for a week on the houseboat he was building. He was in his late 50's and had just sold his house and bought this aluminium shell of a boat from someone else who had built it. He had no building skills but just started on the project so he could live away from the city. Whenever Scott and I are biking together we always run into awesome old men who are cycle tourists, or were at some point in their lives.