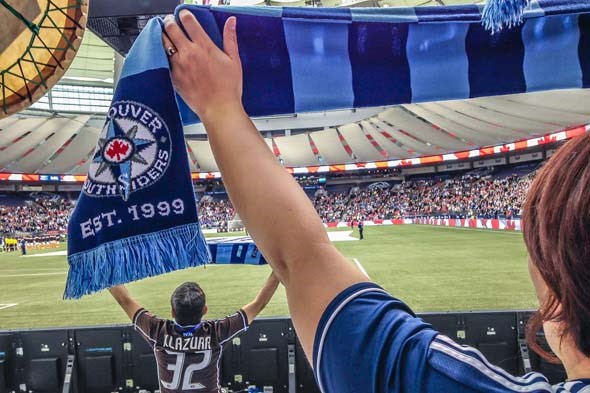 Last month, I wrote an essay for Vancouver Is Awesome about Charles Montgomery's fantastic new book Happy City, and how it perfectly articulated our family's own decade-long journey from the suburbs of Toronto to the heartbeat of Vancouver. In the coming months, I'm going to share with you the experiences unique to this city that fill us with pride, joy and excitement; allowing us to build a happier city, just by living it.
If you follow me anywhere on social media, you are likely aware of my (not-so-) dirty little secret: when I'm not riding or thinking about bicycles, I am usually obsessing about the game of football. Not the poorly named American version you might spot between beer and truck commercials for a few months in the autumn, but The Beautiful Game: played year-round by a quarter billion people in over 200 countries. It is communal. It is tribal. It is tradition. It is ninety minutes of grace, athleticism, and strategy; and while you will certainly find a great deal on television of late, you simply cannot beat experiencing it in the flesh.
Having spent the first ten years of my life in the Midlands of England, I guess you could say I was born with the game in my blood. Like many of my friends, not only did I learn to kick a ball from the moment I could walk, but some of my earliest memories were of standing on the terraces of Highfield Road next to my father. There we witnessed the trials and tribulations of Coventry City F.C. (long before the Premier League era), including the Sky Blues' famous and unlikely F.A. Cup victory in 1987.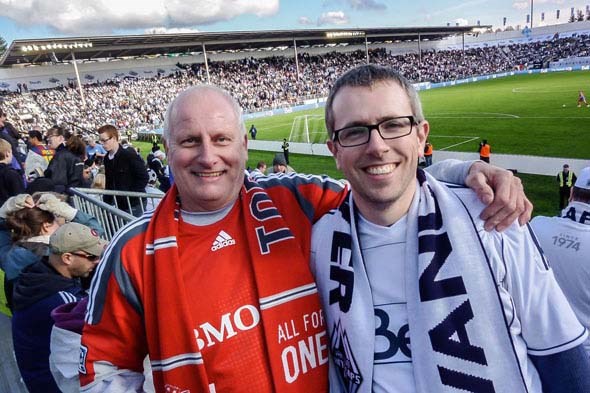 Our family immigrated to Canada in 1990, and the opportunities to follow my passion first-hand were virtually non-existent. But all of that changed on the afternoon of Saturday, March 19th, 2011, when I had the privilege of experiencing the first match of the Vancouver Whitecaps' Major League Soccer era: a 4-2 drubbing of Canadian rivals Toronto F.C., alongside my dad (and 27,500 others) in the temporary, but memorable confines of Empire Field on the PNE grounds.
That unforgettable afternoon reignited a passion that had sat dormant for twenty years. It is an infatuation that now finds me standing in the south side of B.C. Place every two weeks, shouting until my throat is hoarse, and clapping until my hands are raw.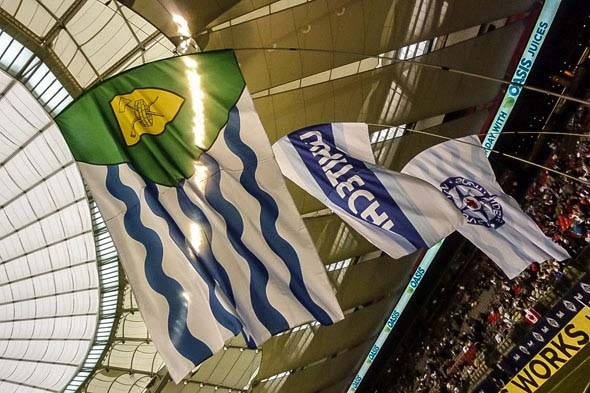 It wasn't long before my wife and I became card-carrying members of the Vancouver Southsiders: the largest (and oldest) of three unique supporter groups that have formed to cheer on the 'Caps (alongside the Curva Collective and Rain City Brigade).
But these groups extend far beyond a simple sport. They have each become their own community: a congress of friends and colleagues (and sometimes even business partners), sharing the collective thrill of victory, and the bitter sting of defeat. They are men, women, and children of all ages, ethnicities, and incomes, putting aside their differences to unite under a single banner, for the betterment of their city.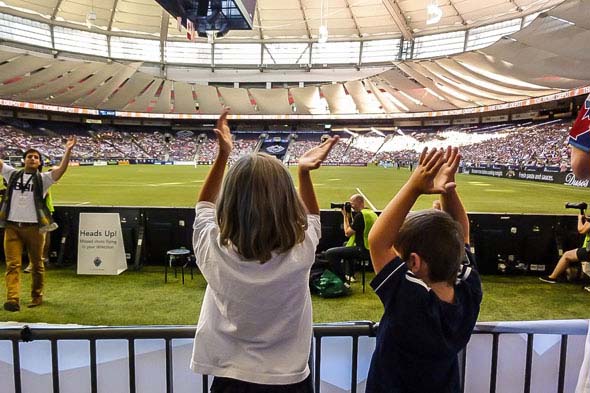 For us, the typical match day begins with a short train or bicycle ride to a Granville Street public house, where the Southsiders meet several hours before kick-off to warm up our vocal cords. Closer to game time, hundreds of us march en-masse towards B.C. Place, waving flags, banners, and loudly announcing our presence to anyone who crosses our path. Once at the stadium, we then stand tall and sing in unison until the final whistle, regardless of whether our team wins, loses or draws.
From the moment you wake up – buzzing with anticipation, until the moment you collapse back in bed from exhaustion, it is an experience unmatched in North American sport. And one you won't ever come close to, sitting at home on the couch.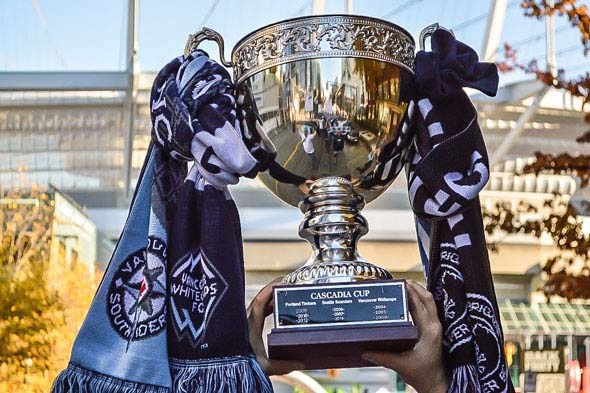 Vancouver's proximity to both Seattle and Portland finds itself part of a distinctive and intense geographic rivalry. Eight times a year, thousands of Whitecaps, Sounders, and Timbers fans travel along the I-5 into enemy territory, to see their clubs battle for the Cascadia Cup – a trophy created by supporters of the three clubs in 2004, that provides with them bragging rights as the best team in the Pacific Northwest during a single calendar year.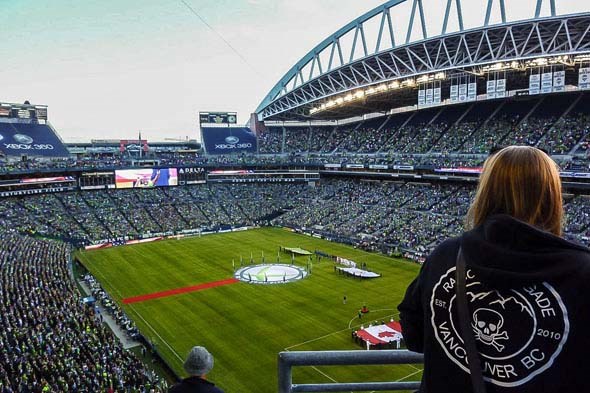 These derby matches are jubilant occasions, boasting an absolutely electric atmosphere from the moment the gates open, and the visiting fans are escorted to their designated section. It's not just about the fervent competition on the pitch, either. Off the field, both sets of supporters will chant back and forth at one another, constantly attempting to outdo each other with their volume, gusto and wit.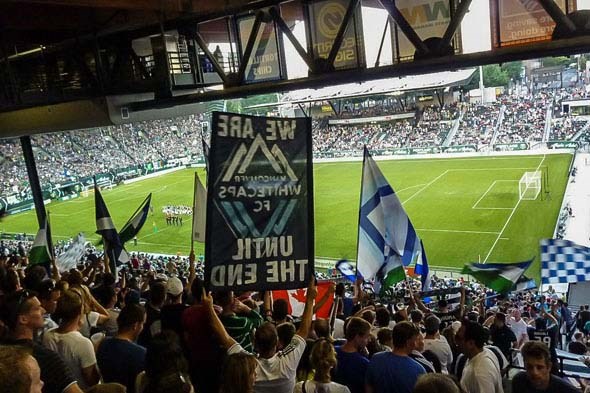 The Cascadia Cup also turns into a spirited showcase of the very best tifo displays. These choreographed spectacles often take weeks, thousands of dollars, and countless bodies to execute. But when unveiled, they become a magnificent display of civic pride and inspiration, sometimes stretching across half of the stadium.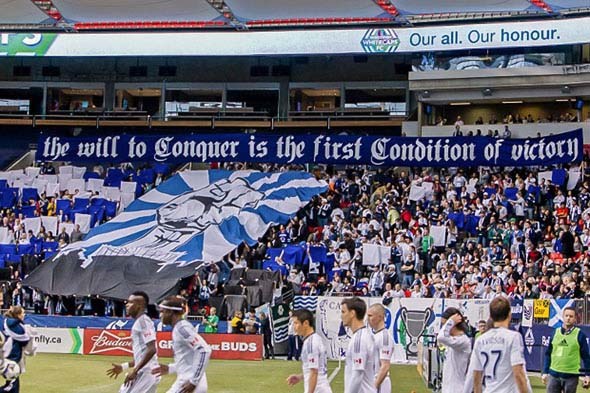 Much like my preferred, two-wheeled mode of transportation, I often feel privy to a secret when it comes to the Vancouver Whitecaps Football Club. But as I watch substantive cultures continue to build around both cycling and football in this city, I realize it's only a matter of time before my secrets are out. For far less than the price of admission to Rogers Arena, the entire family can feel a part of a genuine phenomenon at B.C. Place; an entire community that stretches far beyond just a game. We have made some fantastic friends and great memories in the south side, and plan to remain there for years to come. I hope you'll consider joining us.
***
Chris Bruntlett is a Residential Designer and father of two, living the (car-free) East Van dream. Outside of the office, he diligently documents the rise of mainstream bicycle culture via words, photographs, and film. He cherishes the ability to live and work in a dense, vibrant, sustainable city, and contribute to that vision on a daily basis. You can find Chris on Twitter: @cbruntlett