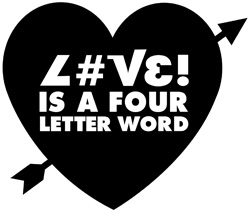 Karen Campbell, age 40 and Kyle Grant, age 38 are about to get married, but they did everything backwards.  They can't even remember a time when they didn't know each other and it's incredibly obvious that they place a huge value on each other and their family, with sons Felix age 8 and Owen age 4.  This has kept things working for 16 years.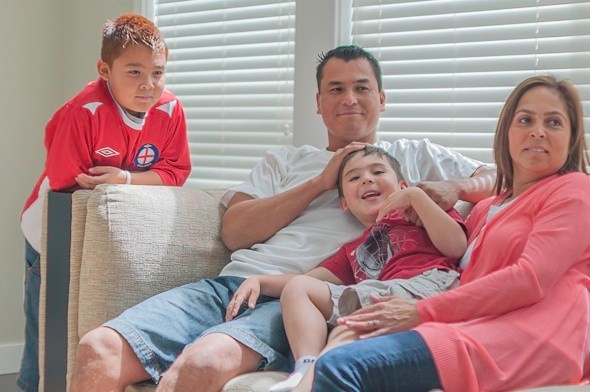 How long ago and how did you meet?
Karen: We've known each other all our lives.  He lived across the street from my house and him and his brother used to steal toys from my sister and I.  Back in 94/95, a group of us used to go out nightclubbing and we got to know each other through that. Musqueam has a men's and women's soccer team and we used to practice together too.
Kyle: Through soccer and partying (we all laugh) and I would say living on the reserve, every body knows every body.
What drew you to him/her when you first met?
Karen: I never told you this but I loved how he's kind of a gentleman.  He'd be the one who'd open the door for you and we'd have nice conversations over dinner.
Kyle: I don't know I haven't really thought about that… (we laugh)  We were able to click and just always laugh, have a good time, and that's what I like. I don't know how to describe it; it just seems easy.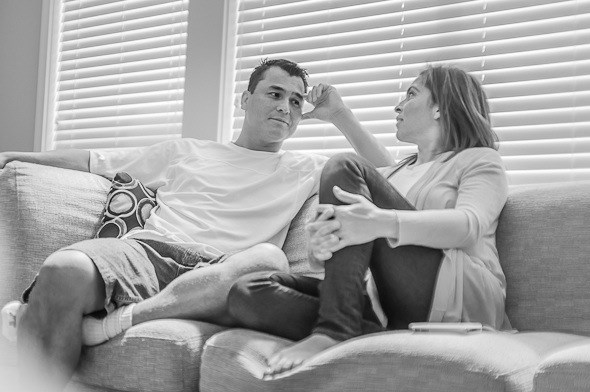 What's the last thing he/she did to make you smile?
Karen: On Mother's Day they gave me a charm bracelet.  Our son described that the K represented Kyle and I.  And the left soccer boot represented Felix and the two bare feet represented Owen.  You can tell a lot of thought was put into the gift. Also, when I'm busy doing something in the kitchen and then all of a sudden Kyle will say "Karen" and I'll say "What?" and he just says, "I love you."  And I just get (sighs) I love you too!  It's the unexpected. Makes me smile and calms me down because we're busy all the time.
Kyle:  Just the simple things. We were up in Pemberton near Whistler for soccer and just being all together makes me smile and I'm content with that.   That's what its about I think. Even though Owen was sick that weekend, she was there looking after him.  It's the day-to-day things.
Karen:  Both of us play soccer and Felix plays now and we're juggling schedules.  So we're figuring out ok, I play this time, you play this time, Felix plays this time. Who's taking Owen, ok you take both of them because I was at the same field as Felix. When you get back to the hotel and you go we actually did it.  Wow.
Kyle: Any reserve you go onto, it's a different world then out there. When we win, it's a whole feeling, a whole social thing, and it's a sense of pride in representing the reserve, Musqueam.  Every one is honking, showing off their trophies and elders come out of their houses and show their support.  It's a whole community.  It's not hey we won, let's have some beers.  Your friends are with you; your family is with you.   Musqueam is with you. When its busy and she has a game, I have a game, Felix has a game.  Some one has to look after Owen.  And usually there's some one who takes him.
Karen: It's a good experience for our little guys because they get to meet other people.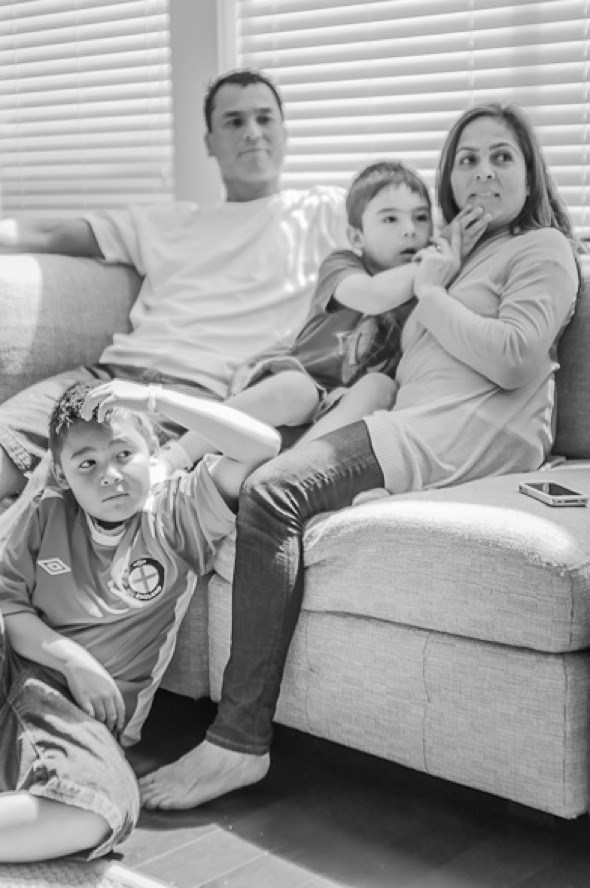 Couples often have shared memories that they talk about again and again, what are some of those special moments or memories that you still talk about?
Kyle:  One of the special times would have been Vegas.  I had gone down the year before.  If you see the Bellagio water show, its an amazing spectacle and Vegas is a whole new world, the lights, and I thought I gotta get Karen down here, holy smoke.  So the year after that's what happened, I said you've gotta see this water thing.  Up in Vancouver you don't see anything like that. That was a highlight just being there and showing her Vegas.
Karen:  The first year or two when we were together he wanted to take me to the fireworks and we'd bike ride down to where the music was.  I'd always gone to Spanish Banks; I'd never heard the music.  He was so insistent, let's just bike ride down to English Bay.  You need to hear the music with the fireworks.  We'd beat every one home.  I think him knowing I have never seen this made him want to take me even more.  I'd always think about that over the years because he'd always say "you have to hear the music" and I really enjoyed that.
Do you still date?  What are your favourite spots in Vancouver for a date?
Karen: We make time for that. We have always discussed that it's important to make time for us
Kyle: We try to go to Yuk Yuk's once in a while, and again its laughing together.
Karen:  We like to go to the Keg.  We've always enjoyed it.  Stand up comedy.  Movies.
What is the secret to your relationship?
Karen:  Kyle and I have discussed this and he's always mentioned that couples should always have an outlet.  I go and workout on my own just because I want to, I go to play soccer.  He goes and plays cards with the boys.  The odd time I'll go out with the ladies.  And not just spend 24/7 together.  We need to do what we want to do as well.
Kyle:  Karen hit the nail on the head, the secret is to have outlets in your life.  I don't need to entertain her; she doesn't need to entertain me. I noticed a lot of people who are not together anymore live in small places, and they don't know how to get away from each other, then you start picking at each other.
Kyle: We've done everything backwards.  We started off in a two-bedroom basement suite and then we had our first son, and then we had Owen and we were still in the two-bedroom basement suite and everything started getting small. I got that call saying – hey there's an opportunity to build the house on your land. We had our kids, then we got the house, and now we're going to get married.  So, everything is backwards I think that's been part of our success, we weren't pressured into getting married right away, having kids, you know going through that whole process of what every body expects. I'm not saying the pressure isn't there.  We've been to a lot of weddings where people said 'when's it your turn?'
There was no real time table for us and everything always just kind of worked out.  We were living in the basement and I just didn't think we'd ever get out, and everything just seemed to fall in place, my job happened and it's a good paying job, its security for the kids more or less.
Then I went back to school so moving somewhere else wasn't part of the plan.  I ended up getting laid off, but it was a good time to get laid off, unbeknownst to us that's the perfect time to build. If I were to build a house again now, we wouldn't be able to afford this; we really got lucky.
Being on the reserve, we've been to I don't know how many weddings, and both Karen and I have been part of the wedding parties and I just think it was time to get married. To be honest, I thought, maybe we'll get engaged, we can wait a little longer, stockpile some money.  But Karen jumped all over it (more laughs) and it was a little sooner than I anticipated to be honest, but it's going to work out.
Felix:  I'm going to walk my mom down the aisle, and Owen's going to bring the rings.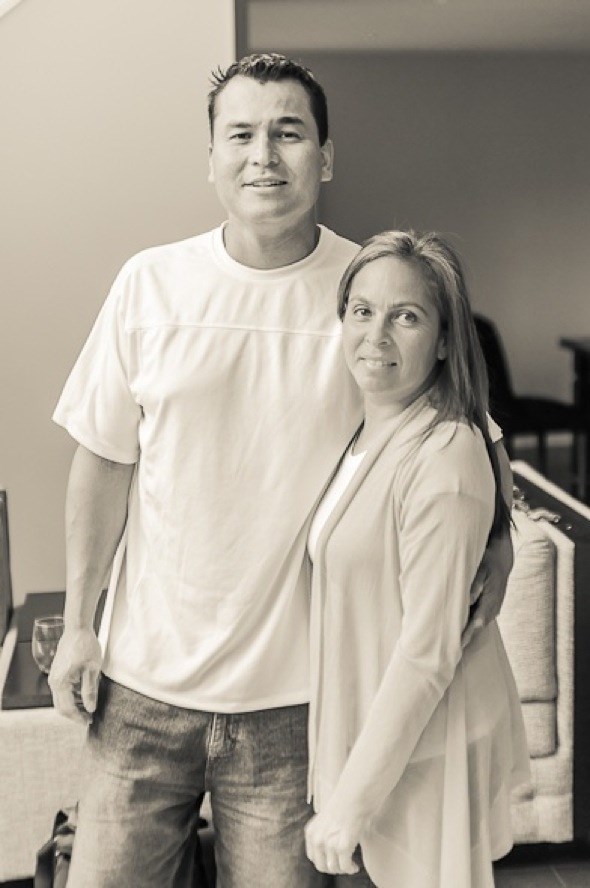 Is love a four letter word?
Karen:  I think love is teamwork to be honest.  We've got a big team right here.
As a couple it's learning about each other, caring, supporting, respecting, compromising and growing together. Your spouse is the one person that sees you at your best and worst, and will be there for you to lean on.
Then love is even more work when you have children, the love you have for your children is indescribable, it's the most incredible experience. When you first become parents you are learning from each other. We have found that after having our boys our relationship and love has grown so much stronger.
We would have to say no.  Right now for us it's us as a family and family is a very big word.
I have a time machine – what is the one thing that you would tell yourself about your partner before you met?
(We pause because Felix needs his juice box opened.)
Karen:  I would want to know about the father he is.  He's really good with the kids, a great father, and great partner.
What is the one thing he/she does that makes you crazy?
Karen:  He doesn't pick up after himself.  The laundry hamper is right here, your socks are here.
Kyle:  The thing that makes me crazy?  I made a list hold on (we all laugh.)  Just when she's late.  If somebody tells me 1:30, that means 1:30.  If Karen tells me 1:30 and she's 1:45, I go absolutely nuts, it eats me alive.  (we all laugh.)
Karen:  I forgot about that.  (we laugh again.)
How do you know when he/she is upset?
Karen:  You can see his jawbone tightening.
Kyle: Now that we have kids, I try not to get mad.  Or I should say I try not to show it.
Kyle:  She'll start cleaning or she'll leave it there and scream at me and tell me to pick it up.
Karen:  Or I'll pick it up, walk to the laundry hamper and then say 'one, two, three, how long did that take you?'
What can you usually do to cheer him/her up?
Kyle: I think it's the kids that cheer me up.  Something goofy that Owen will do or something funny that Felix will say.  (Felix nods and confirms that he has a good sense of humour.)
Karen:  Just little things I'll surprise him with a Dairy Queen, I'll bring it home, its the little things.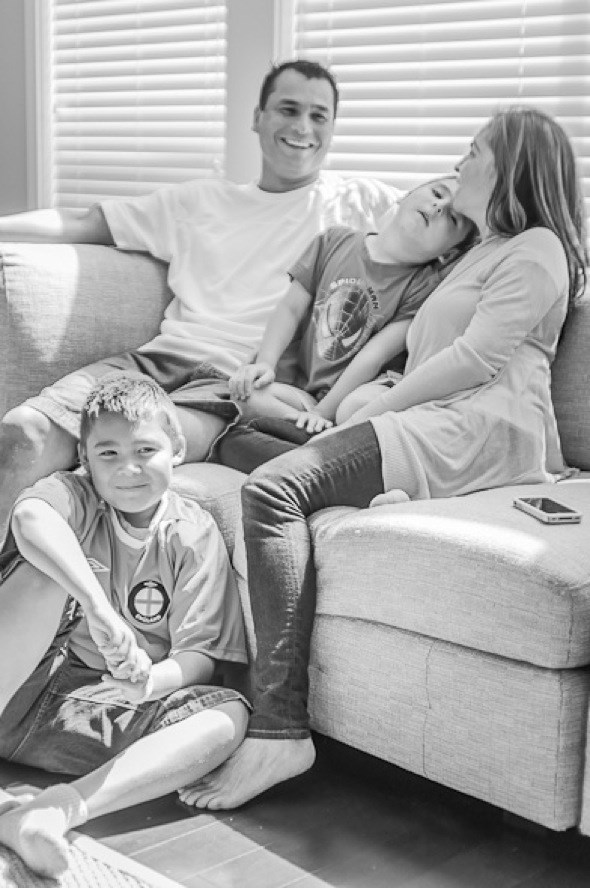 Text by Adina Spivak https://twitter.com/AdinaSpivak Photos by Sam Nosam