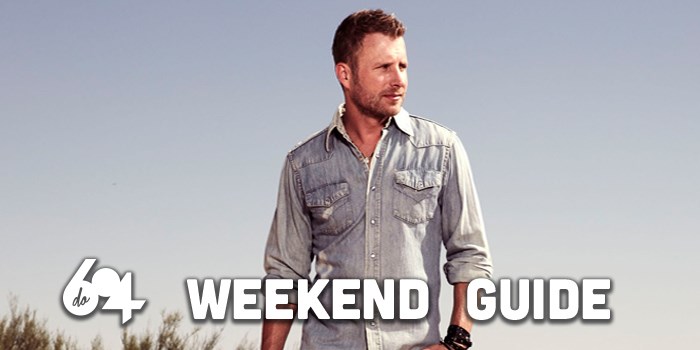 Dierk Bentley's passion for acoustics and classical country music will leave you mesmerized at Rogers Arena. But this is just one of the 34 top things to do this Family Long Weekend, as picked by our city's #knowfun Selectors at Do604. Here they are...
Thurs Feb 9
Reel Big Fish and Anti Flag at Commodore
Bringing back the old-school of punk: fast and super loud.

Dierks Bentley at Rogers Arena
A voice that's soaked with wisdom and has a twangy electrifying kick.

Good Night and Good Luck at the Chan Centre
A tale about fighting back for the good of society.

Homeground Festival at Oppenheimer Park (Feb 8-10)
Pecha Kucha Night at Vancouver Playhouse
Pure Bodily Aesthetic at Sweet Pup Studios
Fri Feb 10
Desi Sub Culture at Celebrities Underground
Bringing the hottest electronic music with a spicy kick from India.

Romance of the Stars with Louise Burns at the Space Centre
Fall in love under the stars with live music to set the mood.

Nothingness album release at Hidden City RecordsMusic that is lyrically despairing as it is calming and beautiful.

Giuliano Rascan at MIA
Sat Feb 11
Prof at Fortune
Dance away all your troubles and let Prof's wicked beats take your mind off reality.

White Lies at Rickshaw
Known for their dark yet uplifting sound, this England post-punk band is taking over The Rickshaw.

80s Night Valentine's Prom Party at The Fox
What makes this Prom Party better than your average Highschool Prom? Less teachers and more booze.

Ben Rogers & The Bloodred Yonder at WISE Hall
JP Maurice at Blue Light Studio
24 Hours of Winter at Grouse Mountain
Sun Feb 12
Yoga Date Night at YYoga
Get flexible and connect with your partner in more ways than you can imagine.

Zach Kleisigner at Guilt & Co
Gravelly vocals with meandering guitar captures the folk-fused blues.

VAL x VHS Valentine's Market
There's going to be a wide range of vendors with products such as skincare, art, jewelry, pottery, candles, clothing, blankets, vinyl, a tarot booth, live painting and more!

Rezz: Something Wrong Here Tour at Celebrities
Trollband Wants A Do Over Free Show at The Waldorf
Kitty Nights Burlesque Tribute to Kate Bush at Biltmore
Mon Feb 13
Black History: Mali Blues at Vancity Theatre
Rich musical traditions with contemporary influences, 4 artists use their music to stand up to inspire connection and peace.

Bracelets For Botshabelo at The Playground
Not only will proceeds from tickets will be donated to the Botshabelo Community Development Project, each bracelet made will be going to the Botshabelo Community.

SUP Adventures at The Rio
Do you know what SUP means? Find out at The Rio and why we live in the best place to SUP.

The Oscar Shorts at Vancity TheatreThe Gonzalo Bergara Quartet at St James Hall
Between Conflict and Resolution at Another Space
All weekend
Small Stage 35 The Valentine's Edition at Anza Club (Feb 9-12)
Foreign Radical at Studio 1398
Have a great weekend checking out these events! You can always head to our Vancouver Events calendar, powered by Do604, for a full list of our recommended things to see and do in Vancouver.