1. featuring different working methods and uses of materials
2. showcasing makers
3. promoting prototype projects
4. exploring shops and workspaces
Follow Maker Series on MakerSeries.ca
MakerLabs: A makerspace that provides you with the tools, space, and skills to bring ideas to life.
Website: makerlabs.ca
Social Media: Facebook; Twitter
Address: 196 Kingsway, Vancouver
What is MakerLabs?
MakerLabs is a space for creating. We're a makerspace in Mount Pleasant where people can get access to and learn how to use high tech tools like laser cutters, 3D printers, CNC routers, and more. We also have a wood shop, industrial sewing machines, and studio spaces to create the best environment for making.
Tell us a bit about your background and how the idea of MakerLabs came about.
When I (Derek Gaw, Co-founder at MakerLabs) lived in San Francisco, I was working as a software developer making websites and video games. I was very comfortable with software, but I felt disconnected from making physical things since I never had any experience with tools or access to the them: something as simple as a table saw was scary and exotic to me.
One year at the Bay Area Maker Faire, I learned about TechShop, a makerspace in San Francisco. I took a their introduction to laser cutting class, and from there, I was hooked. I took almost every class they offered, ranging from woodworking and metalworking to sewing and silkscreening. Learning how to use tools - even at a very basic level - was incredibly empowering, and it dramatically increased the potential of what I could imagine and make.
While at TechShop, I noticed that the laser cutters were by far the most popular machines: they were reserved 15 hours a day, several days in advance. With that in mind, I knew there was an opportunity to introduce laser cutters and similar tools to more people. After I moved back to Vancouver in the summer of 2013, I started the Laser Cutter Cafe at the Chinatown Experiment pop-up incubator for six weeks.
At the Laser Cutter Cafe, I met Dallas Luther, and we shared a vision creating more access to tools and spaces to use them. Together, we founded MakerLabs, which opened to the public on May 1, 2014.
Why was it important to you to start MakerLabs?
As more people and services have moved online, fewer opportunities exist to learn about physical process and manipulate materials. At TechShop and subsequently the Laser Cutter Cafe, it was amazing to see what people made once they knew how. I myself found it incredibly satisfying to rediscover those skills and get access to the means of production and I want to share that with more people.
What were your biggest struggles in getting this idea off the ground?
The biggest challenge at the start was finding space. After the Chinatown Experiment, it took over six months of searching to secure a location that was accessible and affordable enough that would allow us to plant the seed of MakerLabs. Now, our primary challenge is to make the business sustainable and then scalable so that it can grow and provide more people with opportunities to make.
What is MakerLabs' core principle?
The goal of MakerLabs is to empower people to make. We do this by bringing space, tools, and skills together so that there are as few barriers as possible in between an idea and its execution.
How is it different than other shared workspaces?
MakerLabs seeks to have the most open availability to the most comprehensive equipment in Vancouver. We have trained staffed, extended hours, and hundreds of thousands of dollars worth of well-maintained tools, both manual and computer-controlled.
How can people get involved? What does your membership structure look like?
The most effective way to get involved is to take one of our safety and basic usage classes (the laser cutting class is the most popular). After that, you'll be able to use that tool by yourself at a reduced rate.
You don't need to be a member to make use of MakerLabs, but we do have a membership program that comes with discounts on classes, materials, and machine time. A membership, however, is required to use studio space for working on projects that need more room.
Who are your members? (categories/some of the key members)
Our members come from all walks of life: we have industrial designers, woodworkers, entrepreneurs, fabricators, artists, architects, engineers, hobbyists, leatherworkers, and pattern makers just to name a few.
Is there anything we didn't ask that you'd like to share?
Tools are like vocabulary: they open up new possibilities of expression, and I'm very excited to see how people express themselves.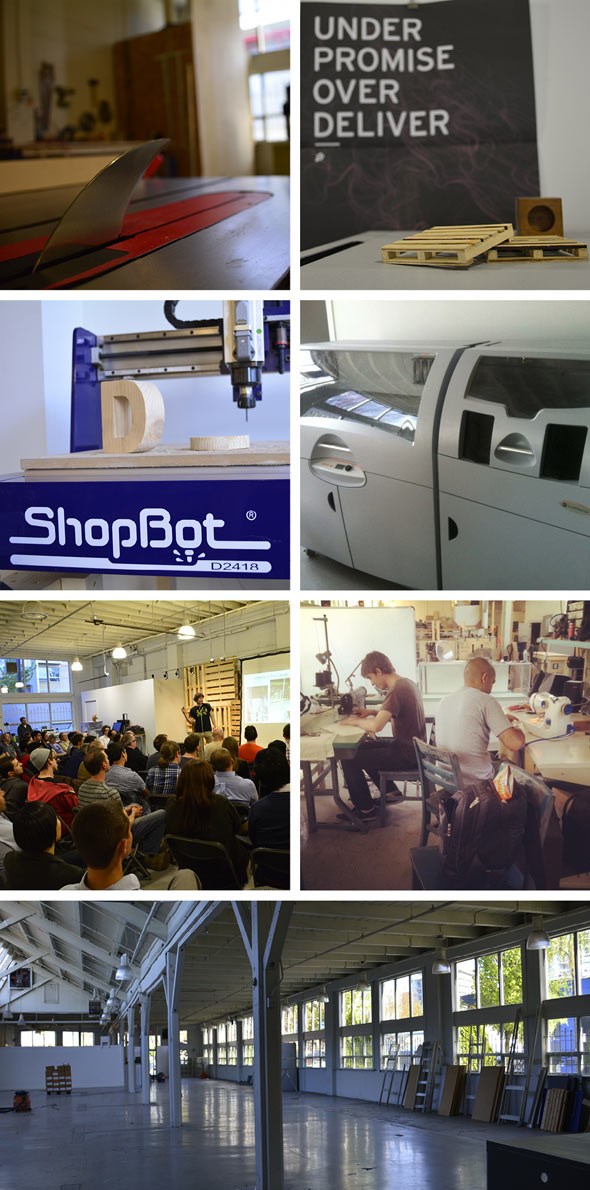 ____________

Sept. 19th MakerSeries Opening Night: Facebook Event Page
Sept. 20th MakerSeries Laser Cutting Workshop: Sign-up Page