1. featuring different working methods and uses of materials
2. showcasing makers
3. promoting prototype projects
4. exploring shops and workspaces
Event: MakerStore Opening Showcase Event
Date: Saturday October 10th
Time: 5pm - 10pm
Location: MakerLabs | MakerStore, 780 East Cordova St., Vancouver BC
Website: facebook.com/events/1895437930680845
MakerLabs is excited to announce the upcoming launch of MakerStore, its very own retail space in Vancouver's Strathcona neighbourhood. MakerStore is a celebration of local makers and will offer one-of-a-kind and small-run products designed and produced at MakerLabs or within the province of BC. Initial offerings will include hand-crafted furniture, one-of-a-kind housewares, all natural body care products, jewelry, stationery and much more.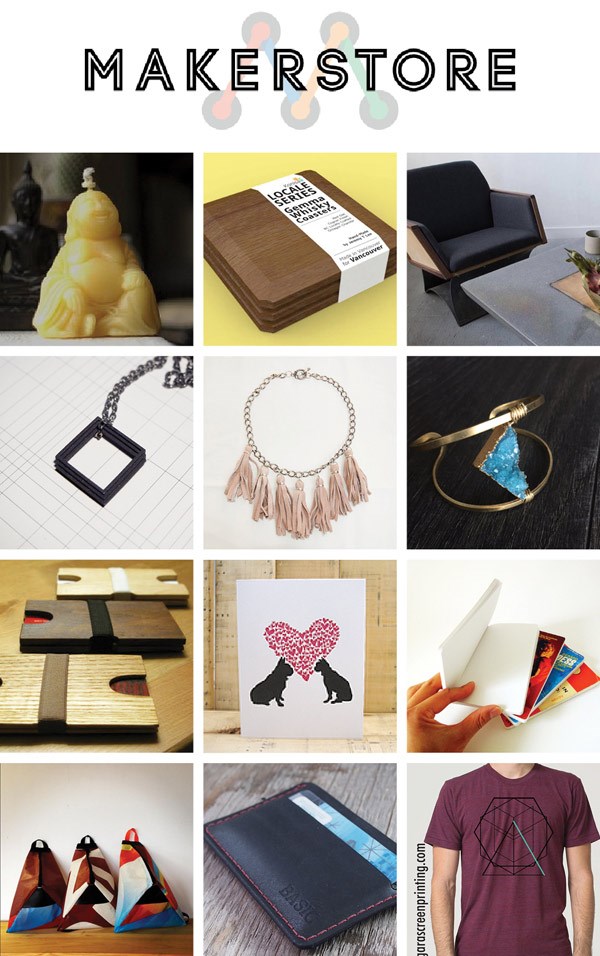 Makers: Konisa Studio, David Peacock, Basic Design, Tubify, Goliath Coffee, Grey by Becki Chan, Thought Lost Creations, Woodtype, Kanata Soap, Living Lotus, Azuza Design, Glass Roots Creations, District Dogs Designs, Paperback Note, Kat Made Jewelry, Bees Wax Works, ALY, Clear Ride Skateboards, Robbie Vergara Screenprinting & Design, etc.
"We hope that MakerStore will support the growing community of creative startups and continue to foster a maker culture in BC," says Jesi Carson, Partner at Basic Design. Basic Design is coordinating the design and launch of MakerStore in collaboration with MakerLabs, Haeccity Studio Architecture and other contributors.
The evening will be filled with games, food and drinks, and opportunities to mix and mingle with local makers. Many MakerLabs members will be selling their wares in MakerStore, and others, including Tubify, Goliath Coffee and Living Lotus, will be participating as vendors during the Opening Showcase. Long time MakerLabs member, Kahve and Chai, is generously donating their space for use during the event, and Wood Type, a local business operating out of MakerLabs, is hand crafting a beautiful marquee sign for MakerStore. The timber used in the design of the space was reclaimed from the original, and now-demolished, MakerLabs location and donated back to the maker community by the Mount Pleasant Neighbourhood House.
Craft beer from a local brewery will be sold by donation in support of the Binners Project, a Tides Canada initiative. Representatives from the Binners Project will be in attendance at the MakerStore Opening Showcase to raise awareness about the project.
For more information, please contact:
Jesi Carson
Partner, Basic Design & MakerStore Coordinator
makerlabsretail@gmail.com