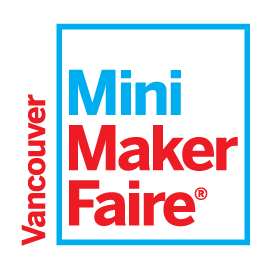 With over 100 makers, performers, speakers, and educators, Vancouver Mini Maker Faire is this city's largest show-&-tell for all ages.
John Biehler bought his first 3D printer after seeing a demonstration on the Colbert Report. Since then he's founded 3D604, a local 3D printing hobby group that has also acted as an incubator for companies producing 3D printers. He has written books on 3D printing and become an international authority on the topic. In the lead up to Vancouver Mini Maker Faire, Andrew Macquistan spoke to John about the Vancouver 3D-printing scene.
VMMF: What makes Vancouver a hub for 3D printing technology?
John Biehler: A lot of early innovations in the 3D space came from people in Vancouver. Some of the main open-source software for 3D printing was developed here, and a number of open-source printers were designed by Vancouverites. There's a number of companies locally that design and sell their printers here. In that respect Vancouver is unique. At 3D604 we've had some of those people come out to our events and help explain some of the choices that were made and the reasons behind them.
With 3D604 we're on the cusp of having our fourth company spun out of the group, four different companies that have created 3D printers that are sold on the world market. That's rare as far as where 3D printing companies come from. Generally they originate either from a typical corporate culture or they're from a Makerspace, and they're scattered all over the place.
In the most recent case, somebody who got interested in 3D printing came to 3D604 knowing nothing. They got into it, learned 3D printing, designed a better 3D printer, and now they've spun off that into a company.
VMMF: Can you think of another example?
John Biehler: An example is Tinkerine, an exhibitor at this year's Vancouver Mini-Maker Faire. Their CEO co-founded 3D604. Constantly trying to 3D print better led to creating a machine that became his flagship 3D printer. They're Canada's only publicly traded 3D printing company and sell through their website. That's just one of four companies from 3D604.com that are in various stages of releasing hardware to the world.
VMMF: That's remarkable. You hear about Silicon Valley, but Vancouver seems to be that for 3D printing.
John Biehler: There's another company, Pinshape, who's also going to be at Maker Faire this year. They were a startup that started in Edmonton, went to Silicon Valley for some funding, and then came back to Vancouver. They are trying to be one of the leading online repositories for the models used in 3D printing.
They are kind of the iTunes for 3D printing, or 3D models. Pinshape is trying to be a unique space that only has quality models. It gives the designers the ability to make some money off their models without just giving them away. Using a few bits of technology they can stream models from the website to a 3D printer. They don't have to share the actual model. You can still get the model printed, you just don't actually have the intellectual property. Like a streaming service for music—you don't get to own the MP3, you just get to listen to it. Another unique innovation in the 3D printing space that is happening in Vancouver.
VMMF: What's 3D604 like?
John Biehler: It does ebb and flow a little bit. We get a lot of churn -- people get up to speed and they find less need for the group. They do their own things. Occasionally they'll chime in. Generally the group is populated with people that are interested in getting into 3D printing, and they have lots of questions like "which printer should I get?" or "what are the pros and cons?" "How do I get started in 3D design so I can actually create my own things with 3D printing?"
VMMF: Besides 3D604, who else is involved in 3D printing?
John Biehler: The universities seem to have their own groups and clubs, and generally in Vancouver we all seem to get along together. I haven't been exposed to other groups across Canada. For example there's some MakerSpaces that have elements of 3D, but it's not their focus solely. Even in the States I haven't come across any dedicated 3D printing enthusiast clubs. I'm sure they exist, they're just pretty low on the radar, that's all.
VMMF: What are the current trends in 3D printing?
John Biehler: Lately there's been an explosion of interest in the exotic materials, the different types of materials people are using in 3D printing with traditional, or what I would call traditional, desktop 3D printers, which are normally use different types of plastic, but there's been a number of companies that have come up with creative solutions, giving us the ability to print with things like wood, brick, various carbon fiber, glass, copper, stainless steel—a bunch of different things you wouldn't normally associate with a desktop 3D printer—just by some crazy chemistry and the creation of filaments.
John Biehler will be giving a talk and moderating a panel at the Vancouver Mini Maker Faire, this June 6  and 7th, at the PNE. Come visit the 3D Printer Village and check out the exhibits by Tinkerine, Pinshape, and 3D604 and see what Vancouver is making. The full list of 2015 Makers is now available.