Celebrating its fifth anniversary year, MONTECRISTO is Vancouver's internationally inspired lifestyle quarterly, presenting influential personalities behind the culture and creations of Vancouver.  MONTECRISTO collaborates with fine writers, illustrators and photographers working in Vancouver to create an interesting and eclectic editorial mix, including fashion, culture, food, wine, travel, books, art, beauty, business, architecture, design and more. The magazine puts a particular emphasis on philanthropy and local history, as well as artisans and craftspeople in Vancouver.
Here's an excerpt from the autumn issue cover story featuring works by sculptor David Marshall, photographed by Jeff Wall: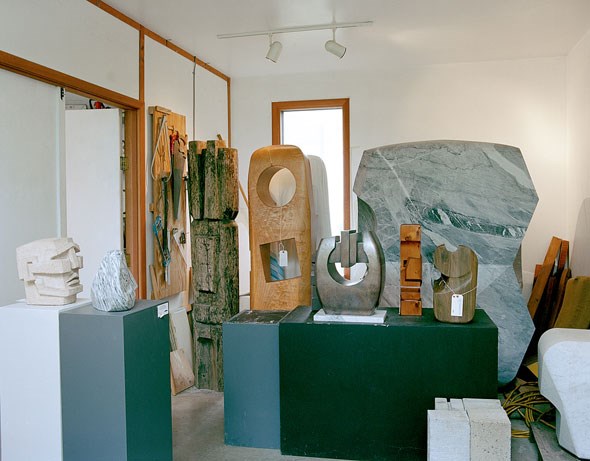 Sculpture from across the decades in David Marshall's studio. Photo by Jeff Wall courtesy of MONTECRISTO
The Sculptures of David Franklin Marshall
Variations on a theme.
STORY: Hilary Letwin
PHOTOGRAPHY: Jeff Wall
In surveying David Marshall's sizable corpus of significant works, one is struck by the patterns that emerge, like forms that echo again and again, in different sizes and materials, but which are fundamentally rooted in the same shapes and planes. It is not uncommon for sculptors to make the same form in different sizes and materials, which demonstrates their versatility and, in Marshall's case especially, speaks to a quest for perfection. His sculptures possess a timeless quality, and a viewer's response to them is immediate and visceral. His works demand viewer engagement but do not necessarily require a specialist knowledge to appreciate them.
Craig Sibley, director of Vancouver's Trench Contemporary Art Gallery, is the curator of Marshall's work. He invited conceptual photographer Jeff Wall to look at Marshall's works residing in his home studio, and Wall agreed. His first impression was encapsulated in his comment to Sibley: "How did we miss this?"
READ THE FULL ARTICLE HERE