Our friends at MONTECRISTO magazine sent us the details on their latest issue that just came out. Have you seen it? I just got a copy in my hands and must say it's one of the best yet, definitely my favourite cover of theirs to date which was shot by Clinton Hussey and is explained below. There's also a 2 pager on our new pals at the Waldorf and our very own May Globus made an appearance in the "Society" feature where they shoot snaps of folks at events!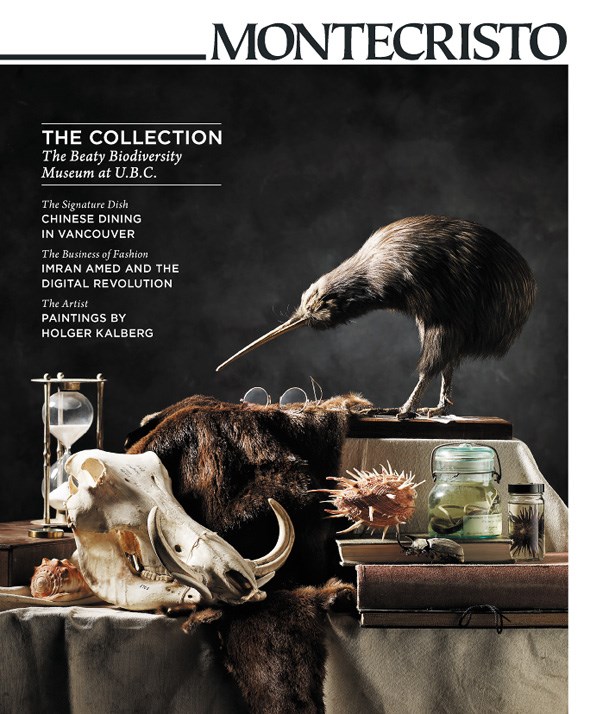 Here's the word from them:
This Winter, MONTECRISTO magazine features stunning still-life photography on its cover. The artwork—put together by photographer Clinton Hussey, set designer Scott Moulton, taxidermy specialist Rachel Poliquin, and the MONTECRISTO team—features various creatures from the Beaty Biodiversity Museum at UBC. A fascinating story in itself, the museum unites six UBC collections under one roof, comprising over two million biological specimens. The largest—an 85-foot long articulated blue whale skeleton—can be seen from the street, suspended in from the room of the museum's glass atrium.
Other Winter 2010 editorial highlights include:
- An interview with Imran Amed of the blog The Business of Fashion on the topic of social media.
- Insight from three Chinese Restaurant Awards judges on the development of Chinese dining in Vancouver.
- Edo Van Breemen of the band Brasstronaut's reflections on his musical influences.
- Going back to the basics with travel to Calgary, Kananaskis and Banff.
- Insight into the successes of Vancouver designer Dace Moore, who is celebrating a decade of her eponymous line.
- A look at the benefits of the VGH's beautification project for the inpatient psychiatric ward.
- An interview with chef Andrey Durbach and his recipe on how to braise anything.
- The processes involved in the making of a Palmer and Sons leather bag.
- Paintings by Vancouver-based artist Holger Kalberg.
MONTECRISTO Magazine is a regional lifestyle quarterly for discerning Vancouverites. Copies of the Winter 2010 issue are available at Chapters and Indigo locations across Greater Vancouver. MONTECRISTO can also be found on Facebook and Twitter.