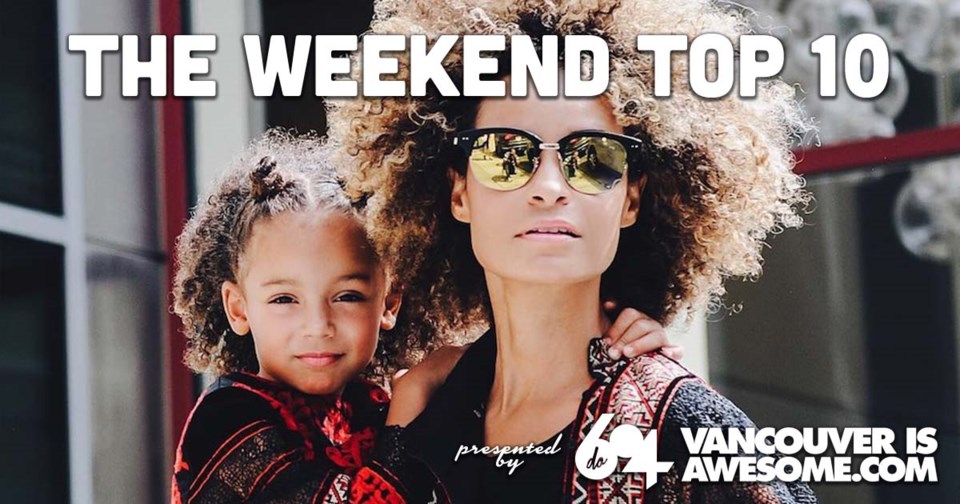 Mother's Day got you stressing? Check out our Top 10 shows to see this weekend with mum. If you're mom is way too rad for them, then take a peek at our Mother's Day Guide for Cool Moms!
One of the best things you should do this weekend, as picked by our city's #knowfun Selectors at Do604.
DOXA Documentary Film Festival
at various locations - all weekend
Last chance to see these international films.

Vancouver Opera Festival
at various locations - all weekend
Last chance to take in this eclectic programming, including world renowned throat singer Tanya Tagaq at The Vogue tonight!

Vancouver Design Week(end) 
at various locations - all weekend
Design is blowing up in our city, so Vancouver Design Week is paying tribute with a quick weekend of open studios, tours, and tastings!

U2
at BC Place - Friday May 12
Relive the good times when you hear Joshua Tree live in full one last time.

Harland Williams
at Yuk Yuk's May 12 & May 13
Meet the master of jokes. He's sharp, brilliant, unpredictable and his show is the perfect start to the weekend.

Beer Wars 
at Eastside Boxing Club - Saturday May 13 
Cheer on our local boxers while chugging down $5 beers.

I Am Rapaport: Stereo Podcast
at the Biltmore - Saturday May 13
There are no topics that are considered "off limits" on Michael Rapaport's podcast. See him tackle the most difficult issues on his podcast live!

Groundwerk 2 Year
at VAL - Saturday May 13 
All day workshops and demos, plus an epic night party to celebrate 2 years of Groundwerk!

Emel Mathlouthi
at The Rio - Sunday May 14
Emel Mathlouthi will be mesmerizing you at The Rio with her uniquely innovative and heartfelt music.

Mother's Day for Cool Moms
Sunday May 14
Spending the day with mum shouldn't be boring or typical. Your mom is too cool for that. Jazz up this year's Mother's Day with our list of these uniquely fun ideas!

Have a great weekend checking out these events! You can always head to our Vancouver Events calendar, powered by Do604, for a full list of our recommended things to see and do in Vancouver.