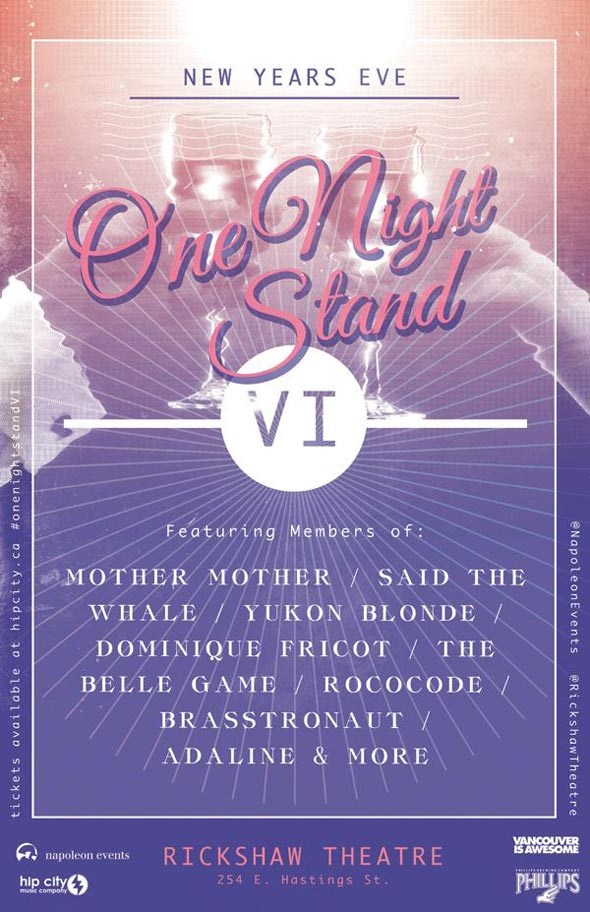 *Early Bird Tickets are SOLD OUT - Advanced Tickets now on sale*
2013 is soon coming to a close so that means it's time again for One Night Stand! Now in its 6th year, we are very excited to announce that we are moving the Rickshaw Theatre!
Featuring:
- Jasmin Parkin or Mother Mother
- Tyler Bancroft and Spencer Schoening of Said The Whale
- Jeff Innes of Yukon Blonde
- Dominique Fricot
- Andrea Lo of The Belle Game
- Tariq Hussain of Brasstronaut and CBC Radio
- Adaline
- Laura Smith and Andrew Braun of Rococode
Plus Surprise Guests! 
With Robert Tornroos, Robbie Driscoll, Peter Carruthers, Andrew Rasmussen and Johnny Andrews. Its going to be a fantastic night. Ring in the New Year with us!
(Not to mention the infamous photo booth.)
Early Bird - $30.00* --> Available November 5! While supplies last.
*Plus Service Charge
Advanced and Early Bird tickets available from the www.hipcity.ca or at Rickshaw Theatre website (www.liveatrickshaw.com)
What songs do you want to hear this year? Comment on the facebook event or #onenightstandVI on twitter.
This year sponsored by Phillips Brewing.
Poster by Lindsey Hampton