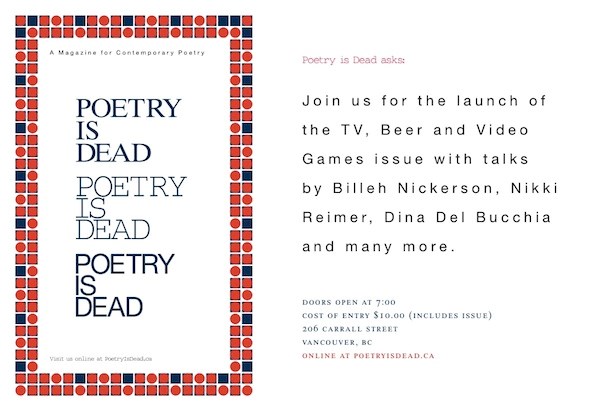 Some of the best literary advice I ever got from my years studying books came from a wily poetry professor. He told our eager classroom, "Poetry collections belong in the washroom... that's all the time you need to enjoy a good poem". I've taken that to heart and one of my new favourite magazines, Poetry Is Dead, is now a staple washroom reader (not to get too graphic, folks).
You can tell by the name of the magazine that Poetry Is Dead does things a little differently and it's their refreshing approach that has people so excited. For their second issue, themed "TV, Beer and Video Games", the PID team continues to mix things up. Contributors to the magazine are challenged to spend five minutes in front of a microphone doing anything except read poetry. The line-up includes Billeh Nickerson, Donato Mancini, Dina Del Bucchia, Karlene Harvey, Jordan Abel and VIA's queen of East Van Cats, Nikki Reimer.
You'll also get the chance to taste some Poetry Is Dead brew made by the managing editor Leah Rae.
This night is going to be good - for those who are intimidated by rhyming couplets to people who dream in iambic pentameter. And for those curious about who is behind Poetry Is Dead, head on over to our friends Granville Mag and read a great profile on Daniel Zomparelli by the beautiful Rebecca Slaven.
Friday October 1st, 2010
Doors open at 7:00pm
Readings and talks start at 8:00pm
Entry: $10.00 (includes issue)
Address: 206b Carrall St. (Back of the new Modus Gallery in Gastown)
You can RSVP on Facebook, too.