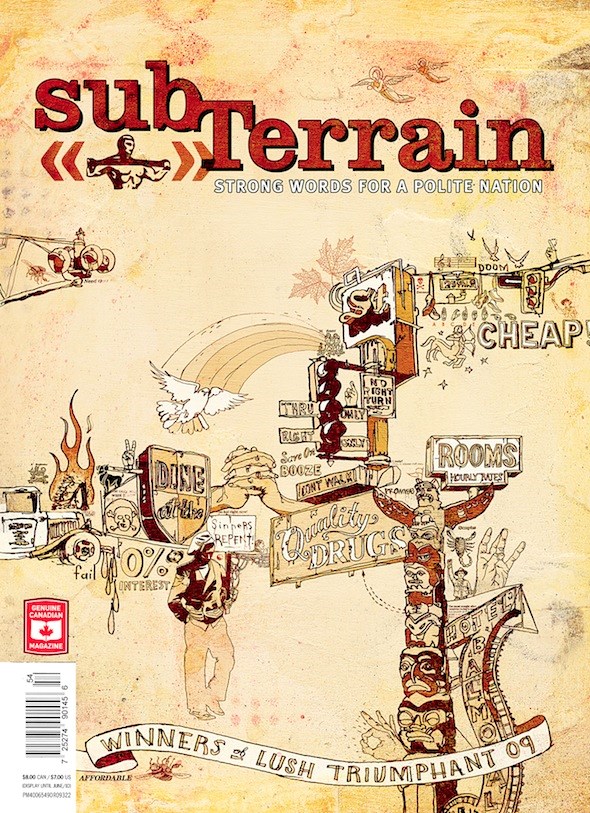 With the motto "Strong Words for a Polite Nation" you know that subTerrain Magazine takes its literary business seriously.  As a staple for great fiction, poetry, creative non-fiction and photography in Vancouver, they will be a part of the  Main Street Magazine Tour happening tomorrow night at 6:00 (detais here) . subTerrain will be presenting poet Rob Taylor and fiction writer Ray Tupach, two previous contributors to the magazine, from 7:00 - 7:35 pm at Pulpfiction Books (2422 Main St.) Besides sharing the cover of the next issue of subTerrain to come out in a few weeks, Editor Brian Kaufman gave VIA the backstory of the magazine (break out those Hawkin's Cheezies!).
Can you tell me about the birth of subTerrain?
subTerrain started out as a dream, an idea of literary rebellion, a shadow-self calling out to be born. It was the nascent days of desktop publishing, truly a transitional period in the world of print. For the first time in the history of printing the means of production were actually in the hands of the masses.
Issue #1 of subTerrain was 12 pages with a 2-colour cover and it sold locally for two bucks. Fifty-six issues—-and twenty-two years later-—subTerrain #56 is a 72-page, full-colour magazine that sells across North America for seven bucks. Twenty-two years! It has felt like ten. Twenty-two is young for a human, but elderly for cats and magazines.
I love your motto "Strong Words for a Polite Nation". Why do you think that's an important mantra for a magazine?
Well, I don't know that it would be a good mantra for ALL magazines, but it is something that we strive to attain in every issue. Who wants weak words, weak writing? And because we are known as a nation of "polite" folks we sometimes (and I'm speaking in very GENERAL terms) fall into be too polite, failing to speak up when we should be speaking up. subTerrain wants to encourage people to speak their mind. We, as a country, need a little more vitriolic banter.
Issue #54/55 is a special issue dedicated to Vancouver's Literary Landscape. Can you describe the experience putting it together?
This special issue was inspired, in part, by Alan Twigg's 1986 book "Vancouver & Its Writers". His book featured a couple of hundred writers who had lived in Vancouver at some point in their writing career, writers both famous and lesser known. I thought, what would a similar overview look like now, 20+ years down the road?. It was astounding to look at the exponential growth that has taken place in our region over the ensuing couple of decades. It was an overwhelming task to try and showcase all of the important writers who have put down roots here and all of the important writing that has taken place here, literally in our own backyard. The residents of this region--and the government of this province--should wear this legacy of literature proudly and support our writing community to the fullest!
What will the next year hold for subTerrain?
Well, our "Signs" issue is just about to hit the stands and it is full of wonderful and wondrous pieces. Plus this issue features the winning entries of our annual LUSH Triumphant Contest, and winning entries in the Vancouver International Writers Festival writing contest. This issue is also the first to showcase a "feature" artist. The entire issue is adorned with the amazing work of Sooke, B.C. artist Dave Barnes.
Our Winter issue ("Regret" out in November) will showcase a feature Post-Olympics folio with commissioned pieces from local writers Christopher Shaw, Elizabeth Bachinsky, Amber Dawn, Tim Carlson, Charles Demers, Carellin Brooks, Alex Leslie, and Mindy Abramowitz, plus some amazing 1960s-70s Vancouver photographs from David Wisdom. We're going to follow that up in the spring with our "Chance" issue.
What are your hopes for Vancouver's publishing scene?
That the residents of Vancouver read and support the work of their local writers and publishers. And that our provincial government restores arts funding to 2008/09 levels. Writers are our greatest cultural ambassadors, don't they know that?
What are subTerrain's biggest inspirations?
The writing has always been the inspiration. The writers striving to carve the sentence, the poem, the story with a slightly different edge. Writers who put their all into keeping it fresh, who somehow seem to move things a little bit further down the road.
Describe your magazine in 6 words:
progressive, eclectic, interesting, edgy, provocative, subterranean
What should I snack on while flipping through the latest issue of subTerrain?
Hawkin's cheezies...chocolate covered espresso beans--or both!
----
And come say hello tomorrow at the Main Street Magazine Tour - the evening is free and there will be some of the coveted VIA Bumperstickers.