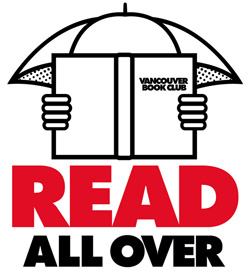 Read All Over celebrates the bookworm in all of us, showcasing readers in Vancouver and the books they love most.
Regan holds a master of fine arts in Creative Writing from UBC, and currently works as a wordsmith for a Big International Firm. She is also an avid gardener, cocktail enthusiast, and great supporter of the local music scene. If you are looking for a carefully considered range of suggestions for what to read next that isn't 50 Shades of Hell or whatever, you're in luck:  you'll find in this interview everything from poetry and canon classics, to anthropomorphic children's lit to the latest in Hot Contemporary Fiction. I suggest getting your library cards out ready to go to start placing holds as you read on. Thanks Regan!
What's on your nightstand right now? Are you enjoying it?
The Flamethrowers by Rachel Kushner. It's amazing. It's set in the art world in 1970s New York and, later, Italy. It's very smart about gender and politics in that context. I'm in love with it. I tend to read a lot of stuff at one time and so I also have Wanderlust by Rebecca Solnit (a loose social history of walking, basically) and some American poetry — Come on All You Ghosts by Matthew Zapruder — on the go, which is typical. It'll take me forever to get through all of them, but I don't mind.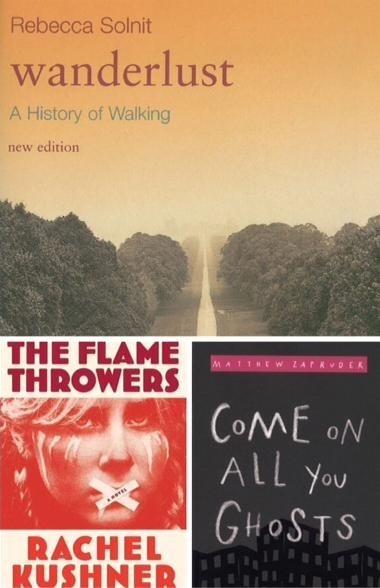 Is this the genre you usually prefer?
I read mostly fiction. I like really long, epic, world-creating novels and then also I am a big eater of short stories. Not so much the stuff in between. And I generally get my non-fiction in short bites; magazine pieces and essays for my bus commute. I think I prefer fiction because non-fiction usually ends up either making me feel like an underachiever or making me feel bad about the world, and who needs that? I also read a fair bit of contemporary Canadian poetry.
What's next on your list?
The Flame Alphabet by Ben Marcus has been sitting in my to-read pile (it's a big pile) since last fall. It's about a creepy but still-recognizable alternate America in which parents are being made fatally ill by their teenage children. It's an epidemic; the world's falling apart, and this one couple has to cope with their own kid making them sick and what happens afterward. Ben Marcus' other stuff so far has been pretty wildly experimental and I'm curious to see if he can pull off a properly plotted novel.
Do you have a favourite Vancouver author?
I don't know if I have a favourite. I really like everything Lee Henderson has done and I wish he was more prolific. The Man Game was amazing; read it if you haven't. As a teenager, I was really fond of William Gibson and I just picked up an old copy of Neuromancer to re-read. I'm excited to get back into some of that genre stuff again and see how well it has or hasn't held up over the past two decades. My favourite individual Vancouver-set story might be "Valentines" by Nancy Lee from her short story collection Dead Girls of a few years back. The whole book is fantastic but that story in particular captures the paranoia and unsettled feeling this city had for me when I first moved here.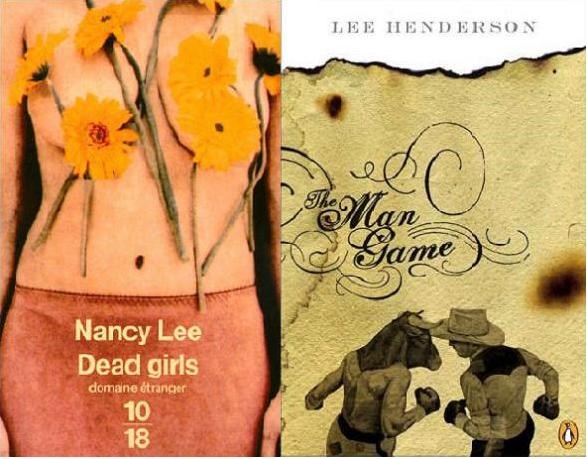 Are there any magazines or journals you can't live without?
I read Harper's and The Believer every month in print. I get subscriptions to those as gifts every year from my dad, which is the nicest kind of gift, if you ask me. I also, I am unashamed to say, read Martha Stewart Living every month. That's like porn for me. I pick up The Baffler from time to time, which has been revived by MIT Press after many years of lying dormant. It's a pretty wise culture mag with a political bent; it was founded by Thomas Frank, who now does a monthly column for Harper's and is a super interesting dude in his own right. Everyone who likes Harper's should pick up The Baffler at least once.
 Where is your favourite place to crack open a book in the city?
Lately, it's across the street from my apartment, in Pandora Park, on a picnic blanket, with a gin and tonic in my hand. And then I guess second place goes to my gross old couch, which is haunted, but incredibly comfy.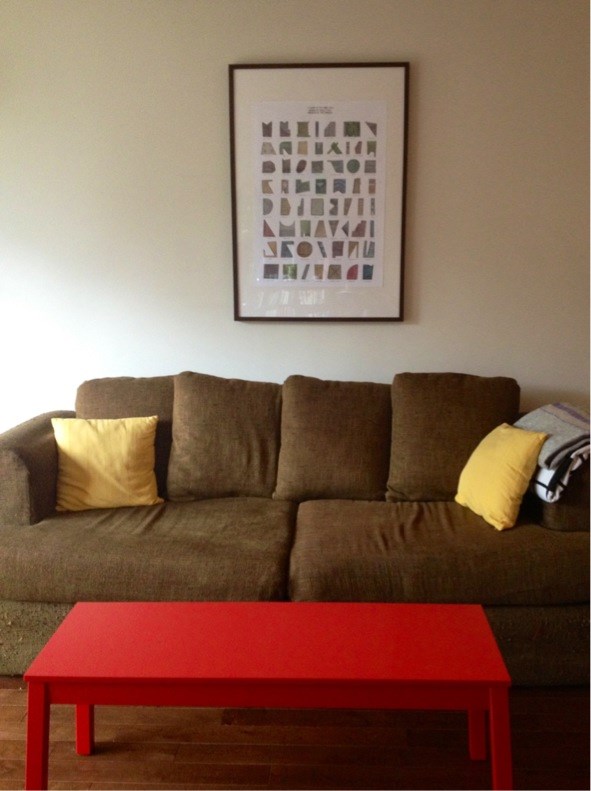 Haunted couch, photo courtesy Regan Taylor
What is your reading style (in five words or less)?
Slow but loving.
 Which books/authors have influenced you the most?
That's a huge question! Some of the authors I've mentioned so far, plus: Thomas Pynchon, Steven Millhauser (especially Edwin Mullhouse, which I could spend hours talking about), David Foster Wallace, George Saunders, Roberto Bolano. Basically anyone who has managed to write what is essentially speculative fiction while seeing that it transcends the genre. Or maybe a better way to say that is: writers of literary fiction who allow the magical, the sci-fi, the futuristic to get into their stories without those things taking over.
On the poetry side of things: James Merrill, Ken Babstock, Frank O'Hara, Richard Hugo, August Kleinzahler, Paul Muldoon. My memory for this stuff drops off at about five years in the past. I am probably forgetting some hugely influential books.
Is there a memorable quote or excerpt from something you've read recently that you'd like to share?
This Rachel Kushner book is really in my head lately and I twigged on this moment where the narrator describes a complicated, perhaps uniquely female feeling:
If she had been nicer to me I would have wanted to know [her]. It was always that way with women I found threatening, that there was some unfulfilled longing to be friends. I didn't know quite why she threatened me. She was full of life and verve and a refreshing bluntness, and yet I wanted her contained instead of celebrated for these qualities I secretly admired.
On the nose.
Were you obsessed with any particular book or story as a child?
I don't think I encountered a book I wasn't obsessed with as a child. I was a weird kid. I was really fascinated by this book La Corona and the Tin Frog by Russell Hoban, who's also known for adult fiction, like Riddley Walker. La Corona and the Tin Frog is about toys that come alive at midnight; the quintessentially attractive premise for a kids' story. I have a copy of it now. Still great. I was also obsessed with Lois Lowry's Anastasia books (same vein as Judy Blume, but wittier) and Joan Aiken's Wolves Chronicles, a hilariously dark alternate history series set in 18th century England.
 What were your favourites growing up?
I loved Roald Dahl so much. My dad read so many of those aloud to us when I was little. I think there aren't really enough scary or creepy components in kids' books these days. Everything is so careful and sanitized, which is a shame, because kids love to be freaked out by stuff. I completely believe that encountering frightening or upsetting things in stories is good practice, too, for what is to come later in life.
Was there any individual in particular that shaped your development as a reader? How?
My parents, definitely. Starting with being read aloud to, I was given the habit of spending at least a part of every day with a book. And then they gave me things to read when I was older that may have been a little beyond my years, but I'm really grateful. I spent most of the years between 8 and 14 with my face in a book. By the time I got to seventh grade I had already read Hemingway and Fitzgerald and those guys and I was horribly precocious, but it gave me a good understanding of what I liked in fiction and what was out there beyond, you know, the same crap they make everyone read in high school English class. I used to fight with my teachers when they were still making us read, like, Rebecca of Sunnybrook Farm or some garbage.
The one book you always recommend is...?
George Saunders' Pastoralia. Or Nabokov's Pale Fire. Depending on the person. Pastoralia for funny arty people, and Pale Fire for lit nerds. I don't know any other types of people.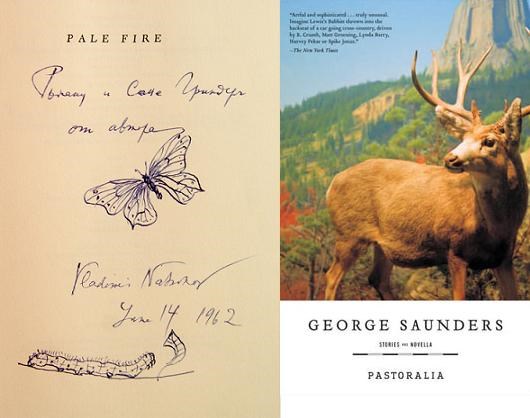 Nabokov's Pale Fire, signed half title page
and George Saunders' Pastoralia
What is the most cherished item in your library?
Well, this ties back to the earlier question about childhood favourites. I have a small but pretty cool collection of ex-library copies of the books I adored growing up. I add to it every so often. It's mostly what I refer to as "existential children's lit" from the 60s and 70s -- Dominic by William Steig, From the Mixed-Up Files of Mrs. Basil E. Frankweiler by E.L. Konigsburg. Some Maurice Sendak, of course. The Mysterious Disappearance of Leon (I Mean Noel) and The Westing Game by Ellen Raskin. Louise Fitzhugh's Harriet the Spy is probably the book I read the most times as a kid and is probably what made me want to write. It might also be why I love eavesdropping, to this day. There are a few lesser known titles as well: Amy's Eyes by Richard Kennedy, about a bunch of misfit pirate animals, and The Stray by Betsy James Wyeth, which still makes me cry like an idiot when I read it now. A lot of these books have animals as characters, a standard trope in kids' books from those decades, which sadly has fallen out of fashion. Something about anthropomorphism being bad for kids... oh well.
Are you a hoarder or a give-away-er with books?
I hoard. I lend books, but I do it very carefully. I have a list. I will remind people of what they need to return to me. I don't lend to people who are likely to get sauce all over everything.
What's the last book you purchased?
I was just at Lucky's and I picked up Fever Chart by Bill Cotter and a big, beautiful, coffee-table-sized collection of comic strips, Hand-Drying in America by Ben Katchor. He's of the slightly older generation of underground comics guys. He's a great old curmudgeon and I can't wait to dive into it.
What's the last book you lent/gave away?
Probably Swamplandia! by Karen Russell. Fantastic book. There was a rumour going around that they were going to make it into an HBO show and I really hope that happens. I also tend to leave books at my parents' house in Quebec when I go and visit and so it's like I'm building a parallel collection on the other side of the country.
 Your life story is published tomorrow; the title is...?
I'm Ready, Willing, and Able to Sit on My Ass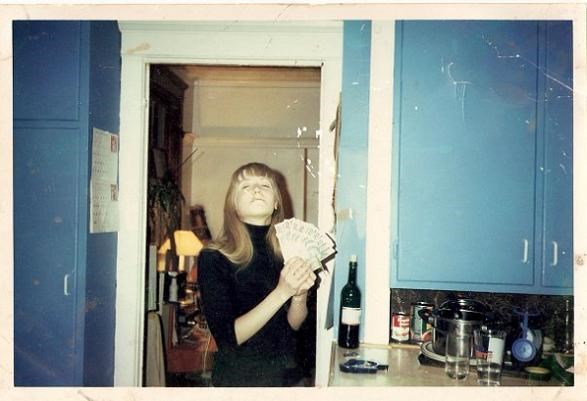 Ballin' out, photo courtesy me, creeping Regan's FB