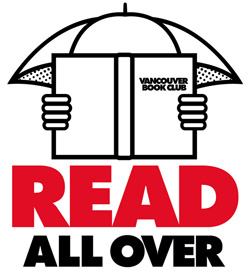 Read All Over celebrates the bookworm in all of us, showcasing readers in Vancouver and the books they love most.
Rob Taylor lives in East Van with his wife, Marta. His first book of poetry, The Other Side of Ourselves, was published by Cormorant Books in April 2011 and is in its 2nd printing. Prior to publication, the manuscript for the book won the 2010 Alfred G. Bailey Prize for best unpublished poetry manuscript. In addition to The Other Side of Ourselves, Rob is the author of three poetry chapbooks, and his writing has appeared in over forty journals, magazines and anthologies. Rob is the co-founder and editor of One Ghana, One Voice, Ghana's first online poetry magazine, and he is one of the coordinators of Vancouver's Dead Poets Reading Series.
The Other Side of Ourselves is the

Vancouver Book Club's Spring Selection

.
What are you reading right now?
I usually have a number of books on the go at once. Right now I'm reading Groundwork by Amanda Jernigan, Fielder's Choice by Elise Partridge, Every Riven Thing by Christian Wiman, Cathedral by Raymond Carver, and Breathing the Page by Betsy Warland.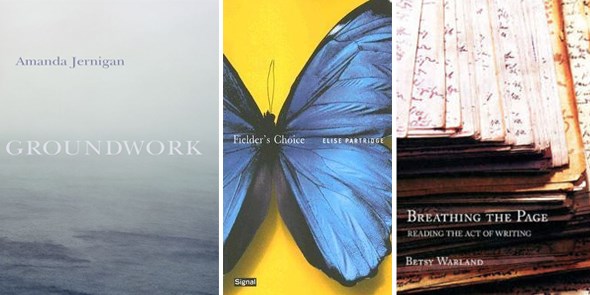 How do you like your lit served - audio books, graphic novels, used paperbacks, library loaner, e-reader, other?
I like to buy poetry books, usually new. I do this both because I like supporting small-press publishers, authors and booksellers, and because I enjoy building up my collection. My shelves operate as a lending library for poet-friends, so I have a lot of fun keeping them stocked with interesting stuff.
Most of the fiction and non-fiction that I read is acquired by my wife (who has a similar penchant for hoarding novels as I do for poetry), borrowed from friends, or loaned from the VPL.
I've tried an e-reader, and have no big quarrel with them, but I have enough screens in my life already, E Ink or not.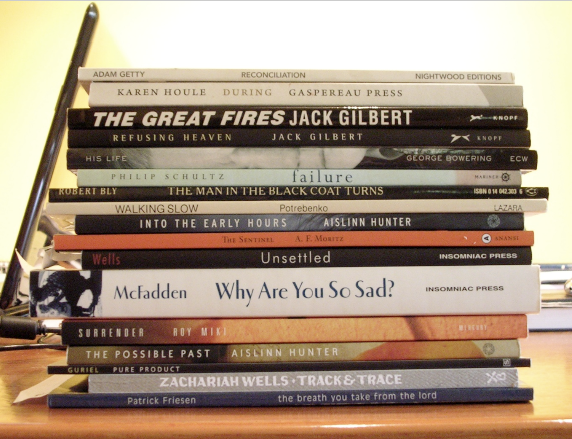 The physical manifestation of Rob's poem "Reconciliation During the Great Fires." Read it here.
Photo courtesy Rob Taylor
What publication could you not live without?
My two favourites are Riddle Fence, out of Newfoundland, and Vancouver's own subTerrain.
Where is your favourite place to crack open a book in Vancouver?
The very back corner seats on most Translink buses – those ones where you can stretch your legs out behind the centre-facing seats. And my couch.
What books have changed your life/influenced you the most?
I don't want to lump too much credit on a handful of titles – books have changed my life, let's leave it at that. Poetry, specifically, has taught me to slow down, to look at the world a little more carefully, to consider language's capacities and limitations. Words can only do so much, after all, but so much is pretty damn good, no?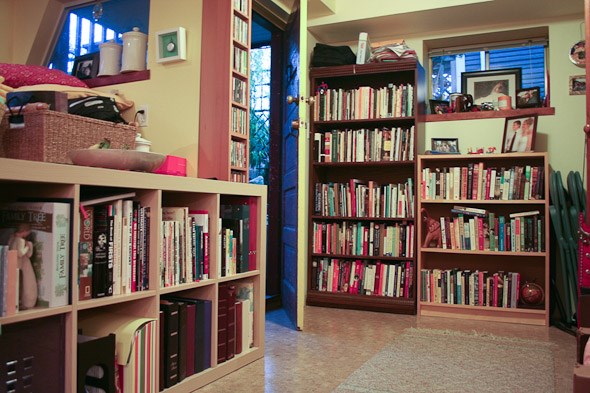 Photo courtesy Rob Taylor
What is the most cherished item in your library?
Probably my set of Calvin and Hobbes collections, or my illustrated edition of The Hobbit. Both are thoroughly dog-eared from my childhood.
The one book you always recommend is...
The Possible Past by Aislinn Hunter. If that doesn't stick, I go with The Great Fires by Jack Gilbert. And if that doesn't do it, I figure you must hate poetry and try Mrs. Golightly and Other Stories by Ethel Wilson or Slaughterhouse-Five by Kurt Vonnegut. If I still have no luck there, I settle on Ethel the Aardvark Goes Quantity Surveying.
Your life story is published tomorrow, the title is?
I Wrote My Life Story In One Day And Published It The Next Morning (And You Can Too!)
Join the Vancouver Book Club on April 29 for an afternoon with Rob Taylor, 2pm at the Waldorf Hotel! We'll be showcasing images inspired by his poetry submitted by you, our readers!
And follow Rob on Twitter!