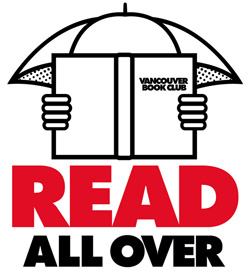 Read All Over celebrates the bookworm in all of us, showcasing readers in Vancouver and the books they love most.
blank
Tim Kelleher is a writer, actor and director originally from New York City who now makes Vancouver his home. He also serves as New Media Editor for First Things magazine where he writes on topics related to religion, politics and culture.
The one book you always recommend is...
Well, the #1 book I recommend is actually a library of books -- the Bible. In my view, one of the tragedies of contemporary Western culture is the broadening unfamiliarity with this astonishing collection. Folks who dismiss it out of hand deprive themselves of a priceless and endlessly rewarding treasure.
How do you like your books served up best -- audio books, graphic novels, used paperbacks, library loaners, e-reader...
I like a physical book - in my hands. I really enjoy the tactility of it. Old hardcovers are are particular delight - though tougher to travel with. But, you can't beat the way they look on a shelf, or how they populate a room. I tend to write in my books, so that makes audio versions and e-readers a lot less appealing.
What book makes you feel like a kid again?
The first thing that comes to mind isn't a book, but Dylan Thomas's "A Child's Christmas In Wales." - Sigh- What can I say?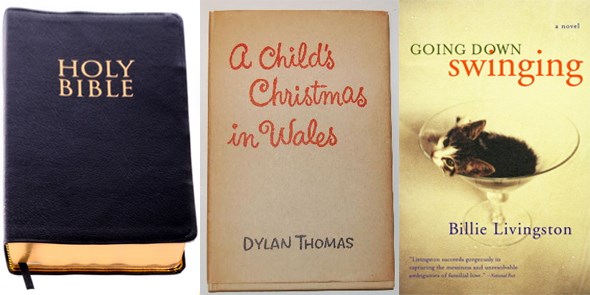 Who is your favorite Vancouver/Lower Mainland author?
Okay -- immediate disclaimer: the author I'm about to mention happens to be my spouse -- but hold on! Billie Livingston and I were in the early stage of our coupling. I knew she'd published a book called, Going Down Swinging, and I knew I'd have to read it. But that seemed tricky. What if I thought it was a stinker? Not long before, a friend wrote a book that came out to some fanfare. I eagerly got hold of it and quickly started to wince. The writer was clearly talented and clever, but I found the book wildly overwritten and woefully self-conscious. So...what if I read Billie's book and thought it was a dud?
I put it off and off until the clock on the wall and guilt at her long-abiding patience finally squeezed me into action. I opened and began to read. By the bottom of the second page, I had to stop. I was deeply touched. The writing was so compellingly human, true, poignant and funny. And not a false moment in it. That was the good news. The bad news was, it was hugely discouraging to my covert literary ambitions. I mean, here was the real deal. Since then, I've been blessed to witness the joys and frustrations, as well as the discipline of a committed writing life.
Do you have a favourite story set in Vancouver?
Well, as a recently landed immigrant who hasn't read many stories set here, I hope I may be forgiven for naming, One Good Hustle.
Where's your favourite place to crack open a book in Vancouver?
At home, really. There's also a small library on the UBC campus that's a reading oasis.
What books have changed your life?
Well, that "library" I mentioned continues to change my life. Also, I read Tolstoy's The Death of Ivan Ilyich at a very difficult time. Powerful psychic medicine, that story. It may sound melodramatic, but it was like finding food and water in the middle of the desert. The experience moved that work into a realm apart from most of the books I love.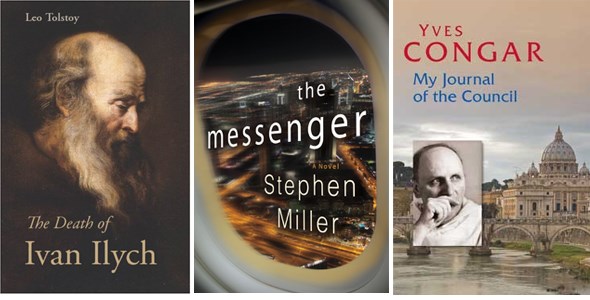 What's next on your reading list?
There are two. And they're so different I should be able to go back and forth with them. The first is Stephen Miller's The Messenger. I haven't read anything of his yet, but I'm a sucker for international intrigue and have heard his books described as "literary thrillers," which makes me think of John le Carré. And I've been a fan of le Carré for a long time now.
The other book is Yves Congar's My Journal Of The Council. It's a diary kept by Congar while he served as a peritus (expert) at the Second Vatican Council. Congar was a French Dominican friar who is widely considered one of - if not the most - influential theologians at Vatican II. The level and breadth of his cultural, historical, philosophical and theological erudition was remarkable. From what I've heard, the journal is insightful, wide-ranging, at times funny - and unusually frank.