Intergenerational storytelling event series empowers residents to help inform Vancouver city policy around transportation, waste, food and green space
In a city where it is often heard "nobody is from here," where almost half of all residents were born other places, where to have family who remember Vancouver's golden age of street cars living within easy distance is exceptional - in such a city, an appetite grows.
For connection, sure, but more than that - for help in understanding how we each fit into the rich tapestry of the Vancouver cityscape, for the historical context that shaped this place and for a shared vision of the future that reflects the rich mosaic of experience we transplants and natives draw from while pushing forward with innovative new models that increase quality of life for all.
It is a young city, we say, and by that we mean that it is ours to create and to mold and to colour and to preserve. A DIY city for a post-collapse world.
As developers raze and RIZE Vancouver's physical topography, its cultural profile gurgles and pops as indie pocket arts projects bubble up from the dregs of the city's anemic mainstream arts industry, and a minority of impassioned citizens reject business as usual, rallying on Facebook, in council chambers, and from nylon hovels pitched outside our VAG (pound that with a hard G, please).
The winds of public opinion are blowing hot through this city, forecasting a perfect storm for transformative new models in civic engagement.
Enter Re:Generation, an intergenerational event series that builds a bridge between citizens of all ages and the City through meaningful dialogue and storytelling. Produced by a cohort of alumni from NextUp - a local leadership program growing a "new generation of progressive leaders" - the event "holds space for people to come together to actually have intentional time to think and talk about their community," says organizer Kevin Millsip.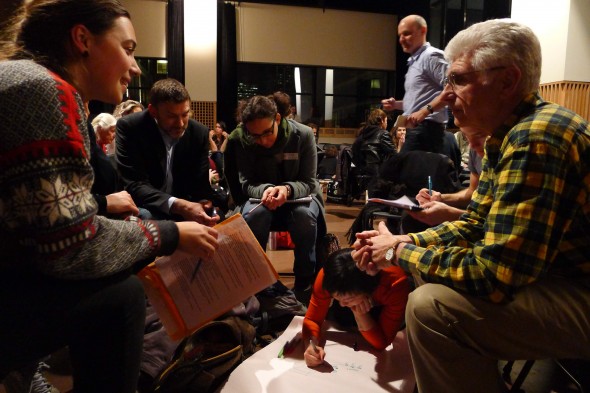 (Photos by Taryn Cheremkora, except where noted)
What makes Re:Generation unique are its format and the diverse ages of its participants.
Each event centres on a theme and puts multi-generations of Vancouverites on the mic to tell their stories of challenge and triumph in pursuit of work that is building sustainability and resiliency into their communities.
Small facilitated groups comprising a mix of Millennials, Gen X'ers, Baby Boomers and "Elders" then give attendees the opportunity to reflect and share their own experiences before workshopping issues currently being tackled at City Hall. Peppering the room are City staff whose role it is to listen and take notes.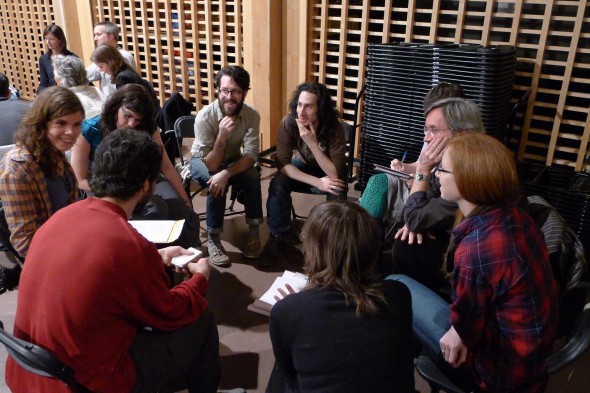 The first event, in January, focused on transportation, with inspiring stories from an elder bus driver who reminded us how far our public transit system has come since his first day on the job 43 years ago; a Baby Boomer community activist who gave an on-the-ground account of the citizen action that effectively kiboshed the downtown expansion of the Gateway freeway project, making Vancouver one of the only major cities in the world without a major freeway cutting through its neighbourhoods; the Gen X business development director of the city's only member-owned car-share program; and the fresh-faced Millennial founders of a much-beloved cargo-bike delivery cooperative operating in and around downtown.
Each storyteller's tale sent a buzz through the crowd, culminating in passionate discussion that used transportation choices as a segue for other, more profound conversations about how we empower everyone in our communities to make good, sustainable choices in all aspects of our lives, not just in getting from A to B. I learned a lot about how other people live and move through our city; it was humbling - and energizing - hearing the personal stories of the people around me.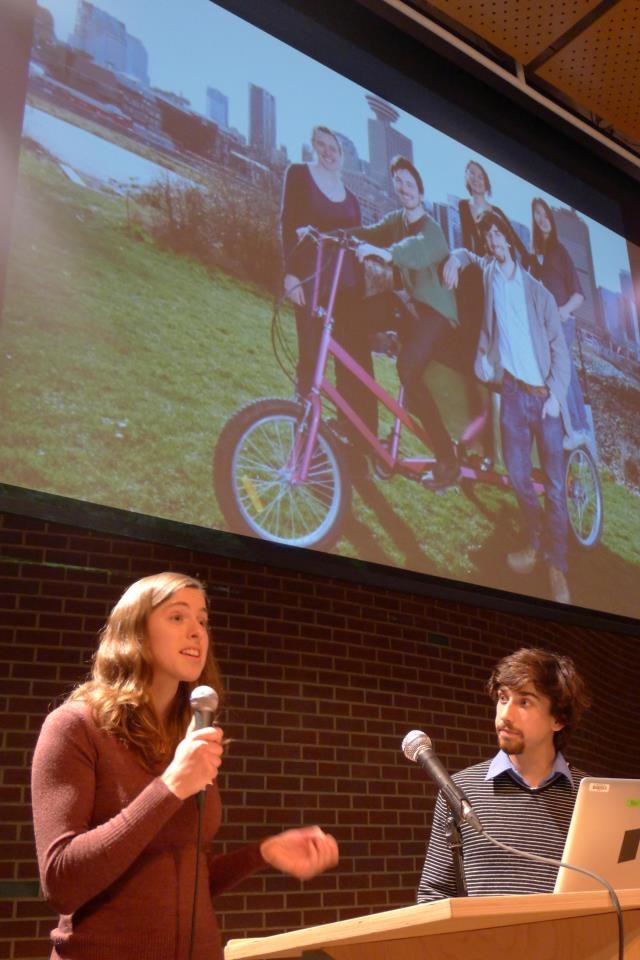 Robyn Ashwell and Graham Anderson of SHIFT Urban Cargo Delivery
speaking at the first Re:Generation event. 
Kevin Millsip, who has long worked in social change and leadership training, is a disciple of Marshall Ganz, the architect of Obama's successful 2008 grassroots organizing model and training. Ganz sees Story - with a capital S - as central to building capacity for resilience and sustainability at the local level.
"Story is fundamental. It's where our mythologies come from - it's the basis of our entertainment," says Kevin. "Stories help us understand the role of humanity in creating change - and help us want to make a difference… I can't think of a more important anchor for connection."
The second event, in February, zeroed in on waste, with the City of Vancouver playing a more prominent role. The storytellers were magnetic, and their approaches to waste reduction were at once creative, efficient and compassionate, revealing a studied grasp of the kinds of integrated approaches necessary to tackling an issue as multi-faceted as waste.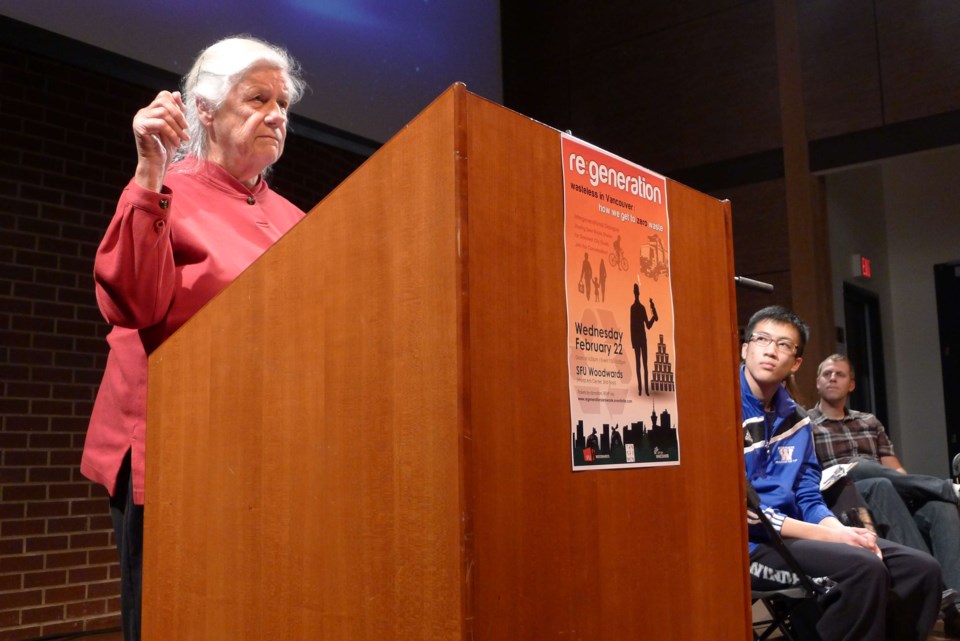 Ann Johnston, of the Gulf Islands Recycling Coalition, brought the concept of
Zero Waste to BC and recycling to the Gulf Islands. (Watch the video)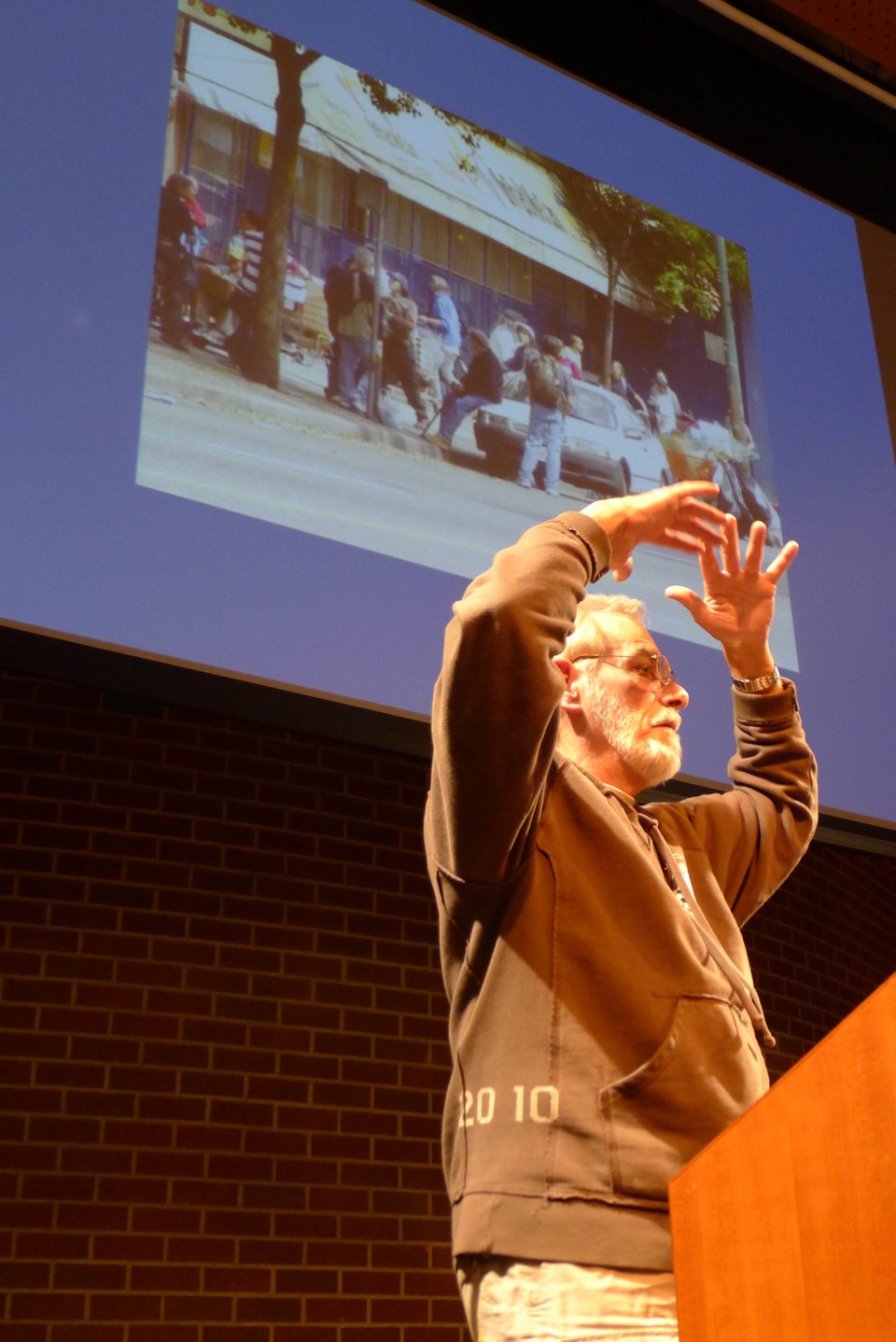 A mainstay of the Downtown Eastside, the much beloved Ken Lyotier of United We Can. (Watch the video)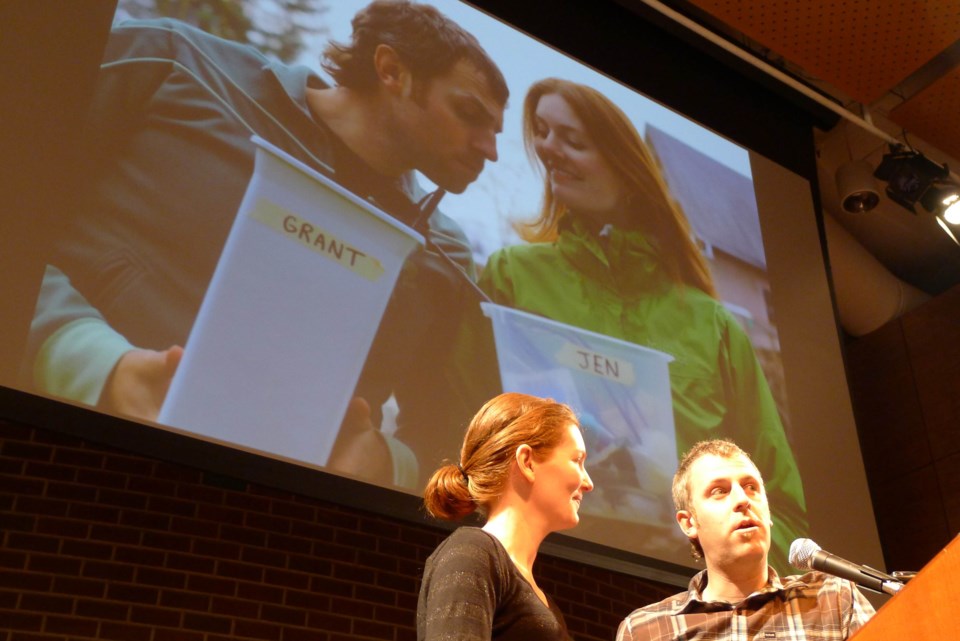 Documentary filmmakers turned zero-waste evangelists Jenny Rustemeyer and
Grant Baldwin of The Clean Bin Project. (Watch the video)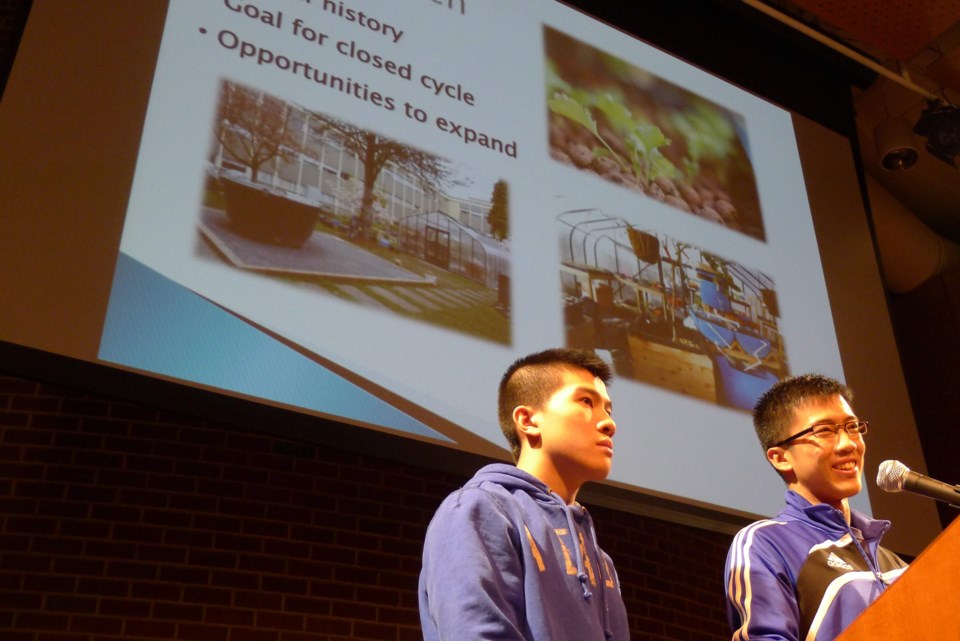 Windemere Secondary students Kevin Liu and Henry Lau run the school's impressively
comprehensive organic garden and waste reduction programs. (Watch the video) 
During the lively Q&A that followed the storytellers' presentations, a theme emerged: to solve our problems of bulging landfills and carbon-choking incineration plants, habitat destruction in service of resources extraction, and the resulting rising costs borne by cities (read: taxpayers) to process all the packaging and cheap plastic chachkies that enter the waste stream, we need both top-down solutions (think: policy and regulation) and grassroots engagement (that's you and me).
Cradle-to-cradle is the goal, but that's a long way off. A middle step is ensuring that from a product's inception its final resting place is considered, with reuse built right into the design.
But without government regulation, producers have little incentive to reduce their footprint, which in many instances would entail major overhauls of the supply chain, assembly and distribution processes - meaning bigger upfront costs.
Invariably those costs would get passed on to the consumer - as they should.
Metro Vancouver's landfill is located in Delta
(photo via Vancouver Sun, photographer Mark van Manen, PNG) 
Under the status quo, we're already paying - all of us. When you impulse buy that shiny new disposable razor encased in gratuitous layers of non-recyclable molded plastic - its packaging whispering the promise of not only hairless pits but also power, influence and attention... when you make that purchase, I have to pay for it. So do my children. And my children's children.
We pay in land - unceded Coast Salish territory, where birds, bugs and a flurry of wild life once sought nourishment and refuge among the tall native grasses. We pay in beauty - mountains of garbage replacing green space and arable land. We pay in tax dollars - spent transporting that plastic by way of greenhouse gas-emitting trucks guzzling high-priced, unethical fossil fuels. And we pay in karma - biding our time before our insatiable hunger for STUFF (itself a misplaced detour in our immemorial quest for social inclusion) succumbs to irreversible planetary forces and the obliteration of the very "good life" we've come to take for granted. (Yeah.)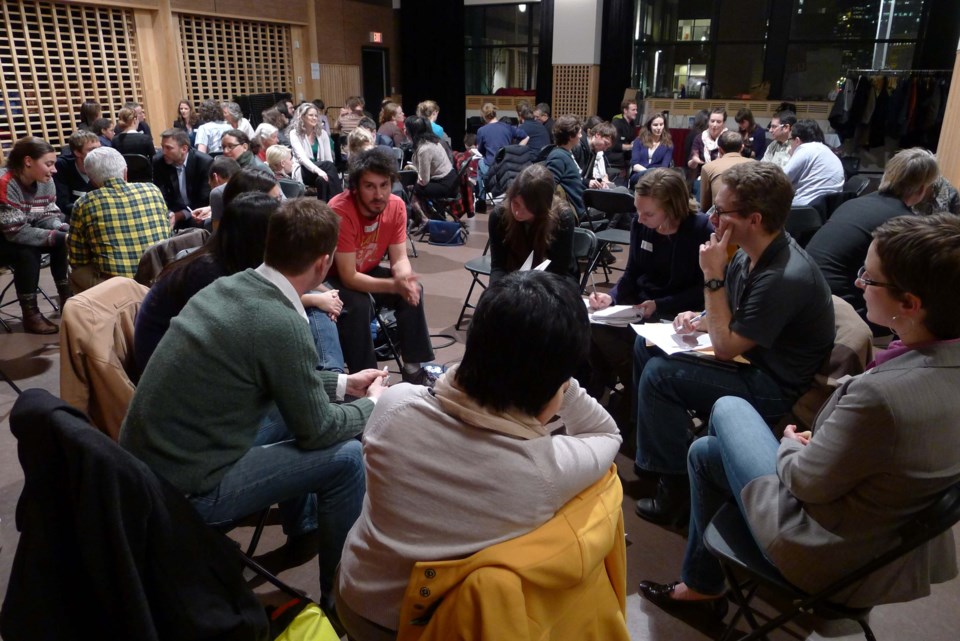 Monica Kosmak (above, far right), the City's Zero Waste planning program manager, submitted three scenarios currently under consideration by her department to be workshopped at Re:Generation. What does a plastic bag-free Commercial Drive look like? was the one my group got.
The ideas and concerns generated in these groups will be compiled into a report that event organizers will submit to the City for consideration as policy is developed to address issues in the waste stream.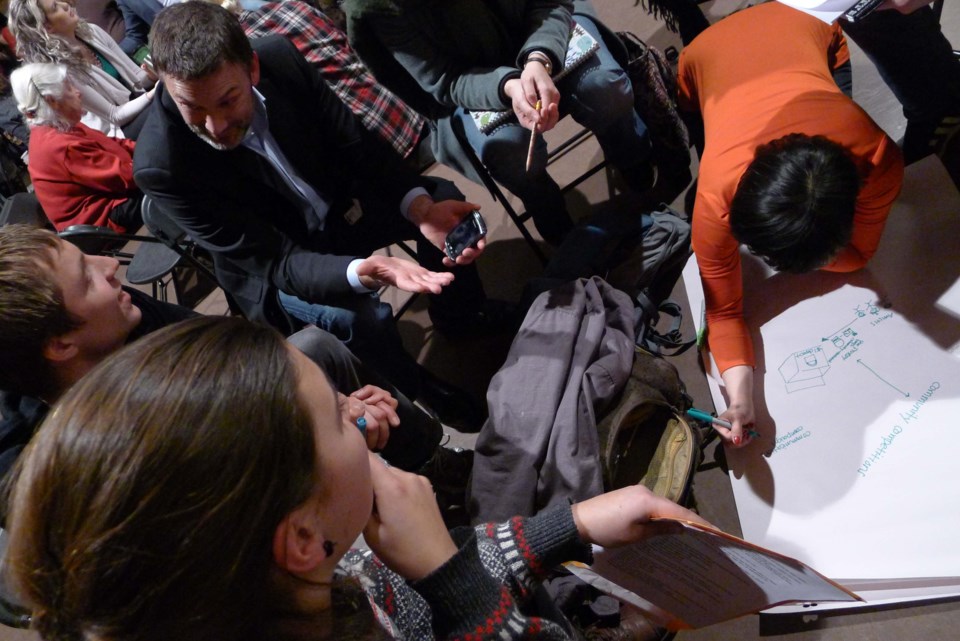 Following up with Monica several weeks after the event, I wanted to find out what she and her staff had learned from the small group discussions that night and how the ideas and feedback generated would - if at all - inform the work they were doing as part of the city's Greenest City initiative.
"I'm still waiting for the report back, but it gave me ideas for advocacy work around what the community wants to see and how I can translate those ideas into actual policy," said Monica, who is currently putting together recommendations for the Provincial Ministry of Environment as it moves forward with a bill that will require any company that puts packaging on the market that ends up as residential waste to have an extended producer responsibility (EPR) program by May 2014.
That means "plastic bag manufacturers, for example, will need to make sure that there's recycling programs [that can process their product] available at the street level." Not only will they be responsible for the costs of managing their post-consumer waste, but also the operational infrastructure.
Ultimately, Monica says, such policies force manufacturers to integrate life cycle considerations of their product into the design and compel greater cradle-to-cradle efficiency.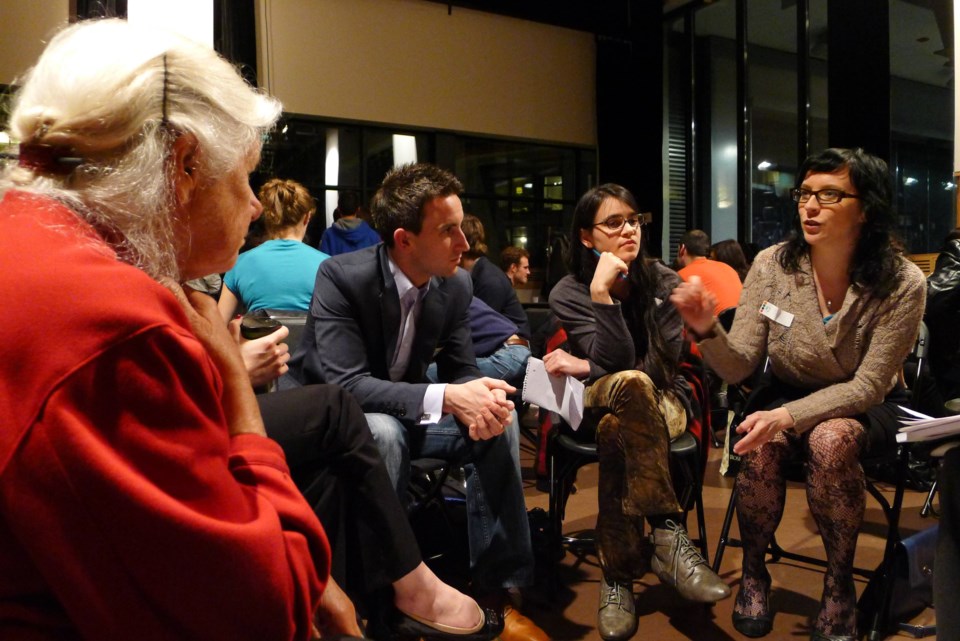 Our group's ideas centred mostly around community programs and events that create incentives not to use plastic bags and that celebrate collective action, cooperating with the neighbourhood business association to help businesses gain customers through participating in plastic bag-free initiatives, like a reusable branded neighbourhood bag program.
Monica said the group discussion really emphasized the power of working with people in the community - "citizens and businesses" - to bring potency to government policy.
"The spirit of that idea, of people rising up to reduce plastic and paper bag use on their own, is something I can take and translate into an actual reduction target that I can advocate at the Provincial level."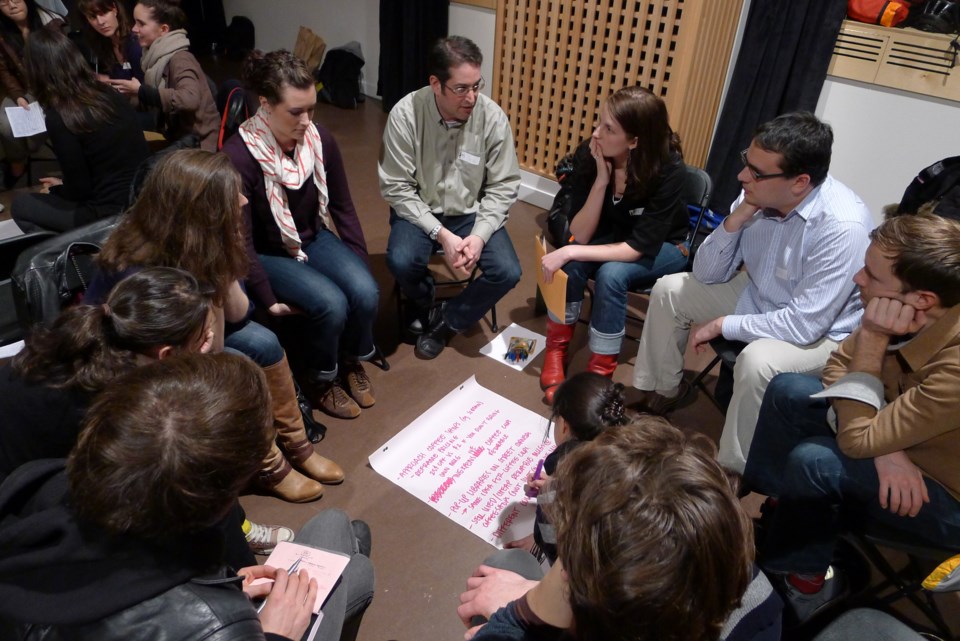 The event also offered inspiration for how her department can engage with the community as it performs the public education component of its Greenest City work.
"The fact that there were 100 people in that room for a public engagement was really mind blowing."
Seeing city residents participate in "a huge collective brainstorm with a really positive energy" illustrated the power of such events for empowering citizenship, she said.
And the impact of such engagement goes beyond a mere one-off event. "Each person who was in that room has their own circle," said Monica. "There's a huge ripple effect there."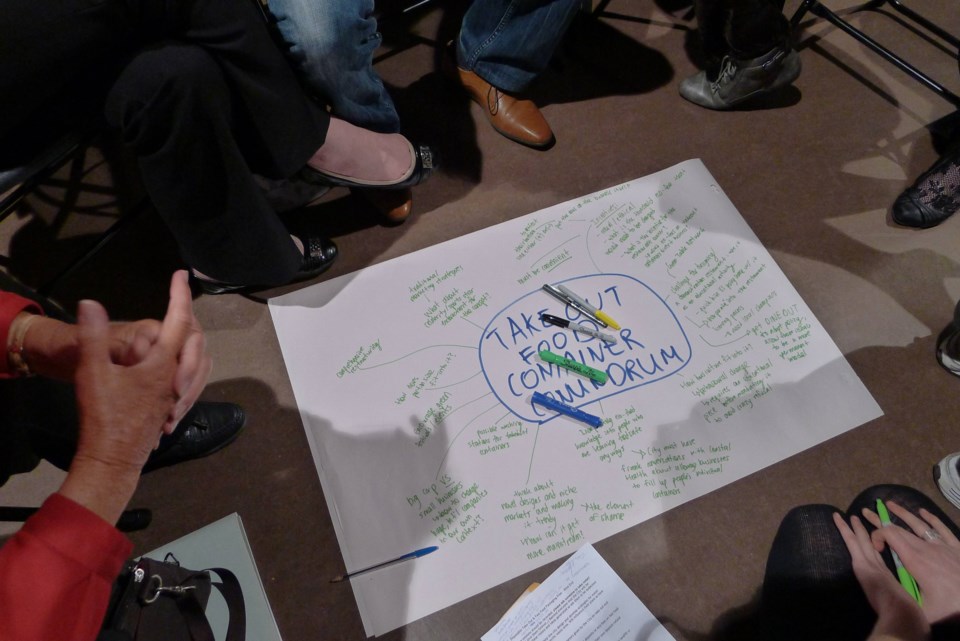 "Where are the places in our society where our voices are really wanted?" asks Kevin Millsip, who emphasizes that "the space where you have the most opportunity to make your voice heard is in municipal government. But so few of us take advantage of that space."
"With Re:Generation, you come to this non-city forum, hopefully in a way that feels welcoming, and you get to have a discussion, hear some city stuff, talk about it, think about it and feed back into it," he says, believing City staff genuinely want to hear from residents, "especially with the Greenest City stuff."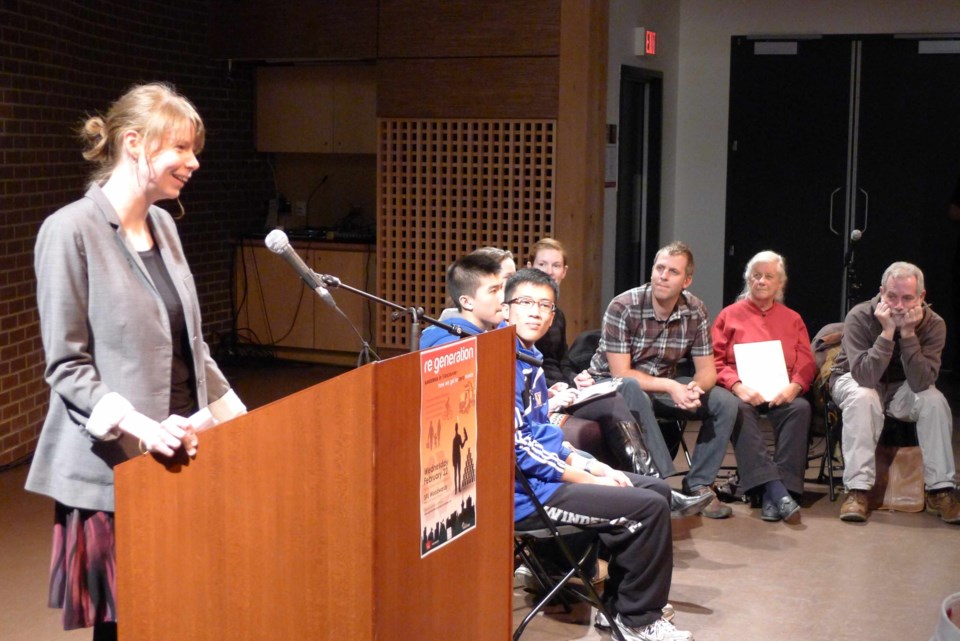 "Is Vancouver unique?" I asked another organizer, Lyndsay Poaps (above, speaking), who flew in for the second event from Toronto, where she was the 2011 Urban Fellow at the City of Toronto. "Do other municipal governments do this kind of work to actively seek out community input when developing policy?"
"Most cities in Canada are trying to do better at engaging the public," she told me via phone. "But Vancouver is unique in the way it's doing it, letting go of the agenda to allow for more collaborative governance and recognizing that while municipal government has an important role to play [in building sustainability], it must use its people to inform decision making and draw from citizen expertise."
Not only is that how you get good policy that truly serves its intended purpose, but that's also how you get citizens on board - a necessary step and a unique characteristic of this project, says Lyndsay.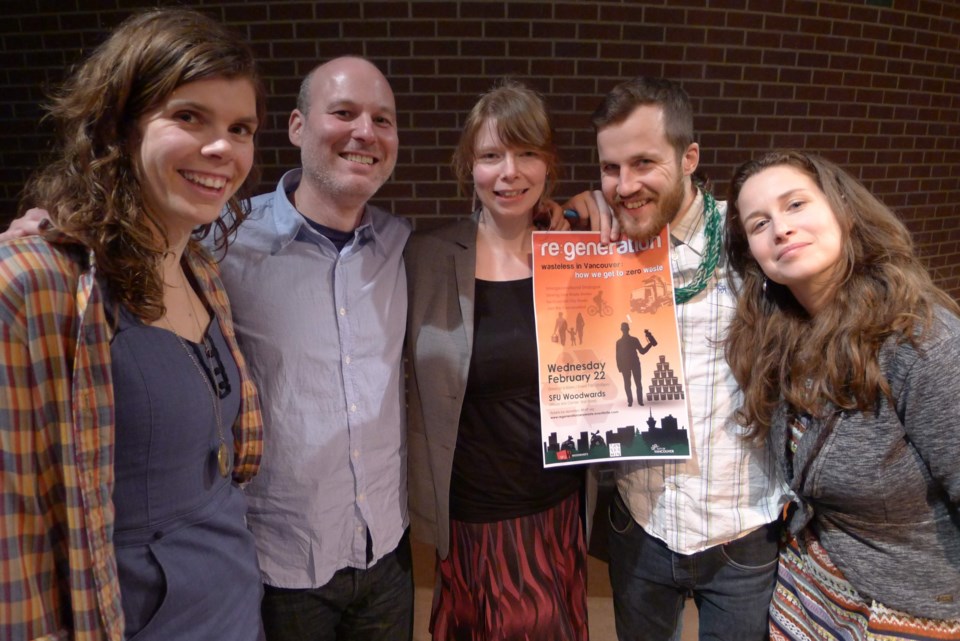 Organizers of the ReGeneration intergenerational dialogue series: 
Deanna Rogers, Kevin Millsip, Lyndsay Poaps, Adrian Sinclair and Jocelyn Anderson.
The Re:Generation series seems to have tapped into the magic formula of public engagement: present stories from a mix of perspectives, include old and young, encourage dialogue and elicit input.
"No community is homogeneous," says Kevin. "In a way, these stories offer a meta-narrative of the history of this city."
The new-immigrant experience, the lesbian experience, the entrepreneur's experience, and so on - the story of us in a postmodern world comprises a collage of individual histories and niche mythologies, which inform not only our sense of identity but also our choices.
And it is the sharing of such stories, say Re:Generation's organizers, that builds the bridges necessary to move us forward toward a common vision.
"Youth bring enthusiasm - and expand what we think is possible," says Deanna Rogers, another organizer, "but there is great wisdom that comes with age, and the expertise and experiences of our elders bring awareness of limitations." Through the event, "we walk through the history, then - reflecting on the narrative - decide how to move forward."
"I feel like I've gotten to know this city better, in a new way," says Kevin.
Upcoming Re:Generation events
The next event, How We Green Our City, April 11 at the Waldorf Hotel, looks at green space, parks and how to bring more nature into our built environment.
The final event, in May, will delve deeply into how the diverse cultural food heritages represented in the Lower Mainland can be instructive in building sustainability into the local food system; look forward to the contribution by event co-sponsor RangiChangi Roots.
Until then, tune into the Re:Generation Youtube channel to catch all the past speakers.
This is the second in a series of posts about the people and things moving Vancouver forward by Hilary Henegar, a Vancouver-based blogger, social media consultant and connector. Follow her blog and on Twitter.