ROVE is a free self guided art walk in Mount Pleasant that takes place 25th. 
This is the tenth ROVE event and it is a perfect way for artists and lovers of art to engage with and support the vibrant Mount Pleasant art scene. Around 300+ enthusiastic rovers participate in this unique event and it's a great opportunity for artists and galleries to build relationships with people who care about art!
One of the stops on this year's ROVE is the studio of Jay Senetchko. Jay's studio is a hidden gem as the front door is overgrown by ivy and then when you step in you truly feel like you a studio of a master!
Jay wrapped up his solo show at the Winsor Gallery in the fall and we are so excited that he is opening his doors for ROVE! We asked Jay a few questions before the event:
ROVE: Describe your work in a few sentences?
Jay Senetchko: I am a storyteller. My work is most easily defined as that of a painter, although I situate my practice in a broader material context and process, which includes photography, digital media, sculptures, performance and installations. My spectacle-based exhibitions are an effort to insert fine art back into the social fabric by engaging the public at large, not only the academic and invested.
In my primary medium of oil on canvas I operate as a figurative realist creating narrative-based paintings. My subject matter, featuring elements of my personal history, contemporary life, and historical references exposes me as an artist with a nostalgic and romantic temperament. However, it is my intention through these vehicles to reveal the tension I perceive within sentimentality and the inherent dangers of nostalgia.
ROVE: What can Rovers expect when visiting your location?
JS: A welcoming studio environment, with lots of art, and a little booze.
ROVE: What's the best thing about being an artist?
JS: The ability to create your own game everyday.
ROVE: What work of art do you wish you owned?
JS: Nearly anything by Odd Nerdum, Andrew Wyeth, or Mark Tansey.
ROVE: Where's your favourite place to see art?
JS: My home.
ROVE: What's the weirdest thing you ever saw happen in a museum or gallery?
JS: A very drunk attendee knocked over a glass sculpture at an opening reception.  It's the closest I've ever seen life approach moving in slow motion.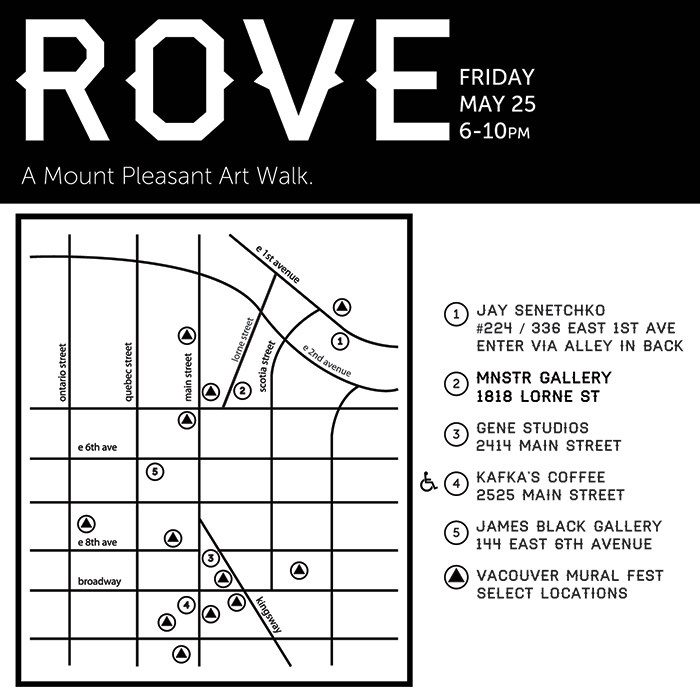 Vancouver is Awesome is a proud sponsor of ROVE . Stay connected by finding ROVE on Instagram and Facebook.
ROVE is run by artist, Jamie Smith founder of THRIVE Art Studio.THRIVE is a community of local female artists who support each other on their journeys to become the artists and people they most want to be. Located at The Profile on thurlow, THRIVE is home to THRIVE Mastermind, THRIVE Talks and the THRIVE Network.