Are you ready to ROVE?
That's right! ROVE the Mount Pleasant art walk is back in Vancouver this May! Now, you may be thinking what the heck is ROVE?
ROVE is what you get when you combine art, community and adventure! It's a free self guided art walk in Mount Pleasant. Founded by artist, Jamie Smith, the free art walks happens over the course of one night, throughout Mount Pleasant. It's comprised of a selection of galleries, artist studios and curated spaces for ROVERS to enjoy! The evening is laid out for participants to be able to cover the whole route in one night, and even stop for drinks and food along the way!
Support local artists and find art to hang in your home created by a talented local Vancouver-ite!
Artist Jamie Smith, who also runs THRIVE Art Studio created ROVE because she wanted to create a connection between the vibrant local community and the talented artists and galleries in Mount Pleasant. She loves that ROVE encourages people to meet their neighbours and also discover more about the neighbourhood. She's lost count of the number of times people have come to her studio and said "I didn't even know these art studios were here!"
Jamie organized the first ROVE  five years ago in 2013 and there has been over ten ROVE's to date!! In 2015, Jamie created the THRIVE Art Studio community of local female artists who support each other on their journeys to become the artists and people they most want to be. She runs THRIVE with cofounder Tara Galuska at The Profile co-working space on Thurlow Street. THRIVE is home to THRIVE Mastermind, THRIVE Talks and the THRIVE Network.
This is the tenth ROVE event and it is a perfect way for artists and lovers of art to engage with and support the vibrant Mount Pleasant art scene. Around 300+ enthusiastic rovers participate in this unique event and it's a great opportunity for artists and galleries to build relationships with people who care about art!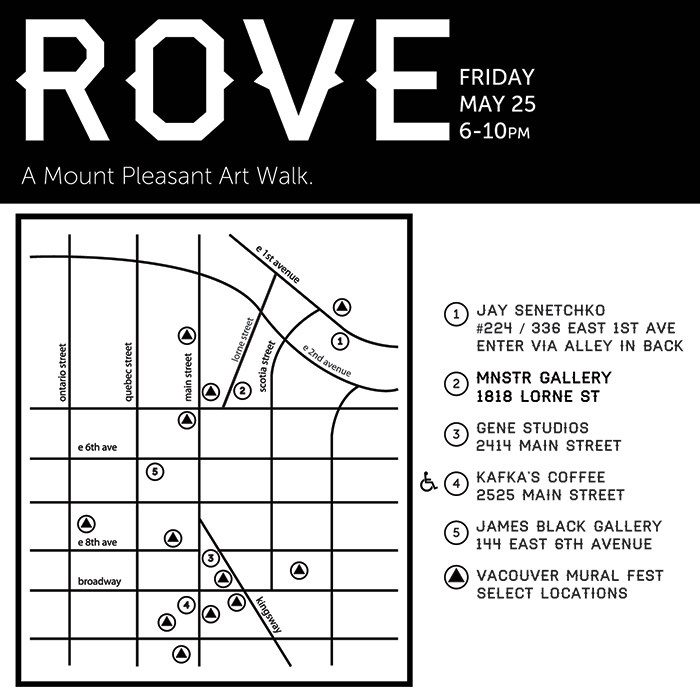 All you need to do to ROVE is….
STEP 1:     Come to Mount Pleasant on Friday, May 25th from 6:00pm to 10:00pm.
STEP 2:     Get your free map at any location (or visit www.roveyvr.com to print out your own).
STEP 3:     Follow the route to check out galleries, studios and creative spaces.
STEP 4:     Enjoy the incredible artwork and people that the Vancouver art scene has to share.
Vancouver Is Awesome is a sponsor of ROVE YVR 2018. Stay connected to ROVE by finding us on Instagram, Facebook.