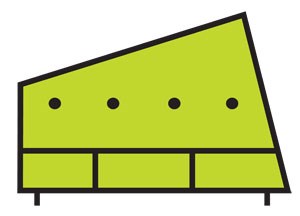 SCENE AND HEARD showcases the independent music scene here in Vancouver.
Green Couch Sessions is a live music video series - experiments in which GCS attempt to marry the artist with the environment.
The music fills the space and the various locations, inevitably producing a sound unique to the session, never to be reproduced, only to be enjoyed by you, the viewers.
VIAindie is excited to partner up with Green Couch to show YOU their latest and greatest videos of musicians and locations from all over the city!
Stay tuned! 
Artist: Close Talker
Song: Song for the Sun
The sun was out in full force on an early Saturday morning in Aug. We met Will Quiring, Matthew Kopperud, Chris Morien, Jerms Olson of Close Talker on Granville Island just outside Ship Builder's Square. They had played The Biltmore the night before and were only slightly haggard as they took a seat on the Green Couch to perform their unreleased tune "Song for the Sun."
By far our best facial hair session, the Saskatchewan natives prove that men from the prairies know how to rock a mustache.
Hosted by: The Granville Island Ship Builder's Square
Filmed and Edited by: Jonathan Krauth
Produced by: Michy Al
Audio Recorded and Mixed by: Tim Creviston, Sam Woywitka and Adam Johnson at Nimbus School of Recording Arts