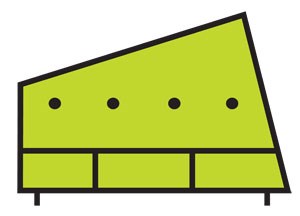 SCENE AND HEARD showcases the independent music scene here in Vancouver.
Green Couch Sessions is a live music video series - experiments in which GCS attempt to marry the artist with the environment.
The music fills the space and the various locations, inevitably producing a sound unique to the session, never to be reproduced, only to be enjoyed by you, the viewers.
VIAindie is excited to partner up with Green Couch to show YOU their latest and greatest videos of musicians and locations from all over the city!
Stay tuned! 
Artist: Local Natives
Song: 'Breakers'
We met the boys of Local Natives at the corner of Seymour and Smithe parked on the curb outside the Orpheum. We loaded everything we could into the van around the couch, Tyler and Matt hopped on it and we sped off through back alleys towards iconic boxing gym Sugar Ray's.
The rest of the band opted to stroll through the rain down Granville st.
Taking over the gym's ground floor with men, instruments, lights, microphones, cameras and a Green Couch, the band played 'Breakers' the first single off their most recent album Hummingbird. They then headed off to Japadog to eat before their show that night.
Hosted by: Sugar Rays Boxing Gym
Shot and Edited by: Jonathan Krauth
Shot by: Stefan Berrill
Audio recorded and mixed by: Adam Johnson and Nimbus School of Recording